Malcolm Turnbull fumbles for words in heated indigenous MPs debate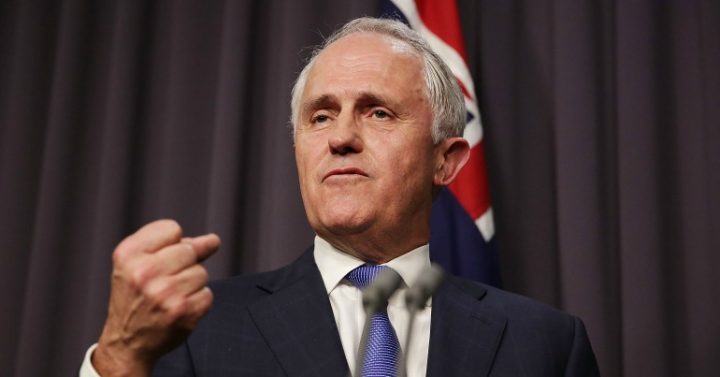 He's not one to be lost for words, but Malcolm Turnbull was left fumbling in shock during a heated exchange over indigenous MPs.
The Prime Minister appeared on Q&A alongside an aboriginal rights activist, but it immediately descended into a fierce debate.
Teela Reid shared her anger after the PM dismissed the Uluru statement from the Heart a few months ago, which called for a constitutionally enshrined advisory body to the parliament.
It left Turnbull lost for words for a moment, before he urged his critics to support Indigenous MPs from both sides of parliament in a passionate speech.
"Why won't you respect our proposal to take it to a referendum like you put marriage equality to the people because polls reveal up to 61 per cent of Australians are in support of this proposal?" she asked, according to the Sydney Morning Herald.
Ad. Article continues below.
Read more: Tony Abbott demands Malcolm Turnbull show him respect
However Turnbull hit back, claiming it would effectively create "a third chamber", and every new piece of legislation would need to be passed through them, as they all affect first Australians.
"Now as to its prospects at a referendum, let me tell you honestly… it would have no prospect of success whatsoever and I can tell you that is the view of every member of parliament that I've discussed this with," he insisted.
"People that don't tell you the truth are misleading you, what I'm telling you is the truth, what I believe and I have to be honest with it you about this, I don't think it's a good idea and if it were put up in a referendum it would go down in flames."
Reid fired back: "If that's his position then we clearly need a leader with some courage."
Ad. Article continues below.
But an angry Turnbull then said: "I'm disappointed that you place so little store on the Aboriginal people, members of parliament."
As Reid argued that MPs "represented their political interests", Turnbull looked visibly shocked, before fumbling: "Oh, really? So Ken Wyatt… so Ken Wyatt, what are you saying about Ken Wyatt and Linda Burney? They're first Australians, do you respect them?"
While Reid insisted she did respect them, she said they "don't represent the interests of Aboriginal and Torres Strait Islander people," prompting Turnbull to hit back: "You now have Aboriginal people in the parliament, elected to the parliament, serving there with their fellow Australians, I look forward to there being many more and to dismiss them as just being, what, what are you suggesting they're tokens of political parties?"
While Reid insisted that's not what she was saying, Turnbull continued: "I think it's very important tonight that we respect the Aboriginal members of the House and the Senate, they are there, proud Australians, proud first Australians and their powerful voices with 60,000 years of history in our parliament and I respect them and I think all Australians should too."
Meanwhile, the Prime Minister has performed a dramatic U-turn and admitted he "regrets" calling for then-Prime Minister Tony Abbott to be overthrown after losing 30 consecutive Newspolls.
Ad. Article continues below.
He himself has now lost 24 in a row.
"I do regret having said it, only because it allowed people to focus on that rather than the substantive reasons," Mr Turnbull told the Daily Telegraph.
"The substantive reasons I stated were related to economic leadership and governance."
Did you agree with the Prime Minister's comments? Do you think the Uluru statement should have been dismissed?
Important information: The information provided on this website is of a general nature and for information purposes only. It does not take into account your objectives, financial situation or needs. It is not financial product advice and must not be relied upon as such. Before making any financial decision you should determine whether the information is appropriate in terms of your particular circumstances and seek advice from an independent licensed financial services professional.