She completed her look with deep brown, suede-heeled boots, accessorising with drop pearl earrings and a crimson poppy pin in tribute to military troops.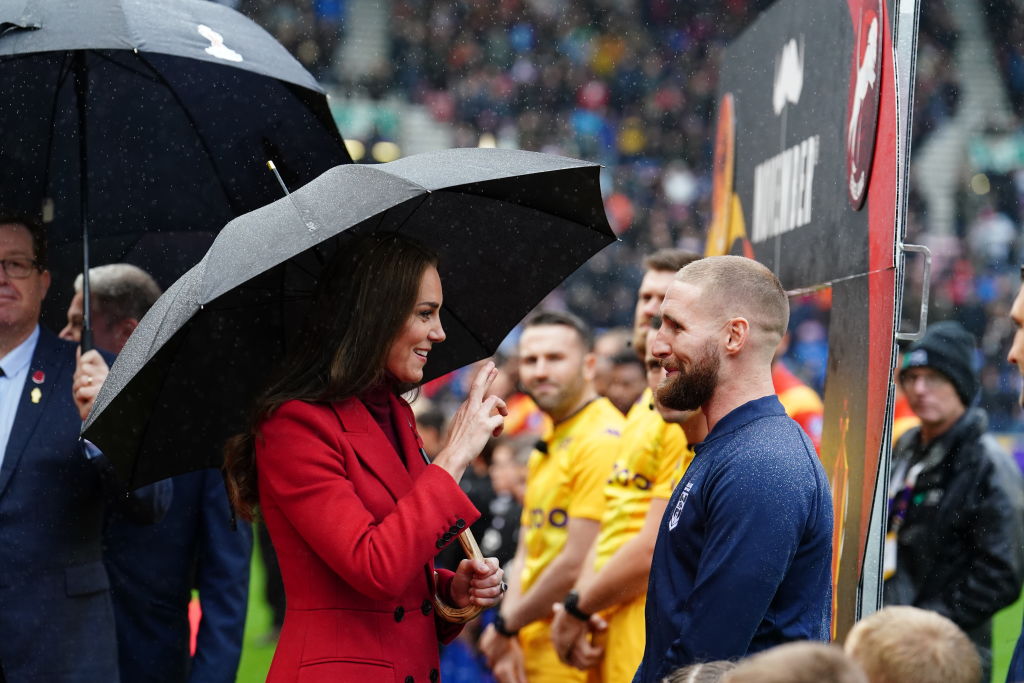 The weekend game marks Catherine's first rugby match since taking over the role as patron of the Rugby Football League and Rugby Football Union from her brother-in-law, Prince Harry.
The patronage is fitting for the sporty royal, who, according to younger sister Pippa Middleton, has been playing the sport with her family for years.
"…Rugby was a big thing in our family, and the focal point was international matches … We'd plan our weekends around the matches … If we lost, my dad would be in a state of despair for the rest of the afternoon, as if he'd actually lost the game himself," she told Vanity Fair.
The Princess had previously expressed how "fantastic" it was that the two organisations "are committed to harnessing the power that sport can have in bringing communities together and helping individuals flourish".
"I look forward to working with them across all levels of the games, and to cheering England on in what promises to be an exciting year for both sports!" she said.
Catherine's latest public appearance follows the delightful announcement that she is set to host her second royal Christmas concert at Westminster Abbey.
Scheduled to take place on December 15, this year's concert aims to "celebrate the joy that human connection can bring" and will honour the late Queen's service by reflecting on the values that she maintained throughout her historic reign.
Joining Catherine, are members of the Royal family, charity staff, frontline workers, and military personnel who will be recognised for their "selfless efforts" for their country.
She will be organising this year's event with the support of the Royal Foundation and will incorporate both modern and traditional elements.