Fans and celebrities alike flocked to the comments section of Patti's post to not only wish Bert a happy birthday but to also offer their love and support for his wife and family.
"In his honour, will have a Diet Coke…. In fact, have kept the Diet Coke you gave me in your thank you hamper, so will have that one!!!! Thinking of you and the family xx," singer Anthony Callea wrote.
Comedia Julia Morris said the Newton family were in her thoughts.
"Sending you guys loads of love & thinking of you all," Morris wrote.
"Sending all my love," entertainment reporter Angela Bishop said.
Comedian and television presenter Rove McManus offered "lots of love to you all today".
"Happy Heavenly Birthday Bert. It's my husband's birthday too and got as long as I can remember every birthday he would say, "It's Bert Newton's birthday today too!"
Thinking of you and your family, Pattie. Xx," one fan wrote.
"He will be shining down like he did on Earth. Happy Heavenly Birthday Bert !! A True Blue Aussie legend."
"Thinking of you all today…he would be so proud of how you have all kept his legacy alive," said another fan.
"I'm in no doubt he is watching over all of you and doing his absolute best to have you feel his love. Xxx."
It's not the first time Patti has delivered a truly touching tribute to her late husband. During the 2022 Logie Awards earlier this year, Patti made a heartfelt tribute to Bert while presenting the inaugural Bert Newton Award for Most Popular Presenter.
Patti thanked the crowd for the warm welcome as she stood before an early photo of her and her late husband, admitting she didn't think was "going to be able to do this tonight, because it is still very raw and I will never get over him not being here. But I know he is with me."
"Thank you very much for that beautiful welcome and for this beautiful man of mine, isn't he fabulous! What am I going to do without him!" she remarked as she took the stage.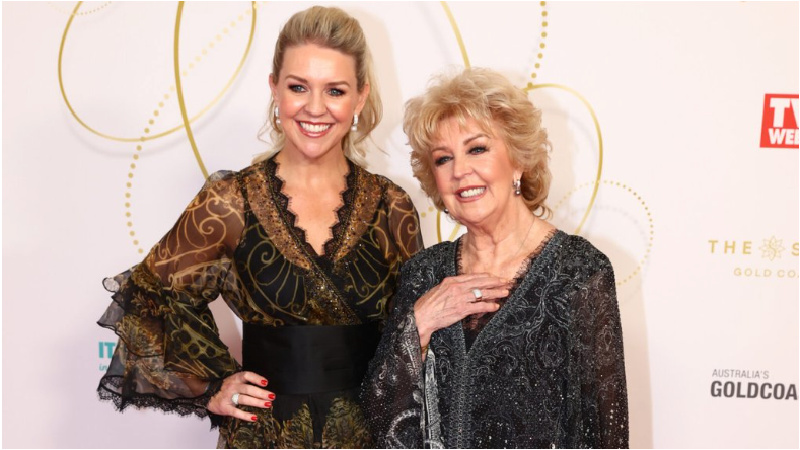 Patti reflected on Bert's stellar career that spanned seven decades.
"He had this thing where he would say, 'Not everybody lives their dream', but he did, and he loved it, he really did live his dream," she remarked.
Bert passed away on October 30, 2021 at age 83 after a long health battle, he was undergoing palliative care at a private clinic in Melbourne when he died. Both the Australian public and the entertainment world mourned the showbiz legend during a state funeral in mid-November last year.
Born Albert Watson Newton, born in 1938, he quickly discovered his love of entertaining at a young age with his radio debut on 3XY at age 11. From the early 1960s to the late 1990s he was the face of a number of popular TV shows, including The Late Show, In Melbourne Tonight, The Don Lane Show, The Bert Newton Show and Tonight with Bert Newton.