The wedding was the second time Seymour had worn the Hanbok, with the actress sharing photos of her wearing it to the couple's first wedding in Malibu, California in December 2021.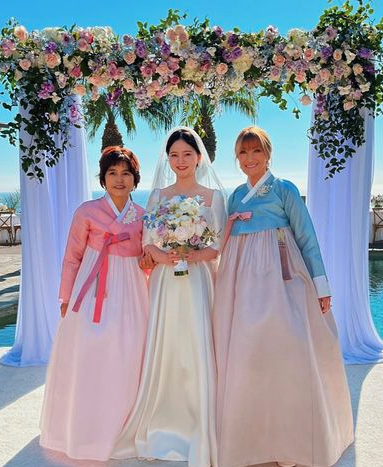 Fans of the actress flocked to offer their congratulations to the happy couple.
"All of this is just breathtaking… Thankyou so much for sharing these moments with all of us. I know your mama heart just explodes with love and gratitude watching your boys perform together at Kris's wedding. Just magical. Congratulations to the couple of honor. May they have all the love and happiness they so richly deserve," one person wrote.
"Congratulations to the kris and miso! Yall look beautiful," said another.
"Absolutely beautiful. Thank you sharing with us. Johnny and Kris sound amazing. Have wonderful day, Jane," another person said.
Fans will be able to see more of Seymour, as the actress wrapped up filming for her latest TV series Harry Wild, which sees her portray a retired English professor who finds herself investigating her police detective son's cases.
The show is now available for streaming on Apple TV and Amazon Prime.