The sleeveless gown also featured matching blue feathers perched on Seymour's shoulders and a blue sexy meshed back.
Seymour styled her look by wearing her honey-coloured highlighted hair straight down her back with face-framing bangs and opted for more of a glammed-up makeup look which featured a dramatic smokey eye and shimmery pinkish-nude lip.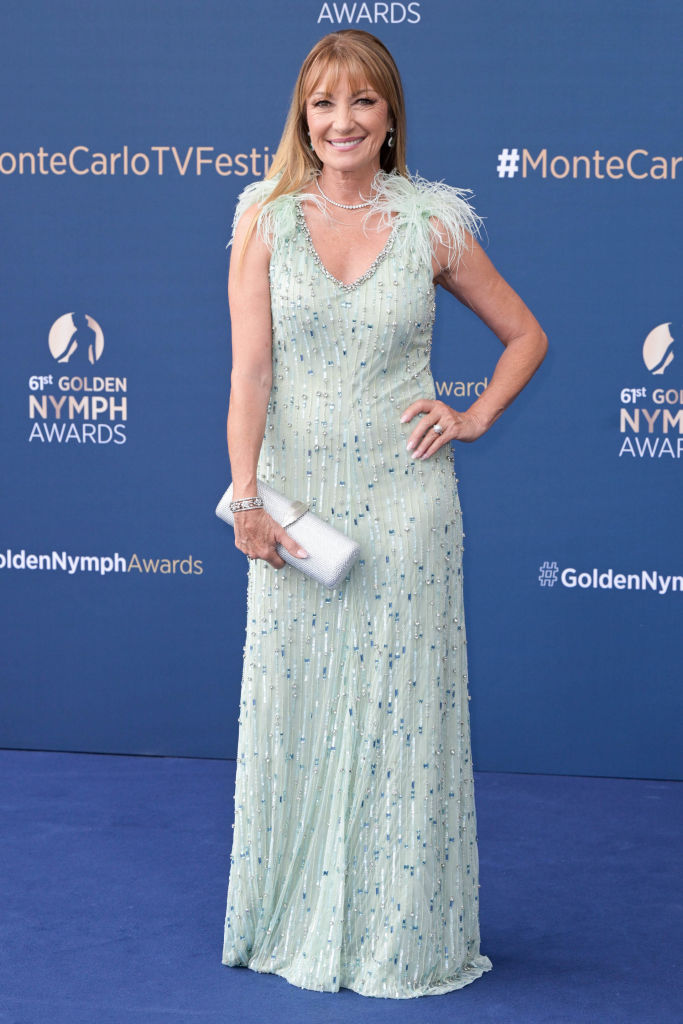 Sticking to the glitzy bedazzled theme of her dress, Seymour wore a slinky diamond necklace and eye-catching gem drop earrings. She completed her look with a flashy ring and bangle and carried a silver, rectangle-shaped rhinestone clutch.
The Somewhere In Time actress definitely does not shy away from showing off her toned arms and impressive abs. Whether it's posting her workout outfits or flaunting her beach body on her Instagram, Seymour makes it a point to take care of her body.
Speaking to Hello! earlier this March, Seymour shared her biggest advice for beauty and style, simply saying "take care of your skin, take care of your health, eat fresh vegetables and fruits and all the usual stuff."
However, Seymour does put in a lot of work at the gym. For starters, she's been doing Pilates for over 30 years and is a big fan of doing Isometrics, which involves holding certain positions for long periods at a time to strengthen muscles without straining them.
On top of that, the actress also runs on the treadmill for 10 minutes to half an hour and does light weight lifting.
As for her meals, Seymour sticks to high protein and fibre meals.
"I don't eat too much starch…Mostly I eat chicken and a lot of vegetables. We grow a lot of vegetables in the garden organically," she told Closer.
"Everything in moderation, which, of course, is the hardest thing. Me telling myself I'm on a diet never works. Me saying, 'Okay, I'm going to have a bite of this cake but I don't need the whole cake."
Recently, Seymour finished wrapping up her latest TV series Harry Wild, which sees her portray a retired English professor who finds herself investigating her police detective son's cases.
The show is now available for streaming on Apple TV and Amazon Prime.