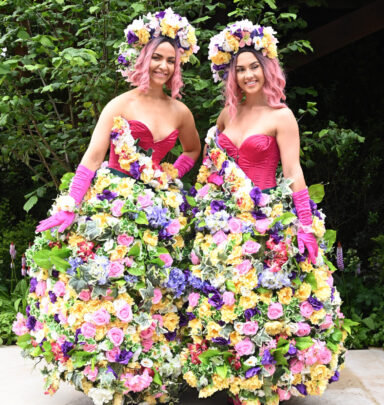 Cheeky pensioners
These two cheeky fellas, Brian (left) and Mike, looked positively handsome as they appeared to engage in some light banter in front of a stunning daffodil display from Taylor Bulbs, Lincolnshire. The Chelsea pensioners were decked out in full uniform as they were pictured sharing a laugh together.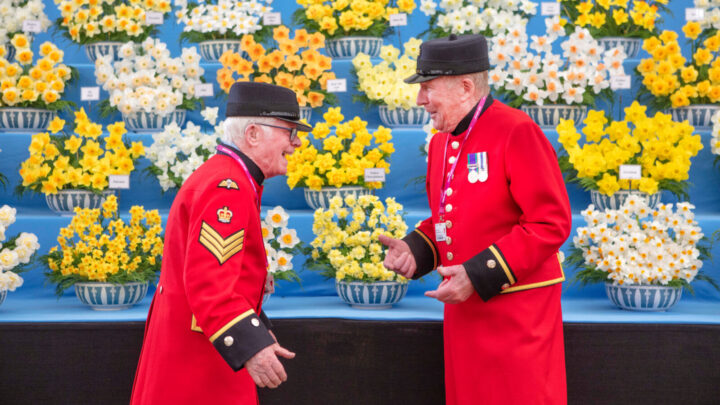 The Queen, in flowers
In a touching tribute to Her Majesty, The Queen for her Platinum Jubilee year, this stunning floral installation display inspired by the Monarch was nothing short of magnificent. The Queen, in flowers, how beautiful?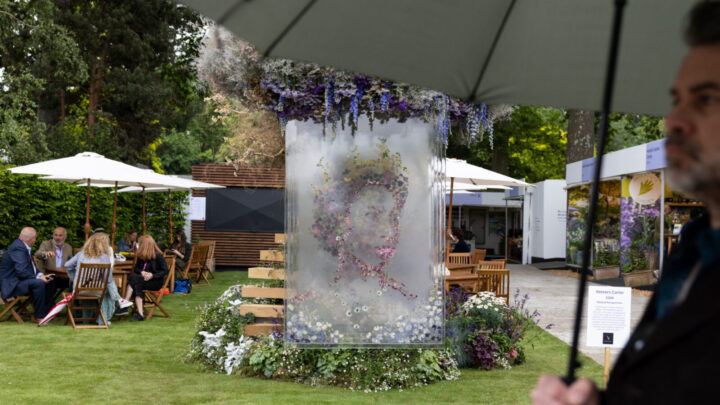 Oh sweet Countess
The lovely Sophie, Countess of Wessex quietly took a moment to smell the roses as she bent down elegantly and sniffed in a bunch of stunning white roses on the 'Harkness Roses' stand. The Countess look gorgeous as she donned a light pink blazer ensemble and wore her hair back in an elegant low bun, a look quite fit for a garden party.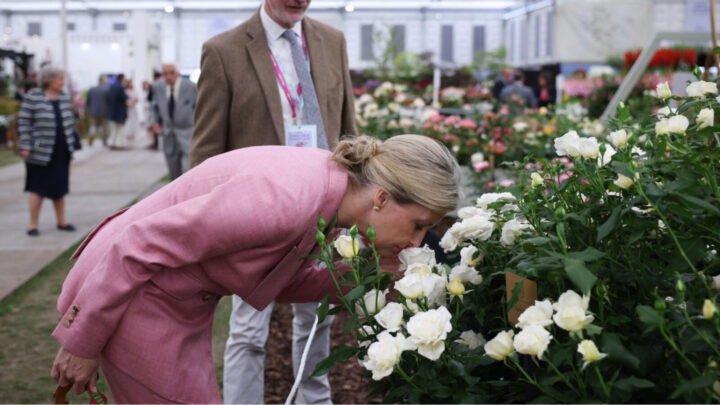 All hugs and flowers
English ballroom dancer, Shirley Annette Ballas, shared a sweet hug with a wheelchair-bound pensioner as the pair smiled widely for the camera, appearing to be in adorably high spirits. Ballas looked the picture of grace as she donned a floor length floral gown, paired with a tailored cream blazer and over the shoulder clutch.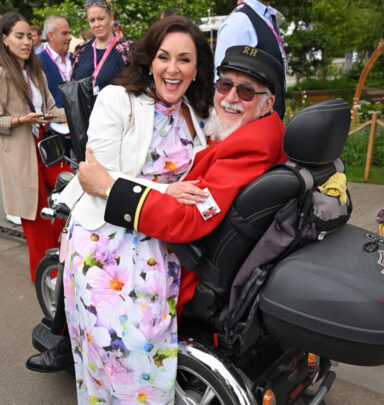 A touching arrival
Her Majesty arrived at the Chelsea Garden Show giddy with excitement as she was driven in via a luxury buggy, decked out in a most stunning bright pink blazer ensemble, embellished with gold buttons. The Monarch paired her bright-coloured outfit with large white pearl earrings and matching pearl necklaces. Her Majesty appeared in the highest of spirits as she smiled brightly and greeted eager onlookers.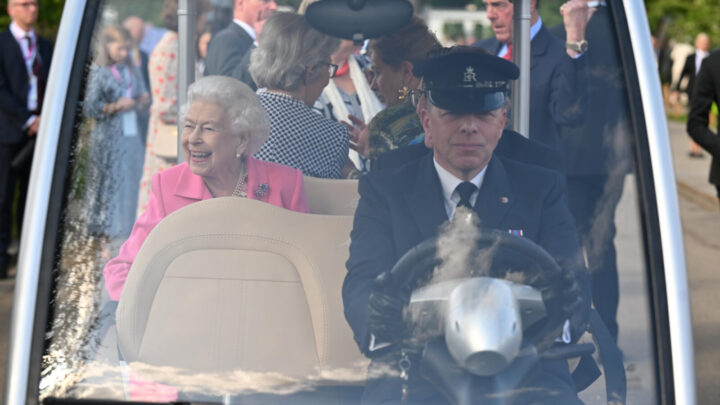 A sweet moment
Princess Beatrice and husband, Edoardo Mapelli Mozzi shared a sweet moment as they smiled at each-other lovingly whilst taking a quick sit down amongst the gardens. The couple coordinated their outfits, both donning light blue accents as they presented a strong example of a united partnership. Princess Beatrice looked particularly gorgeous in a light blue ankle-length floral dress featuring slightly puffed out sleeves.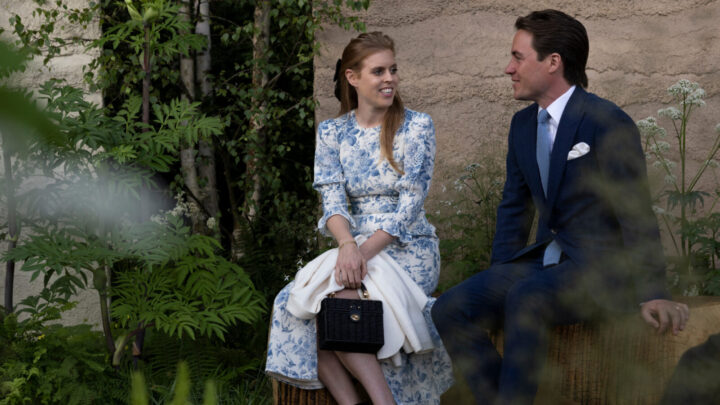 A Cacti Couple
These two extravagant cacti stallholders looked the picture of cacti devotion as they posed for cameras in their matching cacti-themed vests and coordinating hard-brimmed hats. What can we say, other than these two are certainly devoted to their art!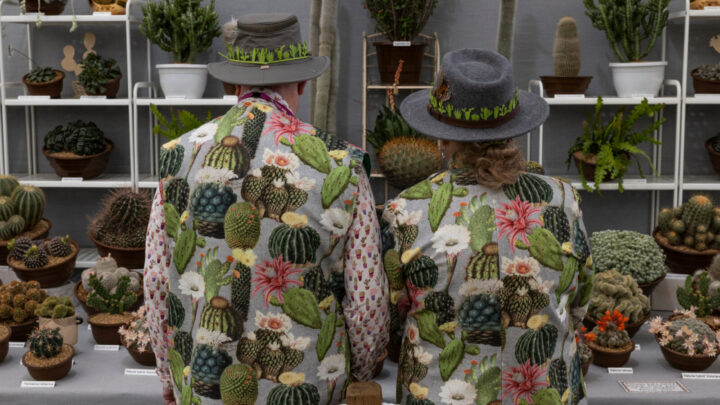 An ageless masterpiece
Actress Dame Joanna Lumley showed off her undeniably age-defying looks as she posed stylishly for cameras in a bright pink scrunched blouse and bold tailored blue blazer as she clutched a patterned black and white scarf. The actress accessorised with a light blue handbag, large rounded gold earrings and… what appears to be a Charles Farris purchase of some kind!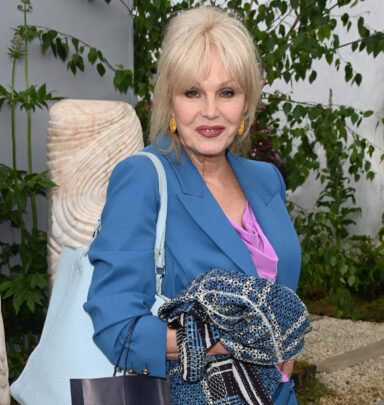 A royal garden
This outstanding Jubilee-themed installation wowed onlookers with its aesthetically structural display and touching tribute to Her Majesty. Comprising of 70 hand thrown terracotta pots, of course themed off the Monarch's 70 year anniversary on the throne, was designed by florist, Simon Lycett.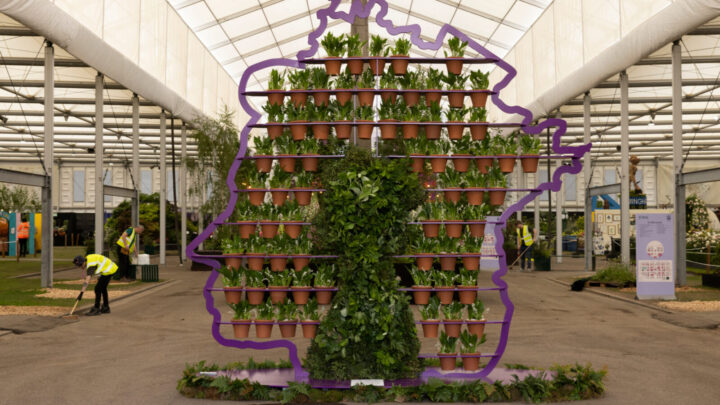 A quick selfie with Judi
A lovely looking Judi Dench posed for a selfie with smiling fans as she attended the Chelsea Flower Show looking the picture of laid-back beauty and graceful aging. Dench looked stylishly effortless in an all-white ensemble underneath a denim blazer before participating in an oak tree demonstration.