Bred by Jim and Fran Clarke and exhibited by Burncoose Nurseries this flower has petals of purple with white and yellow markings. Siberian irises are known for attracting bees, thanks to the nectar/pollen-rich flowers.
2. Rosa BRING ME SUNSHINE ('Ausernie')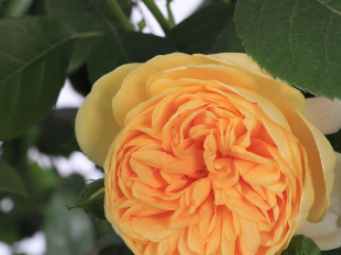 This hardy and disease resistant shrub rose, bred by David Austin Roses Ltd and exhibited by David Austin Roses blooms in orange-yellow to lighter apricot tones and medium to strong Myrrh fragrance.
3. Rosa ELIZABETH ('Ausmajesty')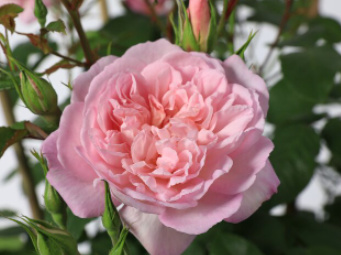 Consisting of crisp apple blossom pink rosettes and a sweet, fresh fragrance this shrub rose is another incredibly versatile species that suits a smaller garden but can be given the room to grow in a larger garden.
4. Salvia PINK AMISTAD ('Arggr17-011')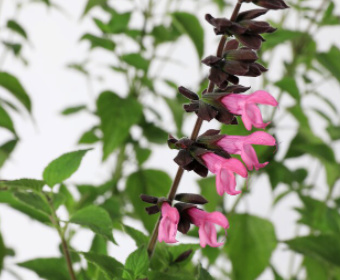 Developed by Rolando Uria, a breeder from Argentina, this variety is one of the most popular salvia cultivars, which has sold more than four million plants.
5. Salvia × sylvestris 'A Little Bit'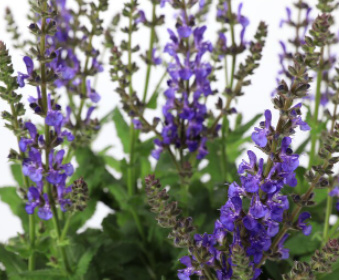 With large showy flower spikes of violet-blue this easy to grow plant will make a great addition to any garden or container display.  Commonly referred to as wood sage, this variety is bred by Jan Spruyt of Spruyt Select G.C.V. and exhibited by Middleton Nurseries.
6. Aeonium 'Jubilee'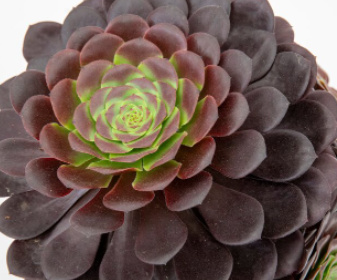 Bred by Daniel Jackson and exhibitedby Ottershaw Cacti and named in honour of the Queen's Platinum Jubilee this plant features strong growth and great dark glossy colouring.
7. Alstroemeria 'June Ferelyth' (Little Miss Series)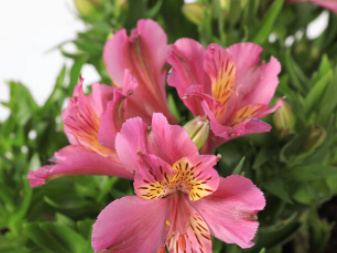 This garden-hardy plant is easy to grow and provides good flower coverage with more flowers per flower bloom than other varieties.
8. Rosa LOYAL COMPANION ('Beaqueen')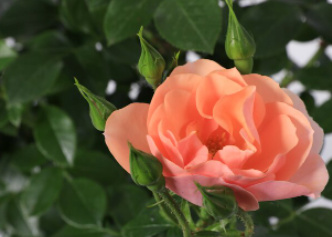 Featuring a myriad of colours starting with apricot coloured buds that bloom into a peach hue, then a subtle pink before finally fading to white. Bred and exhibited by Peter Beales Roses this variety flowers all summer long and is the perfect addition to a patio.
9. Heuchera 'Alfie' (Fox Series)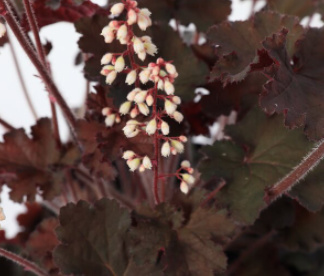 Adored by bees the world over, this contender for the Plant of the Year features rich chocolate foliage and upright dark stems that bear white flowers with a tinge of pink.
10. Forsythia × intermedia 'Discovery' (syn. JOHN MITCHELL)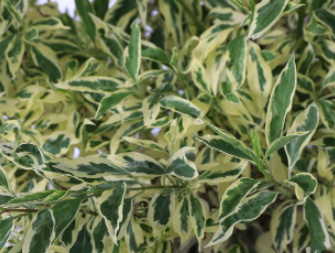 Flowering from late February to early April, the Forsythia × intermedia 'Discovery' has white bordered green ovate leaves which stand in contrast against its deep red stems. Bred by Hillier Nurseries Ltd and exhibited by Sparsholt College with stems that include lightly scented pale yellow flowers.
11. Geranium pratense 'Storm Cloud'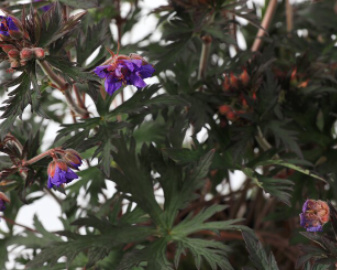 The striking deep purple of the Geranium pratense provides a striking addition to any garden, making it a standout in any garden or pot. This standout is Bred by Hillier Nurseries Ltd and exhibited by Sparsholt College.
12. Dianthus (Allwoodii Group) ELECTRIC DREAMS ('Wp22 Elecdr')
Exhibited by London Fire Brigade this new UK-bred hardy, compact dianthus is known for electric pink, single, clove-scented flowers over grey-green foliage. Bred by Laetitia Moucheboeuf, Whetman Plants International Ltd, Dawlish, Devon it is ideal for those small spaces outdoors.
13. Armeria pseudarmeria 'Dreamland' (Dreameria Series)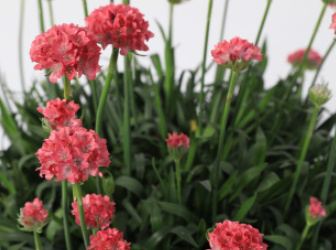 With the ability to cope with a series of different weather conditions, the Armeria pseudarmeria is perfect in varying conditions and blooms for seven to eight months.
14. Brassica oleracea (Italica Group) 'Purplelicious'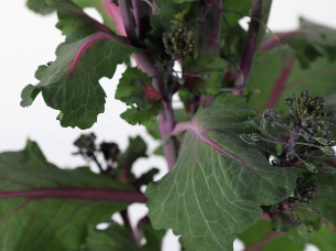 The Brassica oleracea is perfect for those new to taking care of plants and is ideal for small gardens. It not only looks great but also tastes great, with a high nutritional value.
15. Buddleja davidii LITTLE RUBY ('Botex 006') (Butterfly Candy Series)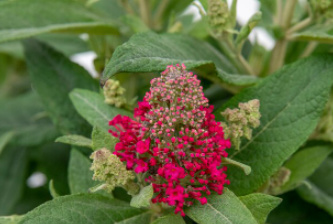 With its unique colour and size, the Buddleja davidii LITTLE RUBY is perfect for display on patios all summer long. Bred by John Pullens from Botanical Xperience BV and exhibited by Stonebarn Landscapes Ltd.
16. × Semponium 'Diamond'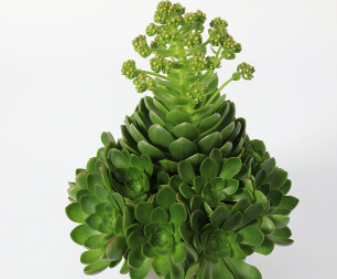 The emerald coloured leaves of the × Semponium 'Diamond' turn a deep, bright red  during summer, which after two to three years explode into a display of bright yellow flowers that bees and other insects cant resist. It's easy to grow and can be displayed in a pot or rock garden.
17. × Semponium 'Destiny'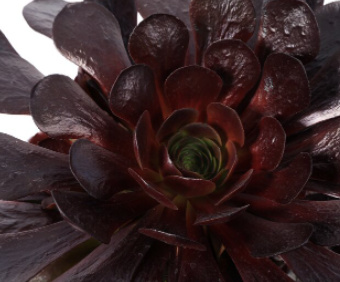 The drought resistant hybrid has deep red leaves that hold colour all year long. Bred by Daniel Michael and exhibited by Surreal Succulents, its ideal as a pot plant and flourishes in full sun but also thrives in shade.
18. Geranium × cantabrigiense 'Intense'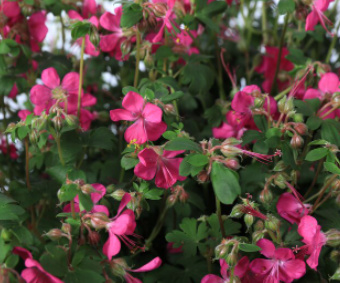 This bee and butterfly friendly flower is perfect for the patio and balcony pots with its vivid pink blooms that turn red in autumn.Bred by Gebr. Rotteveel and exhibited by Moore & Moore Plants.
19. Rhododendron STARSTYLE PINK ('Azaare01')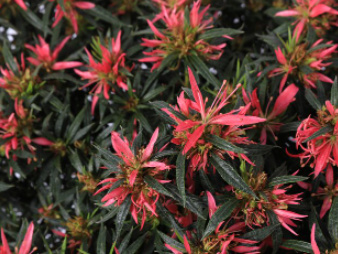 The hot pink, star-shaped flowers of this variety are perfect for adding a splash of colour to the home. With its tolerance to both the heat and the cold, it's the perfect flower for spring and autumn. Bred by Hilde and Matthijs Barendse and exhibited by Hare Spring Cottage Plants.
20. Weigela 'Magic Carpet' (Prism Series)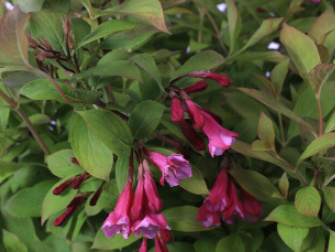 Weigela's first-of-its-kind foliage opens with an apricot orange colour before turning to golden yellow. In May and June it is covered in funnel-shaped flowers on arching stems. Bred by Charles Valin, Thompson & Morgan and exhibited by Binny Plants.