Victoria accessorised with pink, flower earrings and a glittery clutch, while she pulled her hair back into a chic up-do. Her husband, Prince Daniel, looked equally impressive in a navy tuxedo and a black bowtie.
Meanwhile, Princess Sofia opted for a vastly different frock, stepping out in a gorgeous floor-length floral dress for the presentation of the prize, which is regarded as Sweden's foremost musical honour.
The former model glowed in the white frock, featuring black, white and yellow flowers, as she smiled for photos on the red carpet alongside her dapper looking husband Prince Carl Philip.
With her hair styled straight and down, Sofia added further pops of colour with a pretty red headband and a pink lip, while she chose a beautiful pair of gold dangly earring to bring the outfit together.
Meanwhile her royal husband opted for a traditional black suit, white shirt and bow tie.
The Queen also upped the style stakes in a pale pink and green patterned dress which fell elegantly to the floor. She paired this with a pink shawl draped over her shoulders and accessorised with a beautiful pearl necklace and earrings.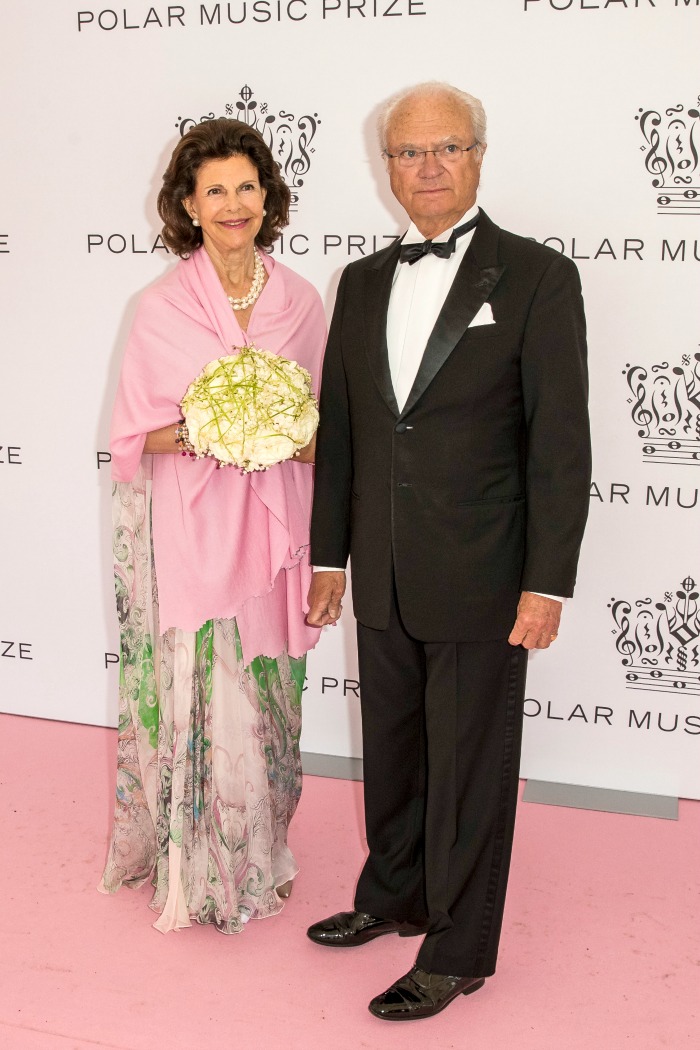 Her husband matched his son Prince Carl Philip in a smart black tuxedo, looking incredibly dapper while posing for photos on the red carpet.
Read more: Young Swedish royal melts hearts on outing with stunning mum Princess Sofia
The family joined together to celebrate the Polar Music Prize which is handed out annually to one contemporary musician and one classical musician. The coveted award was founded in 1989 by Stig Anderson, manager of the famous Swedish bank ABBA with recipients receiving a generous 1 million kr (AU$152,000) prize.
Are you a fan of the Swedish royal family? Whose outfit do you like the best?