Melania complemented the outfit with a pair of diamond stud earrings, while she wore her brunette locks down in slight waves.
The 49-year-old and her president husband were welcomed to the lavish residence for a special state banquet as part of their visit to Japan.
Earlier in the day Melania soaked up the sunshine in a pretty white frock which featured gorgeous floral detailing, as she greeted Japan's Emperor Naruhito and Empress Masako.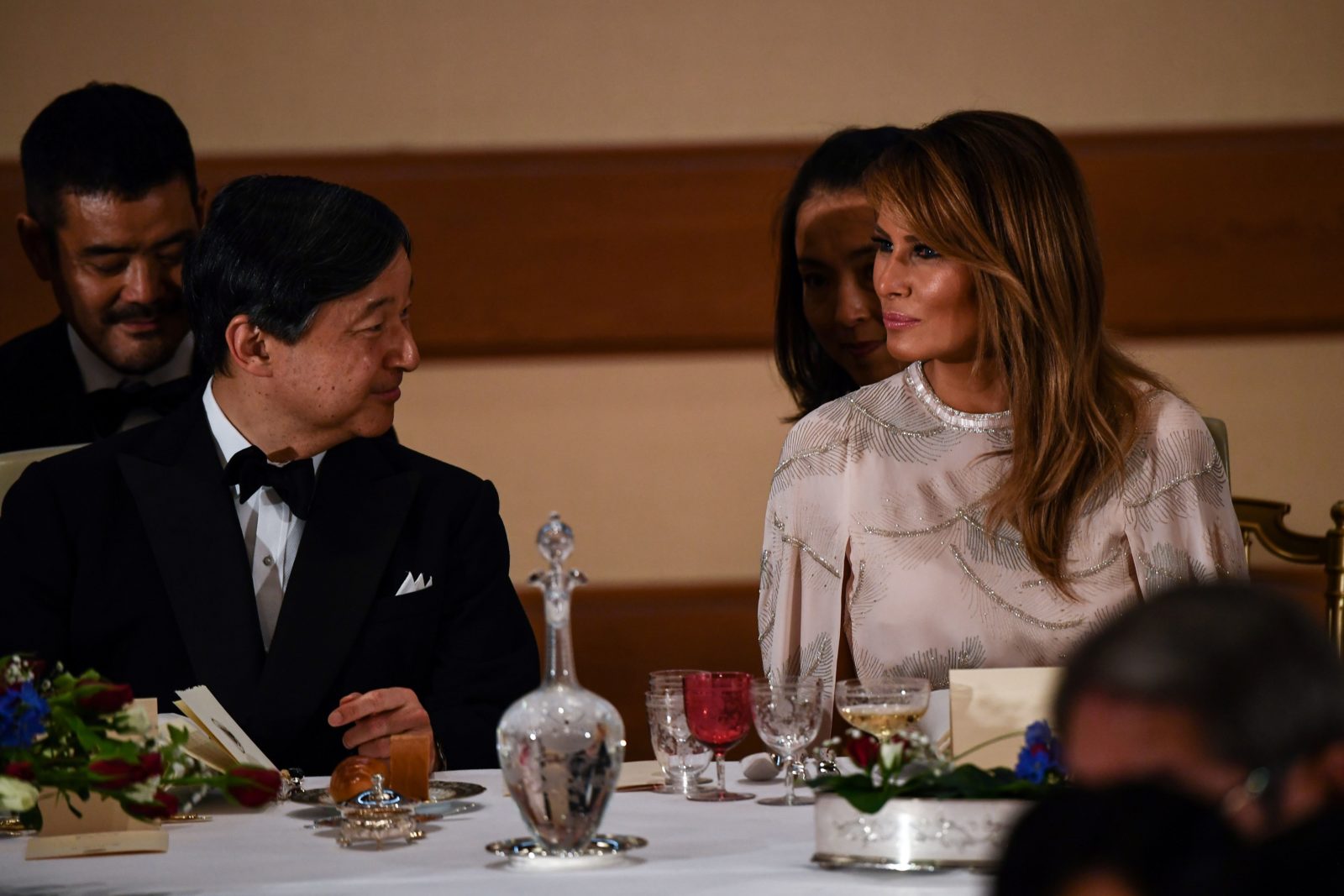 Standing tall in red pumps, the mother-of-one complimented the outfit with white nail polish, while she kept her hair down in slight waves once again for the official event.
The former model and her husband stood outside the palace listening to the national anthem of both countries being played before heading inside for further discussions.
In the days prior, Melania was also treated to a visit to the Mori Building Digital Art Museum in Tokyo where she browsed through the creative designs and enjoyed a chat with locals.
The First Lady looked lovely in a navy jumpsuit for the outing which was pulled in at the waist with a chunky belt to show off her figure. Following the visit with Prime Minister Shinzo Abe's wife Akie, Melania took to social media with a series of photos showcasing the array of art works on show.
"A great day exploring Tokyo with Mrs Abe," she wrote on Twitter alongside the snaps. "Thank you to @teamLab_net exhibits at Mori Bldg Digital Art Museum for a wonderful interactive experience."
The visit to Japan by the US President and his First Lady comes as the city mourns the loss of citizens who were reportedly killed in a vicious attack in the country.
At least 16 people including several primary school children have been injured in a mass stabbing, multiple reports have claimed.
Read more: Primary school children 'among 16 injured in mass stabbing in Japan'
A suspect has been arrested after the horrific incident on Tuesday morning in the city of Kawasaki, south of Tokyo, with at least eight schoolchildren injured, Japanese broadcaster NKH reported, according to The Mail Online.
Now two people – including a child – are feared to have died in the incident.
"One man, and one female child are showing no vital signs," fire department official Yuji Sekizawa told AFP, according to The Australian.
The suspect, reportedly in his 40s or 50s, is alleged to have turned the knife on himself after the attack and is now unconscious.
 Are you a fan of Melania Trump? Do you like her style?