Meghan Markle's wedding dress to be created by Aussie-born designers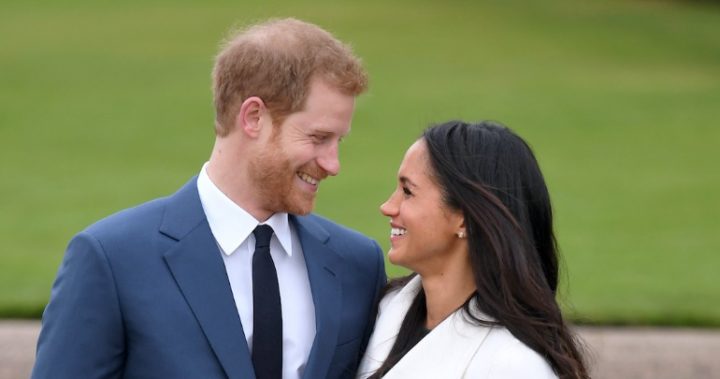 Her big day is just months away and it looks like a touch of Australia will be part of Meghan Markle's wedding day.
Monday mornings episode of Sunrise reported that Australian-born designers Tamara Ralph and Michael Russo of luxury brand Ralph and Russo are tipped to design Meghan's wedding gown. The fashion designers had previously dressed the bride-to-be for her engagement shots with Prince Harry. Released in December, the photographs featured the former Suits actress wearing a couture gown by Ralph and Russo.
While their firm is now based in the United Kingdom, Tamara and Michael were both born in Australia and have worked with some of the biggest names in the industry. Sunrise reported that the duo haven't yet confirmed the news, with host Natalie Barr suggesting that means they really are doing it. "See, that's a guarantee right there," she explained during the report. "If they're not commenting, it's on."
Her co-host David Koch joked that it was only the designers commenting that probably have nothing to do with the wedding at all, pointing out Stella McCartney in particular. Samantha Armytage added that Meghan's engagement dress cost a cool $99,000 and that Ralph and Russo designers are typically one-of-a-kind creations that can't be found in stores or purchased on the High Street.
Australian born fashion designers Ralph and Russo are reportedly designing Meghan Markle's wedding dress! ???? pic.twitter.com/vTuRdLxASH

— Sunrise (@sunriseon7) March 11, 2018
Ad. Article continues below.
Ralph and Russo was initially founded in 2007 and now boasts more than 200 employees. The business has an Instagram following of 1.8 million, with that figure expected to rise if the pair really do design Meghan's gown. In fact, many of the outfits and accessories Meghan has worn on her public engagements so far have sold out in a matter of minutes.
Ad. Article continues below.
The 36-year-old is expected to marry Prince Harry in a lavish ceremony in Windsor on May 19. The pair will say "I do" at St George's Chapel, before taking to the streets of Windsor in a horse-and-carriage ride so the public can catch a glimpse of the happy couple.
Ad. Article continues below.
They will be married by the Justin Welby, who is the Archbishop of Canterbury and the full service will be led by David Connor, the dean of Windsor. And, in addition to the royalty and celebrities that will witness the wedding, Prince Harry and Meghan have extended their invite to members of the British public.
In addition to the 600 guests they've hand-picked, a further 2,640 members of the public will be present. Kensington Palace said that people of all walks of life from all corners of the United Kingdom could be invited. The Palace said 1,200 people from all around the country will be nominated to attend by nine regional Lord Lieutenant offices, 200 will be from the various charities and organisations that Prince Harry and Meghan work closely with, while 100 school children from The Royal School, Great Park, Windsor and St George's School, Windsor Castle, will be given invites.
Staff won't be left out of the festivities, with 530 members of the royal household and crown estate to be invited, while an additional 610 Windsor Castle community members and people of the St George's Chapel community will also get an invite.
What do you think? Are you excited that Australian designers could be dressing Meghan Markle for her big day?