Just like us! Helen Mirren catches the bus in stunning red ball gown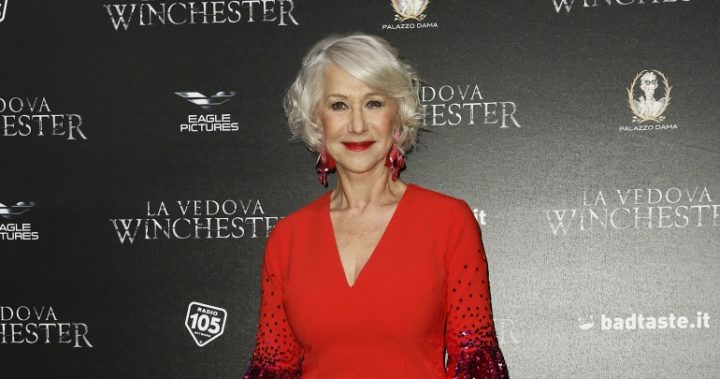 Helen Mirren proved she truly is down-to-earth as she caught the bus to her latest red carpet event, dressed up to the nines in a floor-length ball gown.
Ditching her more luxurious transport options, the 72-year-old actress shared a photo as she sat inside an empty coach, en route to the premiere of her new movie Winchester in Rome. While it was a far cry from over-crowded public transport, it's also a long way from her usual choice of travel.
Wearing a fitted red gown, the star showed off her figure and stood out as she posed for photos following her surprising entrance, with dramatic purple sequinned sleeves.
She added matching huge red earrings, and looked in great spirits at the bash, revealing a glowing complexion with natural make-up. Alongside her social media photo, she wrote: "Arriving at the premiere for Winchester in Rome… by bus!"
Ad. Article continues below.
Fans loved the surprise post, with one writing: "Always knew you had style," while another added: "Beautiful! Beautiful! Beautiful!!!!" Meanwhile one wrote: "Oh wow! That's awesome. You go girl high five to you. You're looking amazing."
A man, dressed up in a tux, can be seen in the background, so it's not clear if the actress got the bus on her own, or shared with more guests for the glitzy event.
She's certainly kept busy during her trip to Italy, and just hours earlier stunned in a floral dress at the official photocall for the movie. The Oscar winner opted for a truly beautiful floral dress that showed off her gorgeous pins. While the temperature was still a bit nippy at the La Casa Del Cinema, Helen ensured that she was kept warm, while still looking fashionable.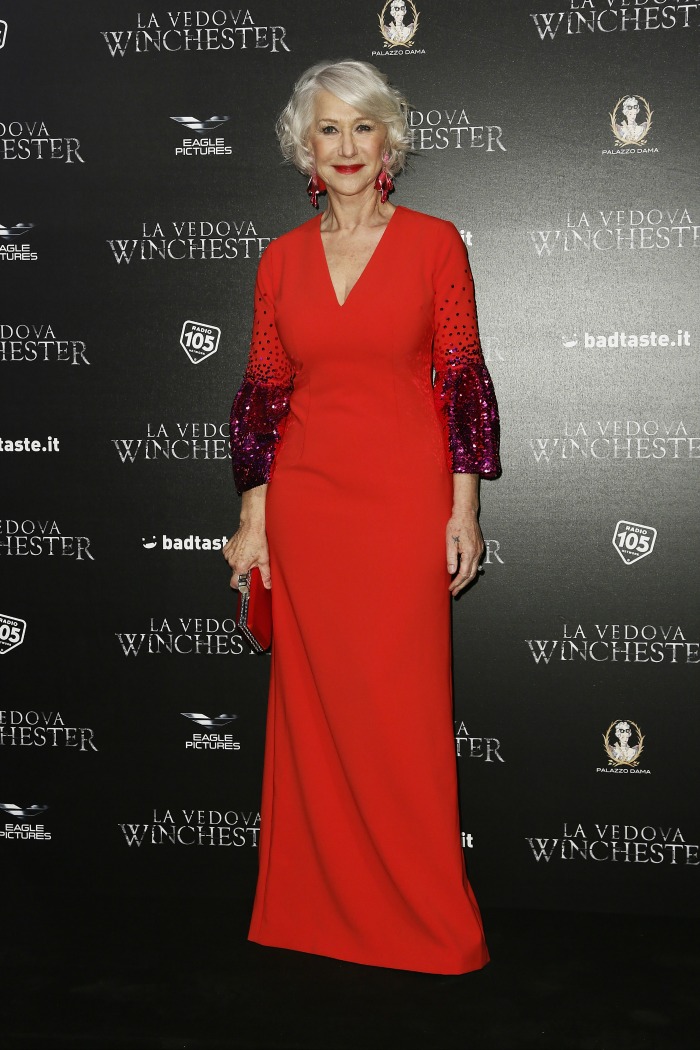 Read more: Youthful Helen Mirren brings back flower power with stylish dress
Her latest appearances come after the star said she didn't want to act like a typical older person.
According to NY Daily, the star suggested she wasn't ready to settle down just yet. "I don't really like the word 'gracefully'," she said on the red carpet of the 17th Annual Movies for Grownups Awards in Los Angeles recently. "There is something sort of weird about that. I mean, I want to rage into the night. I do not want to go gracefully at all."
Ad. Article continues below.
Her latest film is one of four set for release this year, as well as a TV series that's in pre-production. Her next major film will be Berlin, I Love You, followed by The Nutcracker and the Four Realms and Anna.
Ad. Article continues below.
While she always knows the right clothes to wear on a red carpet, Helen has also proven that she looks good in nothing at all. The actress recently turned heads when she appeared topless in a charity campaign with a twist.
Teaming up with an array of other celebrities, Helen ditched her clothes in an attempt to get others to donate their items to fund cancer research. For that shoot, the Calendar Girls icon worked with photographer Jason Bell and posed in a fancy pool.
Are you a fan of Helen Mirren? Do you like her red dress?