How 1950s glamour is still setting the tone for evening wear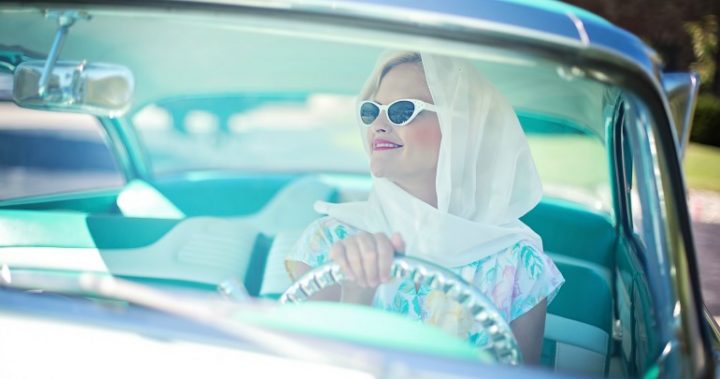 When it comes to 195os styles, there was one thing a woman never forgot. Her handbag.
Starts at 60 spoke about the era with fashion curator and author Charlotte Smith, owner of The Darnell Collection, For Smith, the fashions of the '50s represented structured dressing but with new twists that underlined the unprecedented independence  some women were enjoying.
"Handbags got really big," Charlotte Smith said. "Women were driving the cars, going shopping, picking children up from school."
In those handbags were your make-up, house keys, car keys, and more. "You had everything that really made you a modern woman, so you were self-sufficient," Smith explained.
Ad. Article continues below.
It didn't matter what role you played in society, though, women still very much dressed to impress. 
For those who worked in the home, the go-to dress was still a pretty, flared-skirted dress with a nipped-in waist. Even while making dinner you would dress that way, making sure to put a beautiful apron on, Smith said.  "They dressed for their role. Being a housewife was as important as many women who were going out and getting work in offices."
Read more: Mend and make do: How women won the '40s with fabulous fashion. 
Ad. Article continues below.
And while the workplace was still very much dominated by men, women were venturing out to join them.
"This time it wasn't to fill roles vacated by men in wartime, this time it was women choosing to go into business alongside men," Smith explained. "For a woman back in the 1950s working in an office as a typist or a PA, that was a very important role and they were very proud of it."
Ad. Article continues below.
With the fashion style still very much rigid and structured, it was an era that was again dominated by fashion designer Dior.
That '50s glamour look still sets the tone for much of our modern fashion when it comes to evening wear, from parties to high-end fashion events, because it embodied glamour, the feminine ideal, being perfectly poised and accessorised, with so much attention to detail.
"You look at images of Grace Kelly and that fantasy of marrying that prince, of being wined and dined wearing jewels and furs and things," Smith said.
Ad. Article continues below.
Despite all the glamour, though, Smith said that it wasn't the greatest era for women. 
"Many fantasize, saying the '50s would have been the perfect year, but of course if you were a feminist you'll realise it wasn't great for women back then, just because of the social burdens placed on the time."
Smith's insights into dressing throughout the decades were showcased at a catwalk event called '200 Years of Empowerment – A Fashion Journey' that was held in Sydney last week. The event was supported by Westpac and designed to raise funds for Dress for Success, a non-profit that empowers women to achieve economic independence by providing a network of support, professional attire and the development tools to help women thrive in work and in life.  
What was your favourite look from the '50s?