Forget Nana dressing! Melanie Griffith makes daggy look chic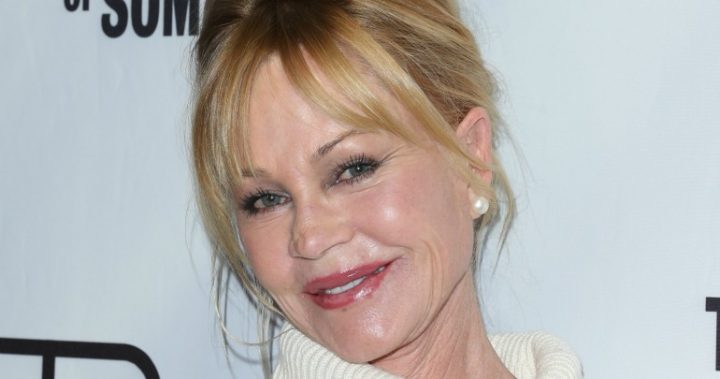 It's not easy to throw on a baggy jumper and a floor-length skirt and make it look designer chic, but Melanie Griffith has done just that.
The Working Girl actress, 60, walked the red carpet at the premier of The Pirates of Somalia in Los Angeles on Thursday and turned heads with her etherial ensemble.
Griffith wore a baggy ivory jumper, a floor-length silk skirt and nude heels for the event.
She kept her accessories simple with a pair of pearl earrings and a gold glomesh clutch.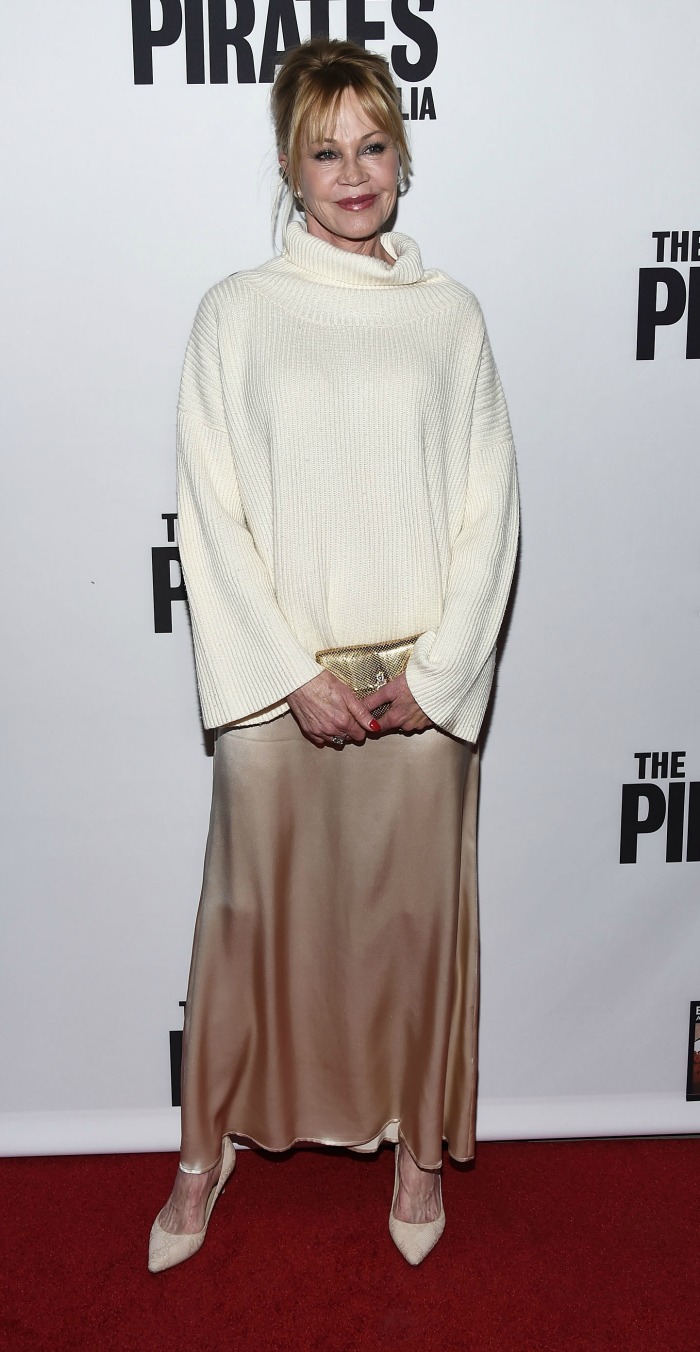 Griffith stars in The Pirates of Somalia alongside Al Pacino and newcomer Evan Peters.
The film revolves around Peters' character, Jay Bahadur, a rookie journalist who forms a half-baked plan to embed himself among the pirates of Somalia.
He ultimately succeeds in providing the first close-up look into who these men are, how they live, and the forces that drive them.
Ad. Article continues below.
The film is based on a book by the real-life Bahadur, who was just 28 when he first went to Africa in search of the notorious Somalian pirates.
Although she turned 60 in August, Griffith is showing no signs of slowing down her career.
While work can be difficult to come by for older actresses in Hollywood, Griffith has a second movie coming out in December (The Disaster Artist) and recently appeared in TV show The Path.
Despite the career highs it hasn't been an easy few years for the actress.
Ad. Article continues below.
In October, Griffith revealed she has been living with epilepsy, which she believes was brought on by stress after divorcing her husband of 18 years, Antonio Banderas.
"I was extremely stressed out. Every seizure that I had was at a point when I was extremely stressed," she said during a panel discussion on brain health in Los Angeles.
She revealed she was diagnosed after suffering a seizures at the Cannes Film Festival in 2011.
"I had this major grand mal seizure and they took me to the hospital in Cannes and then brought me back to the boat," she said.
"And then I had another seizure and I went back [to the hospital]. They did the EEG and started to look at it seriously.
"When I came back [to the U.S.], I was diagnosed with epilepsy and nobody had said to me over a period of 20 years, no one paid enough attention to even diagnose me."
Are you a fan of Melanie Griffith? Have you followed her career over the years?