Deborra-lee Furness, Helen Mirren rock Golden Globes red carpet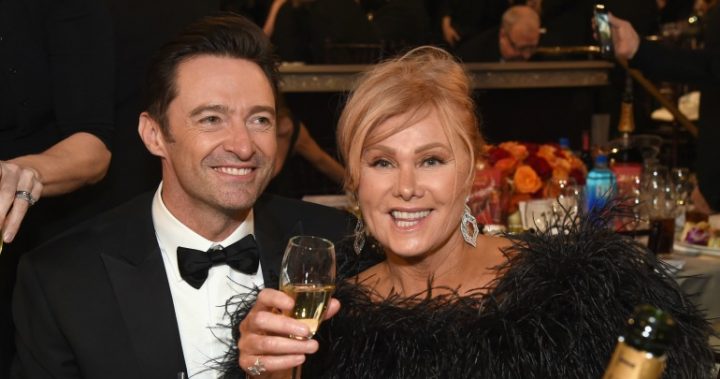 She's known for her relaxed, effortless style at public events, but Deborra-lee Furness completely transformed in all-out glamour for Sunday's Golden Globes, as she joined Helen Mirren, Meryl Streep and more on the red carpet.
Furness, 62, looked super glamorous in a black dress with a daring thigh-split up one leg, and a dramatic feathered top to finish off the look. She wore her hair tied back and large silver earrings, as she posed alongside her husband Hugh Jackman.
Jackman himself went all out in a black tux as the pair posed together for some loved-up photos in front of the cameras. Clearly her biggest fan, the actor posted a photo of his wife on Instagram shortly before they arrived. He wrote: "Off to the @goldenglobes …. #mydebs @greatestshowman."
Ad. Article continues below.
Stars from across the world pledged to wear black on the Globes red carpet this year, in support of the Time's Up campaign against sexual harassment. Joining Jackman and his beautiful wife were a stream of other big names, all following the theme too.
Mirren chose a daring sheer-panelled dress for the event, showing off her figure in the flimsy material. The dress clung to her frame and ended with floral patterned sleeves, with a similar pattern across her chest. The actress, 72, smiled happily for photos outside and wore dark red lipstick for the annual bash.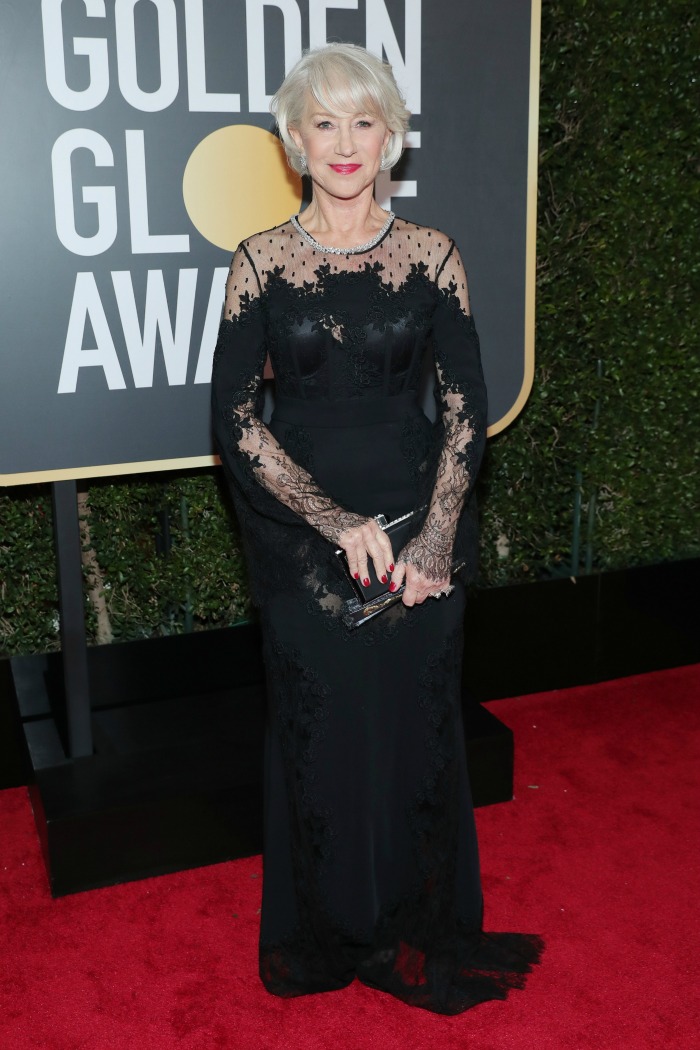 Meanwhile, Streep followed close behind as she made her own bold statement in black this year. The actress opted for an off-the-shoulder dress as she was joined by activists on the red carpet. Posting a photo on Instagram, she wrote: "Be the change you want to see in the world."
Ad. Article continues below.
She was pictured embracing an activist in front of the cameras, after it was reported many of this year's celebrities would be taking experts specialising in sexual harassment along as their plus ones. Streep, Susan Sarandon, Laura Dern, Amy Poehler, Emma Stone, Emma Watson, Michelle Williams and Shailene Woodley all released a joint statement announcing the plan.
"We believe we are nearing a tipping point in transforming the culture of violence in the countries where we live and work," the women said, according to the New York Times. "It's a moment to transform both the written and unwritten rules that devalue the lives and experiences of women."
Ad. Article continues below.
Oprah Winfrey also followed the movement in black velvet, as she took to the stage with a moving speech after winning the Cecil B. DeMille Award for lifetime achievement. After revealing her happiness to be the first black woman to win the award, she shared her hope for a society where "nobody ever has to say, 'Me too,' again."
Winfrey added: "I want all the girls watching here and now to know that a new day is on the horizon! And when that new day finally dawns, it will be because of a lot of magnificent women, many of whom are right here in this room tonight, and some pretty phenomenal men, fighting hard to make sure that they become the leaders who take us to the time when nobody ever has to say, 'Me too,' again. Thank you."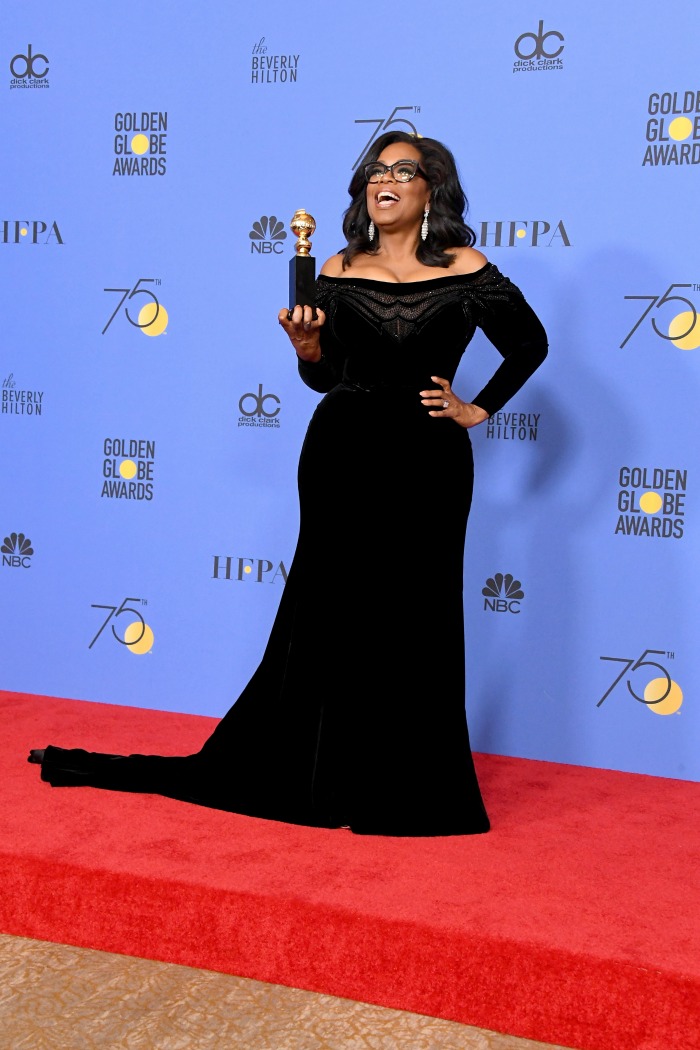 "I want all of the girls watching here now to know, that a new day is on the horizon." @Oprah accepts the 2018 Cecil B. de Mille award. #GoldenGlobes pic.twitter.com/hbquC1GBjm

— Golden Globe Awards (@goldenglobes) January 8, 2018
Ad. Article continues below.
Sharon Stone joined the star-studded line-up in one of the most daring outfits of the night – and she took her son along as her plus one. The star dared to flash the flesh in the plunging black number, with cut out panels right across her chest.
Ad. Article continues below.
Sharing a steady stream of photos on Instagram, she said: "With my fabulous date for the @goldenglobes #WhyWeWearBlack #TimesUp @timesupnow," before adding: "Proud to present the Best Supporting Actress – Series/Limited Series/TV Movie."
Later on, Nicole Kidman, 50, left viewers in tears as she gave an emotional speech after winning Best Actress in a Limited Series or Television Movie for her role as a victim of domestic violence in Big Little Lies at the annual ceremony and her husband Keith Urban was right by her side to cheer her on as she stood to accept the gong. Standing to a round of applause, Kidman gave Urban a quick peck before taking to the stage.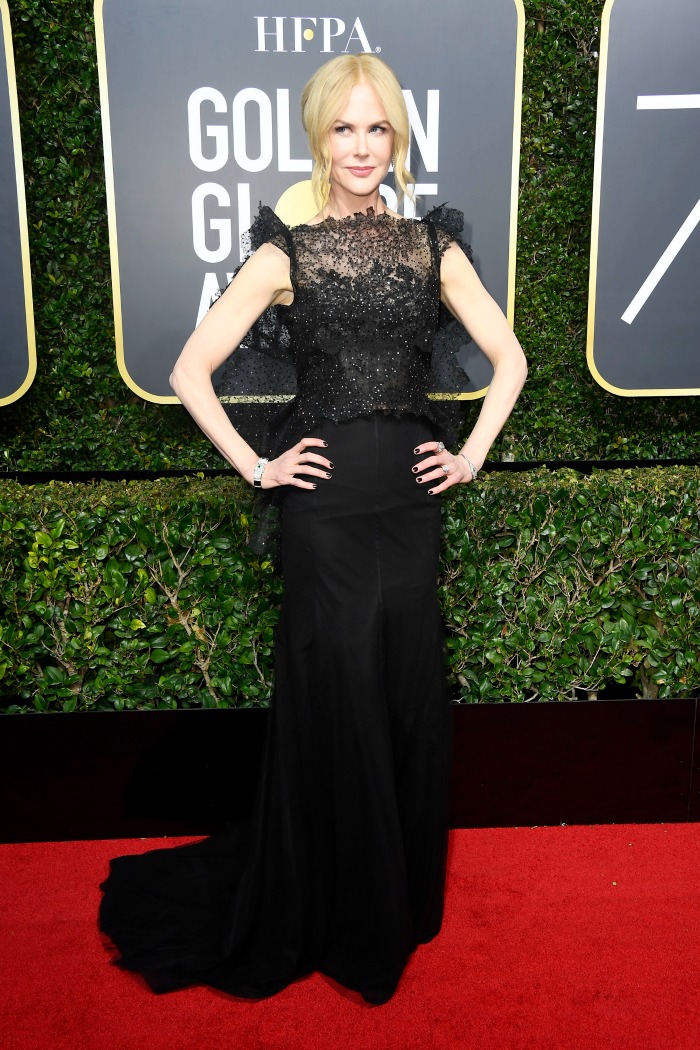 Read more: Nicole Kidman leaves audience in tears with moving Globes speech
Ad. Article continues below.
She gave her husband a special mention in her acceptance speech, and managed to leave many of her biggest fans in tears. She praised her female co-stars and added of the TV show: "This character that I played represents something that is the centre of our conversation right now: abuse. I do believe and I hope that we can elicit change through the stories we tell and the way we tell them."
She went on to thank her husband Urban, saying: "When my cheek is against yours everything else melts away," and she also thanked her mother, adding: "My momma was an advocate for the women's movement when I was growing up, and because of her I'm standing here. My achievements are her achievements."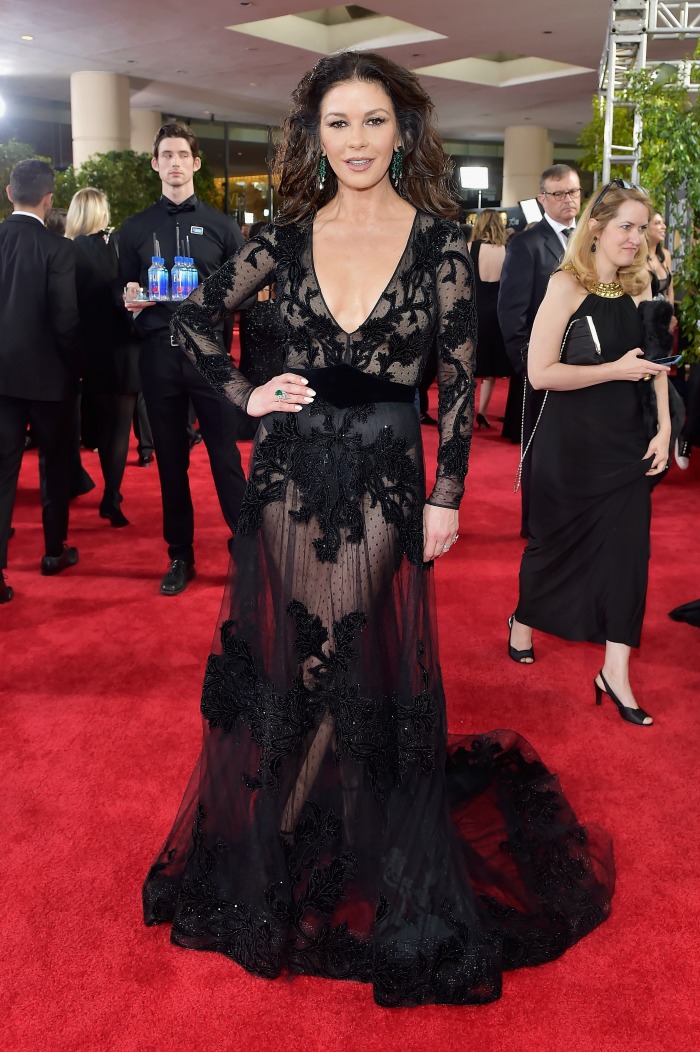 Meanwhile, Catherine Zeta-Jones, 48, stole the show in a semi-sheer dress, showing off her figure in the plunging number. With floral black patterns and strategically placed jewels, she managed to keep the daring number elegant with a hint of her black underwear underneath.
Ad. Article continues below.
Read more: Catherine Zeta-Jones and Michelle Pfeiffer stun in black at Globes
And Michelle Pfeiffer, 59, embraced this year's theme too in a long netted black skirt and plunging plain black blazer. Pinched at the waist, the outfit showed off the actress' figure perfectly, as she posed alongside her producer husband David E. Kelley, who looked smart in a black suit with matching shirt and tie.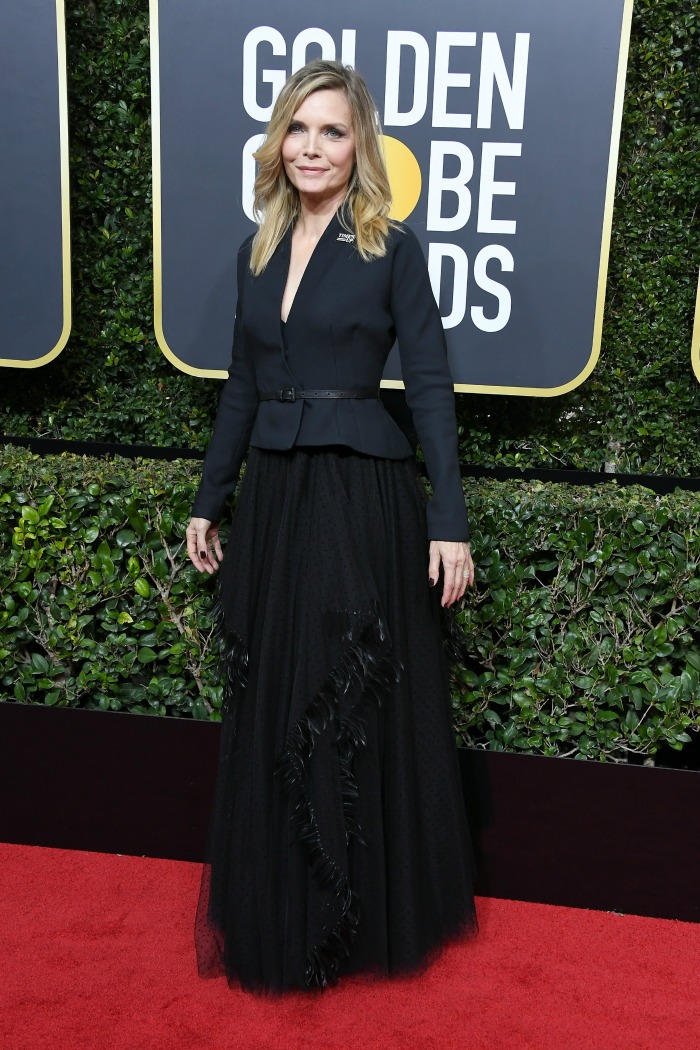 Kevin Bacon and his wife Kyra Sedgwick posed together in all-black too, with the actor showing off a bushy moustache, while his wife stole the limelight in a stylish black suit to match the theme.
Ad. Article continues below.
The Time's Up campaign was established by a group of more than 300 women, both in and out of Hollywood, and encouraged actresses to wear black to the awards show in an act of solidarity. The group, which includes everyone from Streep to Jennifer Lawrence, has also raised $16.5 million for a legal defence fund for less privileged women who have fallen victim to sexual harassment, the Sydney Morning Herald reports.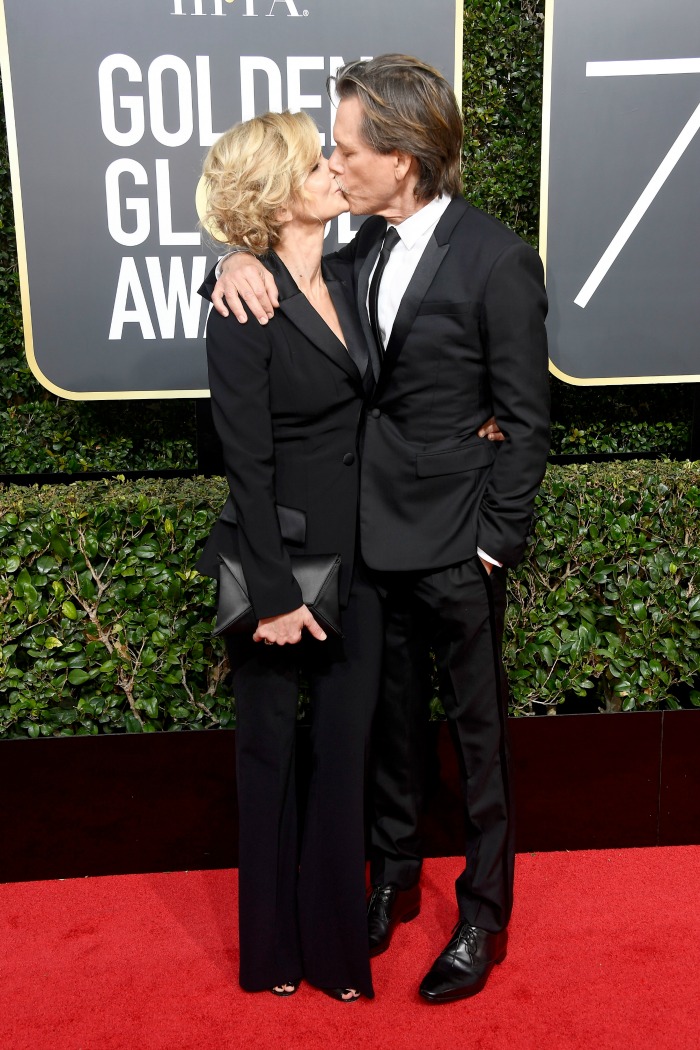 The initiative was announced with a full page ad in the New York Times, with an open letter signed by many of the celebrities involved in the project. Part of it reads: "The struggle for women to break in, to rise up the ranks and to simply be heard and acknowledged in male-dominated workplaces must end; time's up on this impenetrable monopoly." It followed a series of shocking allegations of sexual harassment made against Harvey Weinstein and other big names in the entertainment industry.
Which was your favourite outfit of the night?