Catherine Zeta-Jones and Michelle Pfeiffer stun in black at Globes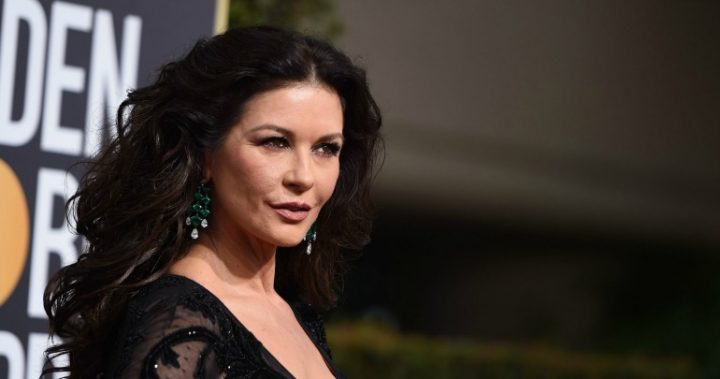 Stars from across the world pledged to wear black on the Golden Globes red carpet this year, in support of the Time's Up campaign against sexual harassment. And they didn't disappoint.
Catherine Zeta-Jones and Michelle Pfeiffer led a stream of big names at the annual ceremony, showing off some incredible styles in all-black, and bringing old-school glamour back to The Beverly Hilton Hotel.
Zeta-Jones, 48, stole the show in a semi-sheer dress, showing off her figure in the plunging number. With floral black patterns and strategically placed jewels, she managed to keep the daring number elegant with a hint of her black underwear underneath.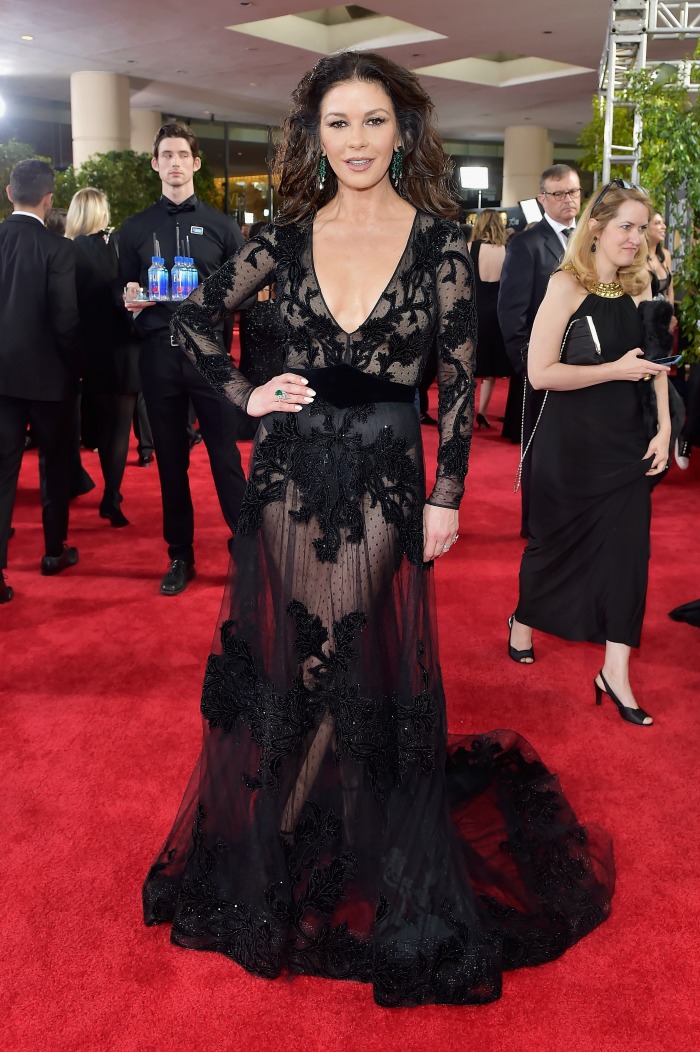 She wore statement green earrings and kept her hair loose and wavy down her back, while flashing a huge smile for the cameras. 
Ad. Article continues below.
Meanwhile, Pfeiffer, 59, embraced this year's theme too in a long netted black skirt and plunging plain black blazer. Pinched at the waist, the outfit showed off the actress' figure perfectly, as she posed alongside her producer husband David E. Kelley, who looked smart in a black suit with matching shirt and tie.
The Time's Up campaign was established by a group of more than 300 women, both in and out of Hollywood, and encouraged actresses to wear black to the awards show in an act of solidarity. The group, which includes everyone from Meryl Streep to Jennifer Lawrence, has also raised $16.5 million for a legal defence fund for less privileged women who have fallen victim to sexual harassment, the Sydney Morning Herald reports.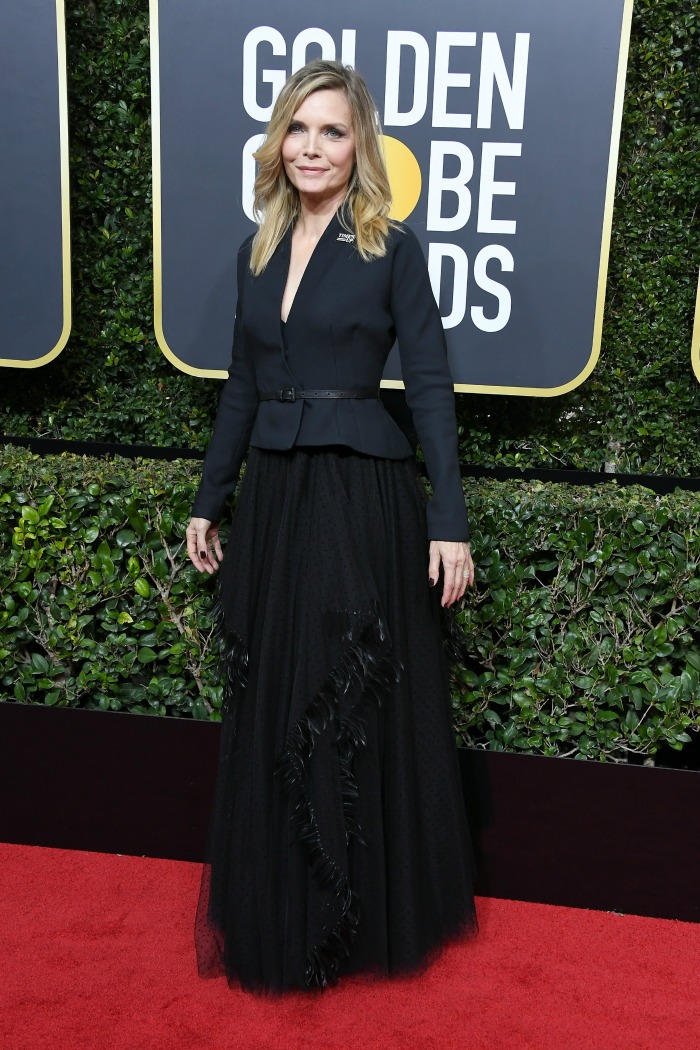 The initiative was announced with a full page ad in the New York Times, with an open letter signed by many of the celebrities involved in the project. Part of it reads: "The struggle for women to break in, to rise up the ranks and to simply be heard and acknowledged in male-dominated workplaces must end; time's up on this impenetrable monopoly." It followed a series of shocking allegations of sexual harassment made against Harvey Weinstein and other big names in the entertainment industry.
Ad. Article continues below.
Meanwhile, the actresses were joined at the Golden Globes by more big names, with everyone from Meryl Streep and Susan Sarandon, to Kyra Sedgwick and Kevin Bacon showing off their styles in black.
Ad. Article continues below.
Streep was pictured embracing an activist in front of the cameras, after it was reported many of this year's celebrities would be taking activists specialising in the field along as their plus ones. Streep, Sarandon, Laura Dern, Amy Poehler, Emma Stone, Emma Watson, Michelle Williams and Shailene Woodley all released a joint statement announcing the plan.
"We believe we are nearing a tipping point in transforming the culture of violence in the countries where we live and work," the women said, according to the New York Times. "It's a moment to transform both the written and unwritten rules that devalue the lives and experiences of women."
Do you like the outfits at this year's Golden Globes? Do you think it's good they all wore black?