A look at past Royal wedding dresses ahead of Meghan's big reveal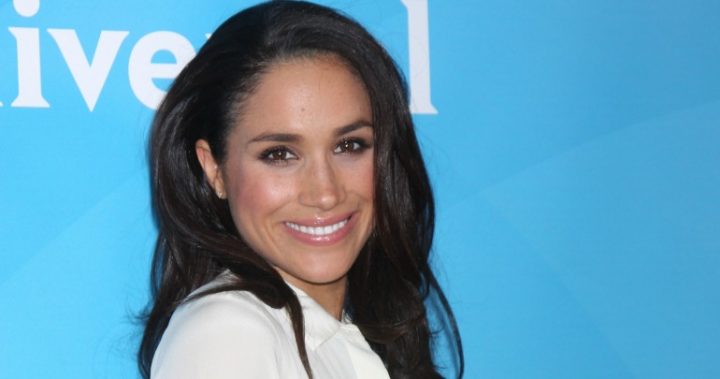 From timeless classics to the Duchess of Cambridge's show-stopping gown just a few years ago, we have seen some incredible Royal wedding dresses over the years.
So what will bride-to-be Meghan Markle choose to wear to marry Prince Harry?
She's known for her daring style and appears to have embraced a new take on Royal fashion in recent weeks.
However, while rumours are circulating over possible styles for her wedding gown, the American actress herself has remained tight-lipped.
Fans were treated to three possible designs last week, when Israeli designer Inbal Dror, who was sent an official request from the palace, released sketches of gowns she could see Meghan walking down the aisle in.
Ad. Article continues below.
While one shows a figure-hugging dress with a floral design and plunging neckline, another features more lace with a wider skirt.
Meanwhile, Meghan previously married ex husband Trevor Engelson in 2011, and for the ceremony she chose a simple white strapless dress with a beaded waistline.
So will she choose something different this time? Here, we look at past Royal wedding dresses the star could take inspiration from.
The Duchess of Cambridge in 2011: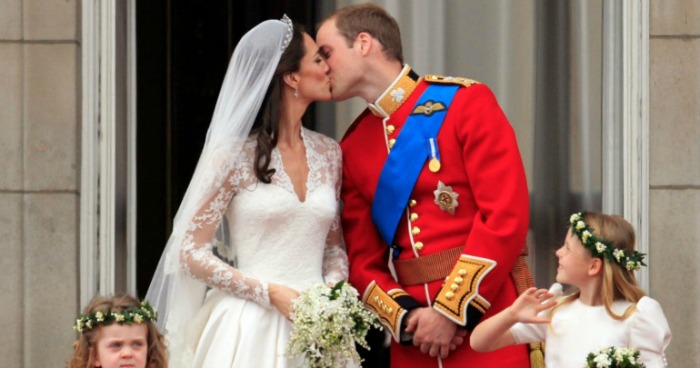 The Duchess of Cambridge chose a white lace dress with a flowing skirt by English designer Sarah Burton (Alexander McQueen) when she married Prince William.
Catherine opted for a daring plunging neckline, a first for the Royal family, and had a long flowing veil as she walked down the aisle.
Catherine's dress cost an amazing £250,000 (US$333,400, A$537,500).
Ad. Article continues below.
Princess Diana in 1981: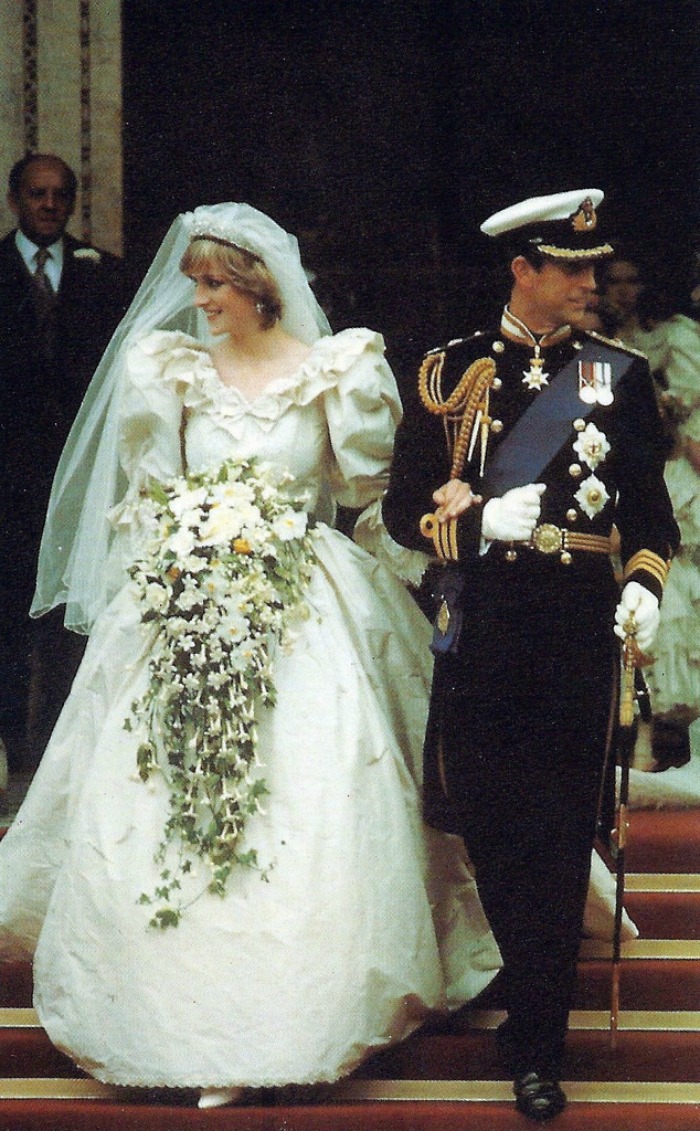 Princess Diana wore an ivory silk taffeta and antique lace gown for her wedding to Prince Charles, and it was considered one of the most closely-guarded secrets in fashion history at the time.
Ad. Article continues below.
The gown had a 25-foot (7.62m) train, and it was valued then at around £9000 ($15,000 Australia).
Queen Elizabeth II in 1947: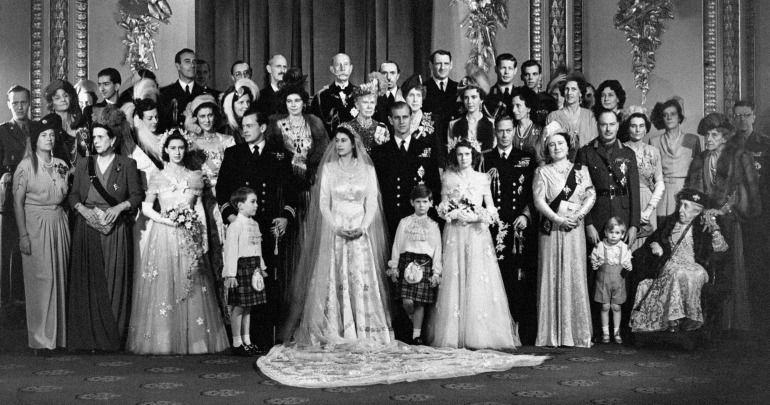 Although the monarch's wedding appeared to have all the pomp and ceremony of a normal royal nuptials, there was an unusually down-to-earth element to it.
Ad. Article continues below.
Read more: If Prince Harry wants a 'non-trad' wedding, he should ask the Queen how
When the Queen got married in 1947, rationing was still in place in the wake of World War II, so to pay for her dress, the monarch saved her own clothing ration coupons. Coupled with a gift of 200 coupons from the government, she had enough to pay for the material for her wedding dress – ivory silk, with a 13 foot-long train and decorated with crystals and seed pearls, all of which were bought with coupons.
Queen Elizabeth's dress, though far cheaper by comparison, was still a luxury affair, designed by Norman Hartnell, from silk made by silk worms brought from China (not Japan, which was at the time considered an enemy nation).
The Queen Mother, Elizabeth, in 1923: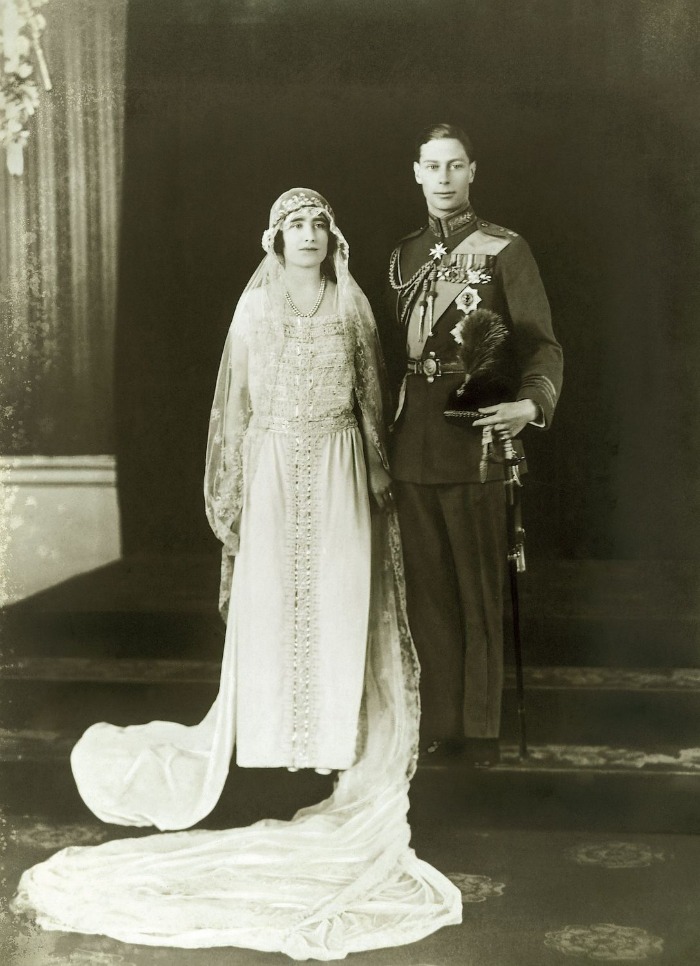 Lady Elizabeth Bowes-Lyon married Prince Albert, Duke of York, in 1923 – and her dress was a far cry from more modern looks.
The Queen Mother opted for a full dress made from deep ivory chiffon moire, embroidered with pearls and a silver thread.
The dress, which matched the fashion of the early 1920s, was designed by Madame Handley-Seymour, dressmaker to Queen Mary.
Ad. Article continues below.
Sarah Ferguson in 1986: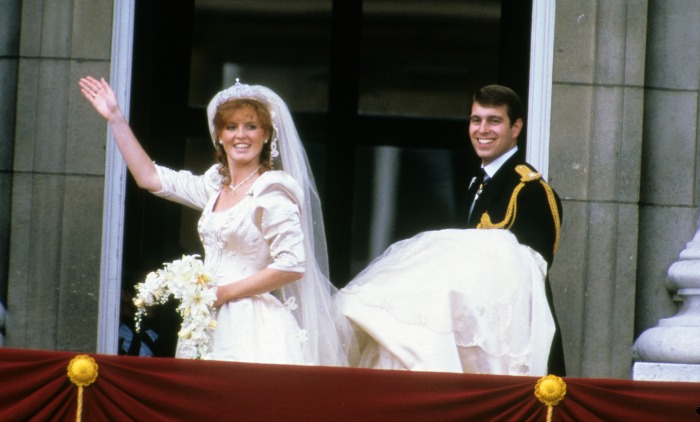 On July 23, 1986, Prince Andrew and Sarah married in a ceremony at Westminster Abbey, four months after announcing their engagement.
Ad. Article continues below.
And Fergie ditched her more daring style of recent years for a traditional look.
Sarah chose a gown made from ivory duchesse satin and featuring heavy beading.
Designed by Lindka Cierach, it incorporated symbols including hearts representing romance, anchors representing the Prince's sailing background and bumblebees and thistles, taken from the bride's family crest.
Princess Anne in 1973: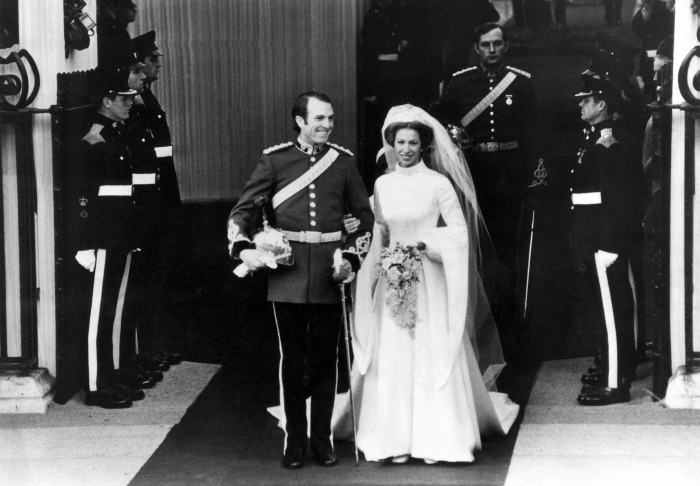 Princess Anne married Captain Mark Phillips in 1973 in a high-necked and simple dress, which she's said to have helped design herself.
Designed by Maureen Baker, the chief designer for the ready-to-wear label Susan Small, the gown was embroidered in a Tudor style and had long flowing sleeves.
Which was your favourite Royal wedding dress of all time? What style do you think Meghan Markle should opt for?