Tearful Barry Du Bois says love has 'kept him going' during cancer fight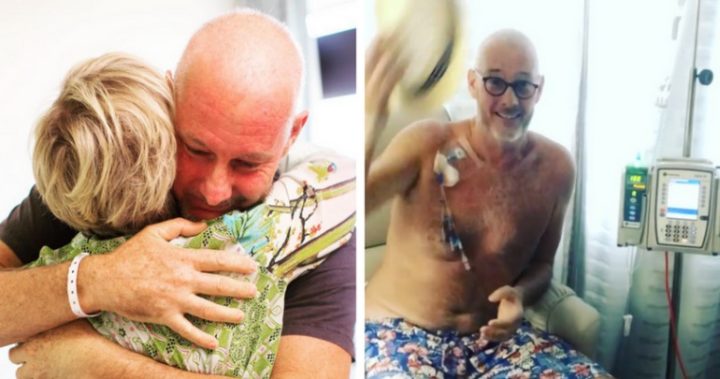 Barry Du Bois struggled to contain his emotions as he embraced his close friend and co-star Amanda Keller from his hospital bed, while giving her an update on his tough cancer battle.
The 57-year-old, who announced that he had been diagnosed with plasmacytoma myeloma last year, has been going through extreme treatment to try and beat the disease. It's the second time he's had cancer, with several tumours returning to his body in 2017. He had previously been in remission for six years.
Barry, who is usually a fixture on Channel Ten's lifestyle program The Living Room, had a visit from Amanda in hospital, and the pair shared their tender moment on the show on Friday night.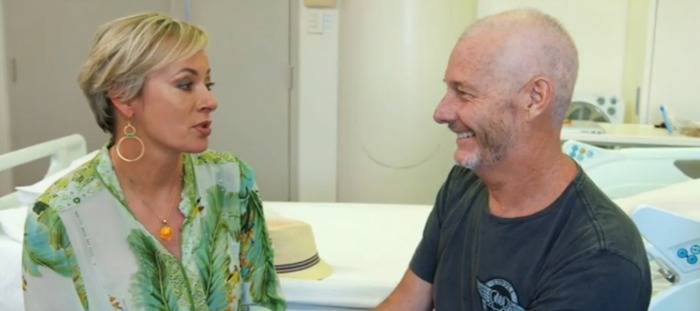 Fighting back tears, an emotional Barry – who wore a hat and loose t-shirt for the appearance – said: "I got really angry but I said this can't be my time… so I just prepared myself as best as humanly possible."
Ad. Article continues below.
Keen to remain positive however, he added: "I got physically fit, fitter than I've been in a long time, and lost a few of those kilos I didn't need. So I started this race as favourite."
As Amanda commented on him looking well, he admitted he'd had a few tough days, but has come out fighting.
"I got a little infection, which is what happens in this situation. The chemo's job is to take your white cells down to zero," he said, before revealing he'd struggled not seeing his children every day. "I've had a couple of tough days emotionally, I haven't seen the kids for so long… But the next day after the antibiotics and the care from the nurses and the doctors I woke up a new man, I'm ready to go again."
Ad. Article continues below.
Fighting back tears, Keller then said: "There's so much love for you Baz, everywhere I go people say 'give my love to Baz'. He responded: "I don't think love is far off fixing the world, the little bit of humanity and love that you get is what really keeps you going."
Barry has been in hospital for the last few weeks, and revealed he does three 10-minute workouts a day which "get his blood pumping". The pair soon returned to their jokey selves however, as Amanda begged for a glimpse of his "silver" hair – finally taking his hat off, before joking: "Will I get chlamydia?"
Barry revealed he hopes to have "a couple more days" left before he can return home, and as they finally shared a hug, Amanda couldn't resist joking that he'd "touched her bosom", laughing: "You went through all this to get a free grope!"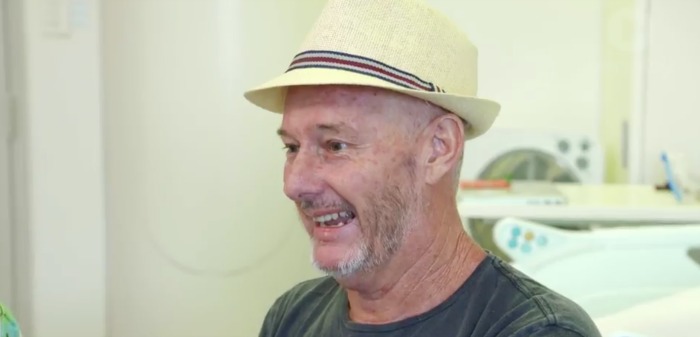 Fans were quick to flood social media with support for the TV star, with Grant Denyer writing: "The great man! See Amanda's much needed catch-up with the extraordinary @Baz_DuBois tonight on The Living Room. It's an honour to reserve his spot while he's receiving treatment but can't wait to have Barry back on The Living Room. Nicest bloke & nicest show on TV. 7:30pm."
Meanwhile one user wrote: "Hey @Baz_DuBois , it's your humble bravery that makes us throw love your way," while one added: "You are looking great Baz. Thoughts are always with you."
Another added: "I'm not crying.. you're crying @Baz_DuBois is such a kind loving soul, I hate that he's having to go through this.. Keep up the good fight Baz, and when things get tough always remember.. 'You are loved, you are strong, and you WILL beat this!' Always Keep Fighting."
Ad. Article continues below.
The brave star shared a photo with his close friend shortly after her visit, looking glowing and happy. He wrote: "Best medicine you can get is a visit from a beautiful friend, @amandarosekeller dropped in for a visit & we had a great chat."
Barry has been giving fans a glimpse into his cancer battle on social media, and a recent post was of him receiving chemotherapy from hospital. Posing shirtless in the shot, Barry offered his fans an explanation as to what was happening.
Read more: 'Loads of diarrhoea and nausea': Barry Du Bois' latest cancer update
"400mg Chemo, 12 million Stem cells, loads of diarrhoea and nausea & infection & fever," he wrote. "BUT I AM COMING BACK BABY!!! I am on the home run thanks to everyone for you love and support. #cancer #health #wholelife."
Ad. Article continues below.
Last month, the father-of-two revealed that his treatment meant he missed seeing his twins, Bennett and Arabella, off to school on their very first day. Understandably heartbroken, Barry explained his frustration at not being there for his kids.
"An incredibly proud day with my beautiful babies starting school, bitterly disappointed I can not be with them this morning but I guess every day I am in this hospital is a day closer to it all being over," he said at the time. "Thank you all for your support, I can't be prouder and still think I am the luckiest bloke in the world."
Do you have a message for Barry?