The surprising trait that nearly got David Koch fired from Sunrise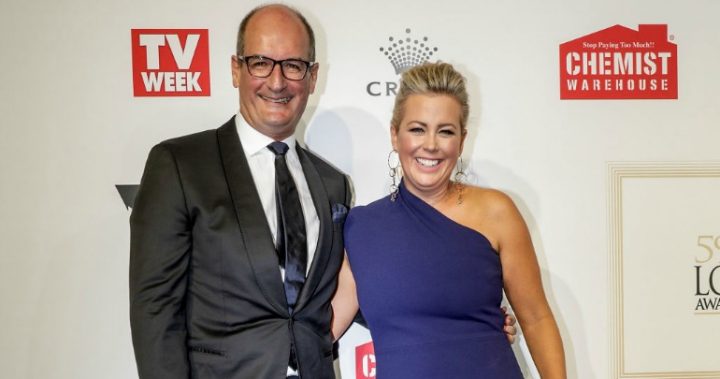 If you've ever been up early in the morning, chances are you've caught David Koch on the Sunrise couch at one point in time.
The 61-year-old has been fronting the popular breakfast show for more 15 years, but has revealed that very nearly wasn't the case.
The journalist suggested that TV execs weren't initially thrilled with his style of hosting the show, which he's originally been contracted to host for just a few months.
The Daily Telegraph reports that Kochie told New Idea that "after a year, the then-managing director of Seven approached the board to get me fired because they thought I was too opinionated".
"Thankfully, I'm still here!" he added.
Ad. Article continues below.
Being opinionated has gone on to be a Kochie trademark, turning him into a love-him-or-hate-him figure who can always grab the headlines.
Read more: Even Sam and Kochie argue over old man vs woman issue 
His former co-host, Melissa Doyle, departed the show in 2013, and was replaced by Samantha Armytage.
The show's battle against rival breakfast show Today has been raging for well over a decade, but Koch reckons his presence has helped Sunrise's success.
"Fifteen years ago when we started, we were 10 per cent of the Today show's audience, and we reeled them in 18 months," he says. "At breakfast, you can't be beige – you've got to make people think and laugh."
Ad. Article continues below.
Despite his confidence, Kochie's often tough on himself.
Read more: 'Kochie's blitzed!' Sunrise host enjoys 'jolly' night at the Brownlows.
In a 2016 interview with The Herald Sun, the father of four revealed that mean comments social impact had impacted him, explaining: "I would read and take notice of social media, and think that it was representative of the average Australian, which caused me to doubt myself, my values, and what I stood for.
"I don't take any notice of that now, because I realise that in most cases, it isn't an accurate representation of the average Australian."
Despite regularly beating Today in the ratings, there's no denying that Koch and the Sunrise crew are often up against tough competition.
Ad. Article continues below.
One of the biggest topics of conversation about TV at the moment is who will replace Lisa Wilkinson on Today, with the latest reports suggesting that Deborah Knight would be the new face of the show, alongside Karl Stefanovic.
Read more: New frontrunner in bid to replace Lisa Wilkinson on Today
The TV veteran dramatically left the show last month and nabbed a multi-million dollar deal to appear on Channel 10's The Project.
Are you a fan of David Koch? Which breakfast TV show do you watch?