According to The Sun, the luxury hospital has birthing suites costing anywhere from £2,000 (AU$3,700) up to £20,000 (AU$37,000) for a short stay, and it was also where her friend Victoria Beckham gave birth.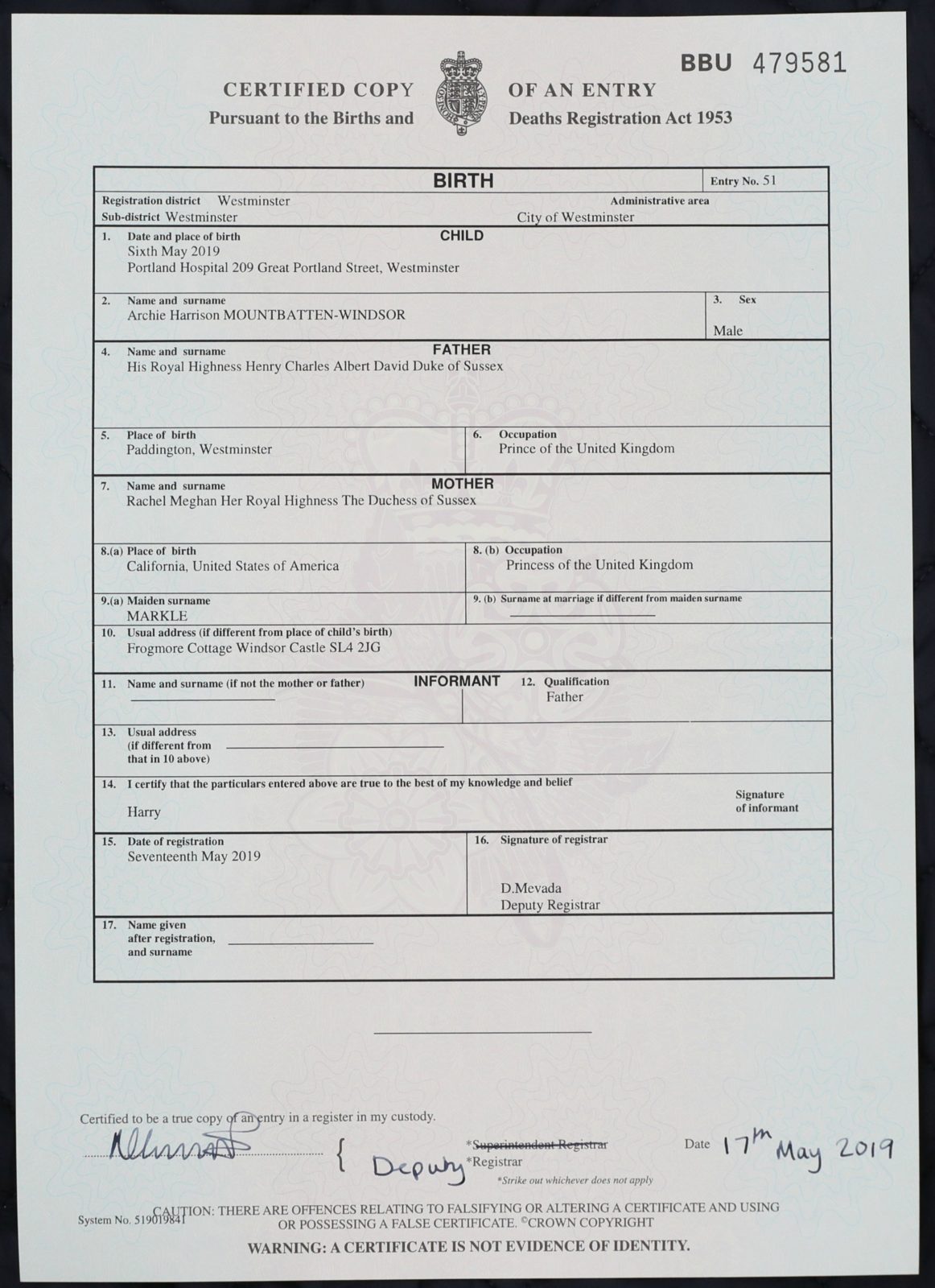 Meanwhile, both royals listed their occupations as 'Prince of the United Kingdom' and 'Princess of the United Kingdom' on the form – with the latter the same title that Catherine listed on each of her children's birth certificates.
While Meghan will always be Duchess of Sussex, she technically became 'Her Royal Highness, Princess Harry of Wales' when she married her husband. However, she will never be known as Princess Meghan.
Explaining how it worked for the Duchess of Cambridge previously, Lucy Hume, associate director at Debrett's, told Harpers Bazaar: "While known as the Duke of Cambridge, he also remains a prince in status as the grandson of the monarch and as second in line to the throne, and it is therefore correct for the Duchess of Cambridge to describe herself as a princess of the United Kingdom."
Meanwhile, Meghan's full name was also used on the certificate, "Rachel Meghan Her Royal Highness The Duchess of Sussex". She began using her middle name as her first name when she started working as an actress, it has been reported previously.
Harry's full name of "Henry" was also listed.
Days after Archie was born, the family stepped out together and posed for pictures at Windsor Castle.
The doting parents shared a series of adorable photographs of their bundle of joy with the world on the Sussex Royal Instagram page.
"Today The Duke and Duchess of Sussex are delighted to share their first public moment as a family," the post read.
"They are so incredibly grateful for the warm wishes and support they've received from everyone around the world, since welcoming their son two days ago."
The photographs, captured by photographer Chris Allerton, showed the proud parents happily embracing their new son at Windsor Castle.
In a separate post, the young couple confirmed Queen Elizabeth, Prince Philip and Meghan's mother Doria had met the baby and that he'd been named.
Read more: Harry and Meghan mark first Mother's Day together with new photo of baby Archie
In the photo, Queen Elizabeth could be seen smiling with delight as she met her new great-grandson for the first time.
"This afternoon Their Royal Highnesses introduced Her Majesty The Queen to her eighth great-grandchild at Windsor Castle," the caption continued. "The Duke of Edinburgh and The Duchess' mother were also present for this special occasion."
Did you know Meghan is technically 'Princess of the UK'? Were you excited about the latest royal birth?