For the past 100 years the Commonwealth War Graves Commission has aimed to honour the fallen men and women through the construction of 2,500 war cemeteries and plots around the world.
"One of it's guiding principles is that each of the war dead should be commemorated by name on a headstone or memorial," the royal family wrote on Instagram. "And that no distinction should be made on account of military rank, race or creed."
The royal family took to social media to share a number of images from the trip showing the beautiful royal greeting young children at the new facility. Anne looked stunning with a bunch of pink and white flowers in her hand.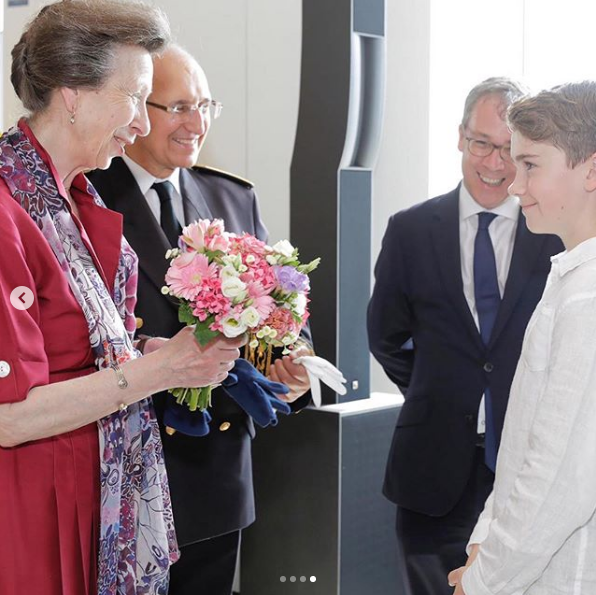 Meanwhile, the commission itself also shared some snaps from the day and revealed what visitors can expect, should they visit the centre.
"Visitors will get an in-depth look at the work the commission does to commemorate the 1.7 million Commonwealth casualties from the First and Second World Wars," the post on Instagram read.
"As well as the history of the commission, visitors will learn about the process of finding, recovering and burying the dead as well as the methods of identification. They'll also get a detailed look at the work of our skilled artisan craftsmen who work tirelessly to maintain some of the world's most impressive and recognisable monuments and memorials."
Anne has since been praised by royal fans for her hard work and complimented on her outfit choice for the important event.
"The amazing Princess Anne. I've watched her, followed her, admired her since I was a little girl, just a few years younger than her," one person wrote on Instagram. "Nothing has changed. I still think she is superb. Her sense of duty and her balance with private life and privacy, remains an awe-inspiring achievement in my mind. She's just incredible."
Another added: "Beautiful pictures of Her Royal Highness. A lovely, hard working lady."
While a third said: "Absolutely Beautiful!! Looks so elegant!"
Are you a fan of Princess Anne? What do you think of her outfit choice for the important event?