Melania and Donald Trump planned the meeting with Moon in a bid to jump start talks between the US and North Korea following the failed summit in Vietnam's capital, Hanoi, in February.
Taking to social media following the discussion, the First Lady published a series of photos with Jung-sook as they enjoyed a chat while their husbands talked.
"A great visit with President Moon Jae-in and First Lady Kim Jung-sook of the Republic of Korea and the @WhiteHouse today," she wrote on Twitter.
In the snaps, Melania and Jung-sook can be seen enjoying a walk outside the White House, while in another they are sat enjoying a drink in a lavish room.
Melania has favoured coats over the past few weeks in the cold weather, stepping out in a stunning white one to attend a St Patrick's Day church service in Washington alongside her husband President Donald Trump in March.
The First Lady, who has been married to Trump since 2005, opted out of wearing the holiday's signature colour of green, standing tall in nude heels while the stylish coat fell gracefully to her knees.
Melania's penchant for stylish designer outfits has made her fashion choices as First Lady a hot topic since her husband took office. While she's committed herself to a number of causes over the past three years, including her ongoing campaign to stop cyber bullying, her wardrobe has remained of keen interest to those who both love and loath her.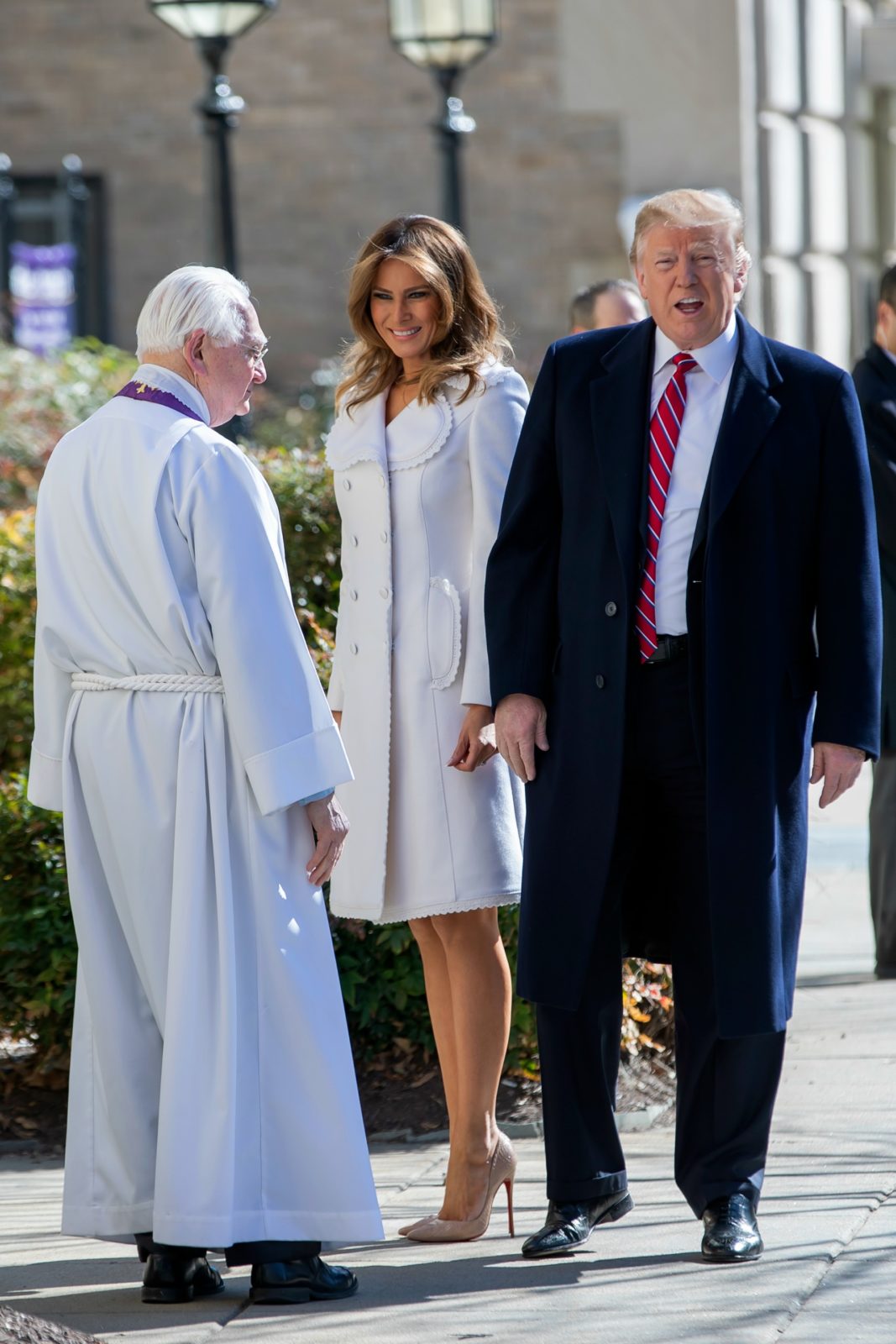 The First Lady has made it clear that she's aware of her power in the fashion world too and made a seemingly pointed statement in June, 2018, about the ongoing border wall crisis on her way to visit a detention facility in Texas, near the US/Mexico border.
Melania stepped out in a green army-style jacket with the words "I don't really care, do?" emblazoned on the back. While a White House official denied there was any hidden meaning to the message on the jacket, it was seen as an eyebrow-raising choice given the intense media attention around the treatment of those who had illegally crossed the border into the US at the time.
The cost of the First Lady's wardrobe has also been of interest throughout her tenure. She regularly steps out in outfits that cost thousands of dollars and has landed a place as a style icon for conservative women.
Are you a fan of Melania Trump? Do you like her style?