Waltzing Matilda Centre
"Once a jolly swagman camped by a billabong …" You'll be forgiven for whistling/singing this famous tune while you're in Winton, as it's the very home of A.B. Banjo Patterson's 'Waltzing Matilda'. Reputedly inspired by an 1894 shearer's suicide at the nearby Combo Waterhole and first performed in Winton's North Gregory Hotel on April 6, 1895, you can learn all about Banjo and our adopted 'unofficial' national anthem at the Waltzing Matilda Centre right in the main street of Winton.
Open from 9am to 5pm (except on public holidays and during November to March, when it closes at 3pm) the Waltzing Matilda Centre is the first museum in the world to be dedicated to a song. Inside you'll find a nostalgic light and sound show as well as interactive and technical displays. If you're interested in learning more about the pioneers from this area, the centre also incorporates the Qantilda Pioneer Place Museum.
Australian Age of Dinosaurs
Roughly 25km south-east of Winton is the Australian Age of Dinosaurs Museum. It is home to the world's largest collection of Australian dinosaur fossils, including the most famous Australovenator and Diamantinasaurus (affectionately known as 'Banjo' and 'Matilda').
You can explore at your own pace with a self-guided tour of the walking trails, which takes you through rocky outcrops, cliffs and canyons. The views are soemthing else!
However, a tour of the dinosaur collection and fossil preparation laboratory (conducted every two hours between 9am and 3pm daily) allows you to go 'behind the scenes' and get a sense of how dinosaurs are discovered and recovered. There are ancient sea shells and plant fossils on display for visitors to touch. Aged between 93 million and 97 million syears old, I became quite emotional when it was my turn to touch the specimen.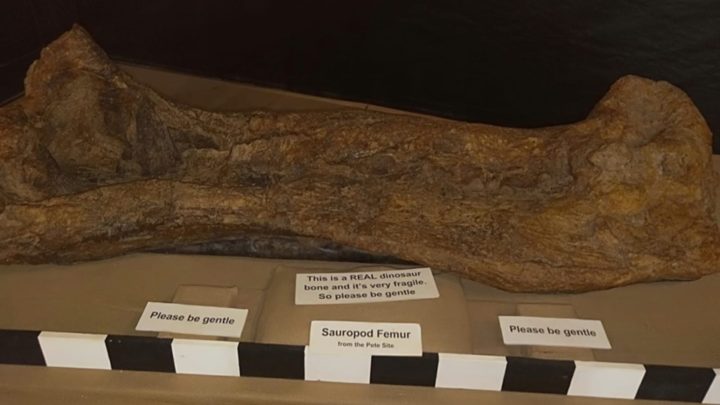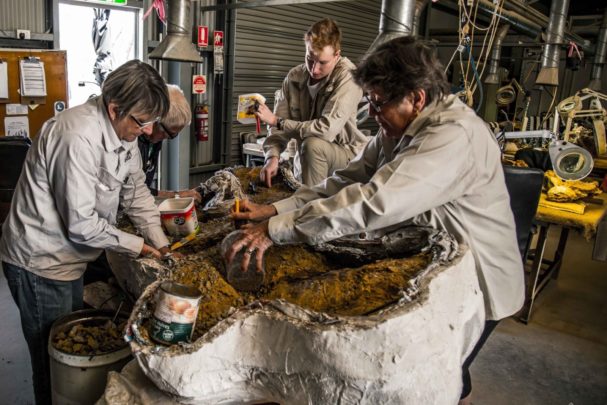 Seeing the researchers at work is also a treat, and you'll get to experience this first-hand if you take a tour. For a more 'hands-on' experience, consider the 'prep-a-dino' and 'dig-a-dino' experiences held throughout the year.
Dinosaur Stampede
The Lark Quarry Conservation Park is located 110km south-west of Winton. It is the location of 93-million-year-old dinosaur fossils and is an exciting glimpse into prehistoric times. The spot is unique because it represents the most concentrated site and the only clear-cut evidence of dinosaur stampede activity in the world. You'll see approximately 3,300 fossilised footprints of large predators, which stalked and cause the flight of around 150 two-legged dinosaurs millions of years ago.
Research conducted on the site confirmed these footprints were most likely made over a period of several days. It is believed a large herd of small dinosaurs gathered on the banks of a forest lake to drink, when larger, meat-eating dinosaurs approached them, triggering a panicked stampede across the muddy flats. The stampede scene in Steven Spielberg's movie Jurassic Park is said to be based on the dinosaur stampede at Lark Quarry.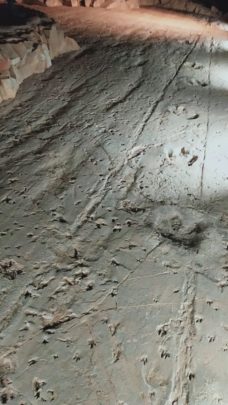 There are so many ways to get to Winton — regardless of whether you want to take the wheel or sit back and enjoy the ride. Winton is fully accessible via bitumen roads, or, for the off-road enthusiasts, there are plenty of back roads and little-known routes to be taken. There are daily coach services into Winton, train is also a great option, with Queensland Rail's Spirit of the Outback to Longreach and a coach link to Winton, or there are flight services operated into Winton twice-weekly. I flew from Brisbane to Longreach (just over 2 hours) then drove to Winton in less than 2 hours, easy peasy.
I loved my visit to Winton. Admittedly I have a layman's obsession with dinosaurs and this visit added a tick to my bucket list but, it was so much more. It gave me a new respect for our 'outback cousins', our Aussie heritage and an enormous pride in Queensland's place in the history books. Outback Queensland makes 'world' news headlines constantly so, best advice I can offer go west! See, touch and enjoy our million-year-old history up close.
Have you travelled outback Australia? Where have you been?
Disclaimer: The author was a guest of Tourism and Events Queensland, which included accommodation and tours. However, none of the parties reviewed or approved this blog and the opinions contained within are the author's own.