Many of us aged over 60s are starting to think about downsizing and retiring. But where do we go and what sort of retirement accommodation would suit best?
If you are like my husband Geoff and I, then you might want a sea-change retirement. Somewhere we can have an active lifestyle and where the grandchildren would want to visit. Somewhere with a wide range of well-established facilities in the local community.
I was fortunate to be able to experience a day exploring Newport Retirement Living – a new and different style of retirement living developed by Stockland.
Newport Retirement Living is not a low-rise retirement village. Nestled on the north side of the Redcliffe Peninsula and offering stunning views to Moreton Bay, Newport Retirement Living is a modern well-appointed, medium-rise, resort-style apartment complex.
My first impression was that this is a well-designed and community-focused development where everything you need is close at hand.
This new complex is across a quiet street from a large lake, with the beautiful Moreton Bay behind. There are 125 apartments in two six-storey towers, connected at podium level by a landscaped community garden incorporating break-out areas, the crystal-clear pool and barbeque facilities. All apartments either have a courtyard (ground and podium level) or spacious balconies, with most looking out to Moreton Bay or overlooking the communal gardens.
I was made welcome by John, the village manager, and shown to the unit where Geoff and I were to stay for the night. John explained that our unit was usually used for potential buyers who were unsure about purchasing. They stay for free and it allows them to see whether they would like to live in the complex by using the facilities themselves and meeting the residents.
Our apartment had three bedrooms, with one of the rooms set up as a study.Two-bedroom apartments start from $399,000, with three-beds starting from $469,000.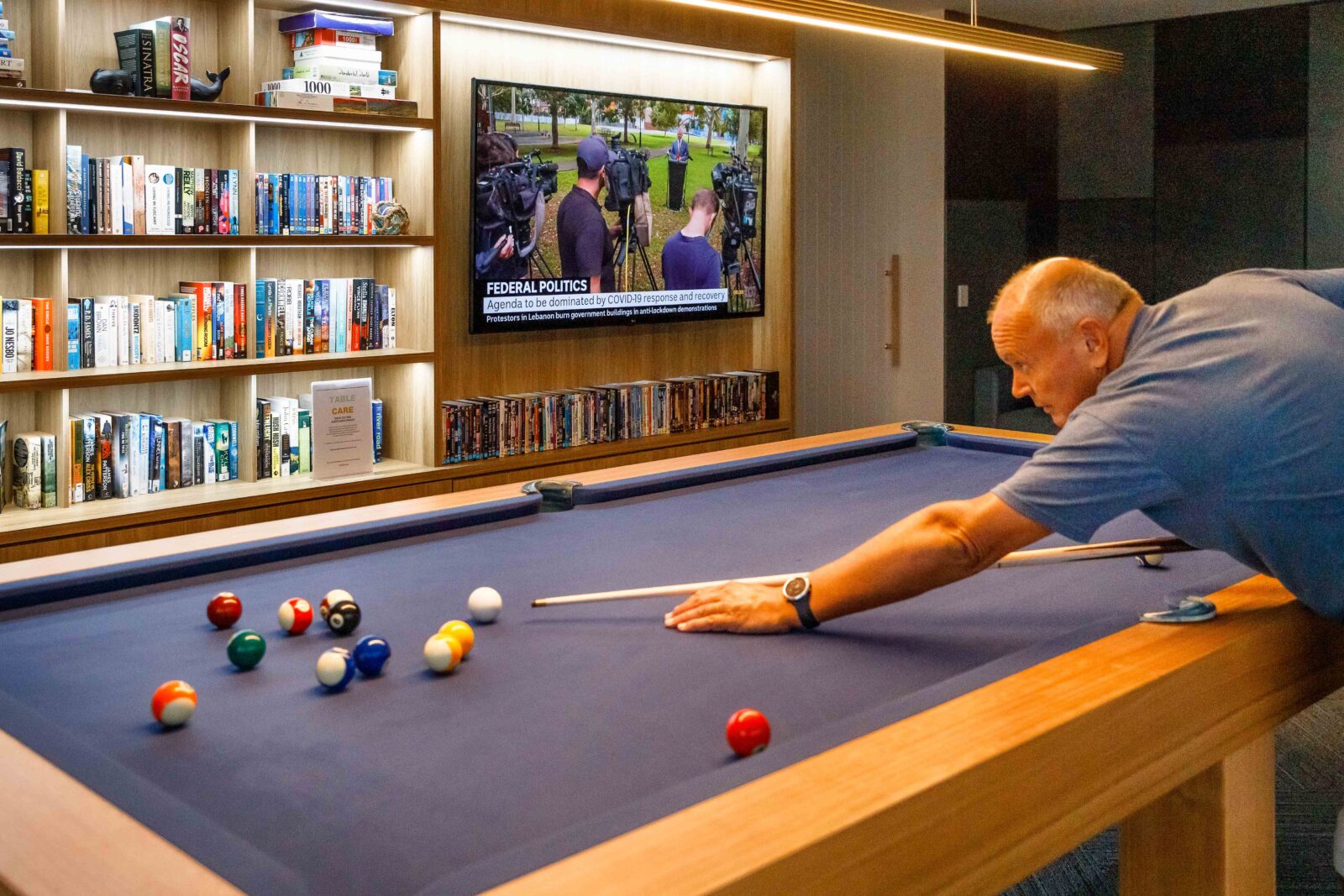 With its beautiful, coastal décor, our apartment was well appointed with all modern features including air conditioning, NBN and a balcony overlooking the gardens. All units are connected to an INS Lifeguard Emergency call system as well as video intercom, adding peace of mind should assistance be required.
After settling in, I was shown two of the display units which, as you'd expect, were beautifully presented. (You can take a virtual tour of some of the apartments on offer here.)
I loved the low windowsill in the main bedroom that would let you lie in bed and see the water. I was also impressed that the corridors within the buildings featured bookshelves and nooks with views throughout the complex, adding to a warm and homely feeling. There was also a shelf beside each apartment door for personalising each resident's entry and many of these were wonderfully decorated by their owners. Such great stories on display!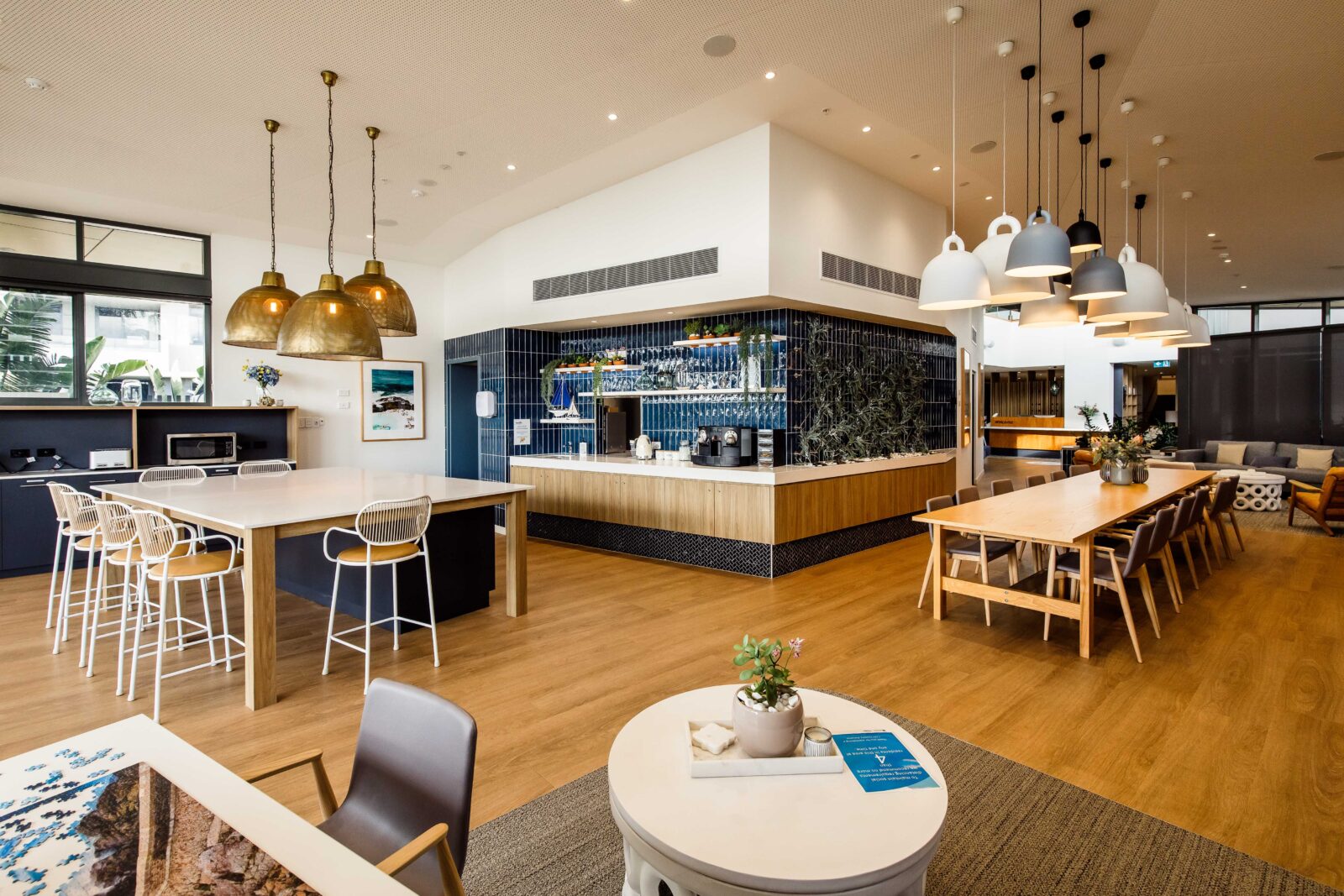 After viewing the display apartments, I was looking forward to morning tea and an opportunity to meet the residents.
The lovely, airy upstairs bar and alfresco deck has a large balcony with a beautiful view across the lake to the bay and catches the afternoon sea breeze. It hosts many of the group functions. People were friendly and relaxed, happy to chat and tell me their stories. It was obvious that they all loved the view, the waterfront location and the striking modern, coastal design and décor of the building.
But while these are what brought them here, it was the lifestyle at Newport Retirement Living itself about which they were most vocal. Everyone I spoke to was looking forward to this week's Coffee, Chat, Craft & Cake session (the 4 Cs!), where craft is encouraged but far from essential. You can be as involved as you wish, with no pressure to join if you prefer not to.
Many apartments have a storage cage in the carpark so there is room for some 'toys', as well as secure bike racks available to residents.
Over coffee and delicious gluten-free chocolate muffins, I asked how easy it was to have their families visit and was inundated with stories of grandchildren sleeping over and family get-togethers in the clubhouse.
The podium level (outside, near the pool) is another popular entertainment area with its own barbeque and long table, well set up for family get-togethers. One resident, Diane, told me that her grandchildren are older now and can all drive, so they just wander in and out, stay as long as they like, and go again.