Have you planned your own funeral?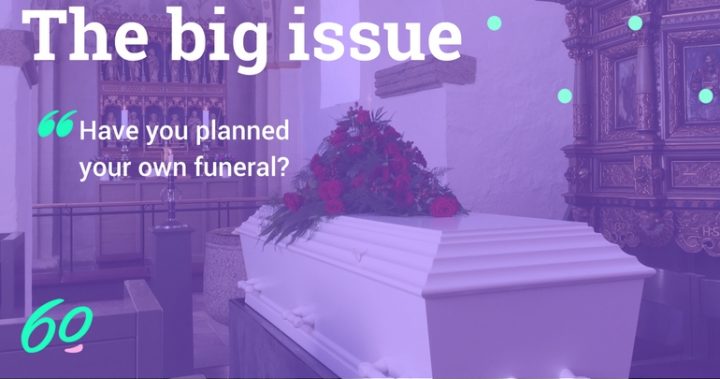 Anyone who has ever watched daytime TV would get the impression that everyone aged over 60 spend a lot of time thinking about their funerals.
Advertisements for funeral insurance typically show people discussing their funeral plans with their loved ones, enthusing about how great they feel that they won't be leaving their children with funeral bills once they pass away. 
But do older Aussies think about the immediate aftermath of death all that much? And what are they actually doing about it – is having a funeral planned, if not paid for, common? 
Anecdotally, plenty of Starts at 60 readers have strong thoughts about their funeral, including the cost, even if they haven't made firm, written plans.
Some say that the fact they're leaving their children with a decent inheritance means the kids will have plenty of cash to pay for the send-off, while others believe that funeral insurance itself is a rip-off and would prefer to buy a plot or cremation, with service, outright directly from a funeral home ahead of time.
Ad. Article continues below.
Many want a party at which loved ones enjoy a good time at their expense, some have the event mapped out right down to the clothes they'll 'wear' and the music to be played, while others are adamant they don't intend to pay for a booze-up, given they lack friendly visitors while alive.
---
Starts at 60 is tackling one big social issue each day, providing a place for readers to debate and discuss the topics that matter to us all. Tell us what you think, share your knowledge, and debate your point!
---
There isn't a wealth of data out there specifically on the Baby Boomer generation when it comes to this topic. But according to research by Mccrindle, across all age groups, almost 60 per cent of people surveyed said they wanted a relaxed and reflective service at their own funeral. On the other end of the scale, one per cent said they wanted it to be a solemn and serious occasion.
Ad. Article continues below.
A further 14 per cent said they wanted the celebration to be jubilant and celebratory, 13 per cent said they wanted it to be fun and irreverent, while 12 per cent wished for a dignified and appropriate service.
Read more: Let's Talk: Would you have a 'funeral' before you die?
Their survey also found that 66 per cent of Australians said they would prefer to be cremated, while just 20 per cent would opt to be buried. The remainder said they didn't mind either way.
Despite many people of all ages clearly having some thoughts on what they'd like their send-off to be, a difference survey by comparison site finder.com.au of 2,000 people and found that 60 per cent of people didn't plan to organise or pay for their own funeral in advance.
Of the 40 per cent that said they did have a post-death plan, 10 per cent opted to avoid funeral costs completely by either donating their bodies to science or forgoing a funeral. The research also found that men are less likely to pre-pay for their funeral compared to women.
Have you planned your funeral? Are you currently paying it off, or will you leave the cost for your family once you've passed away?