Remember Molly Meldrum's car-crash TV interview with Prince Charles?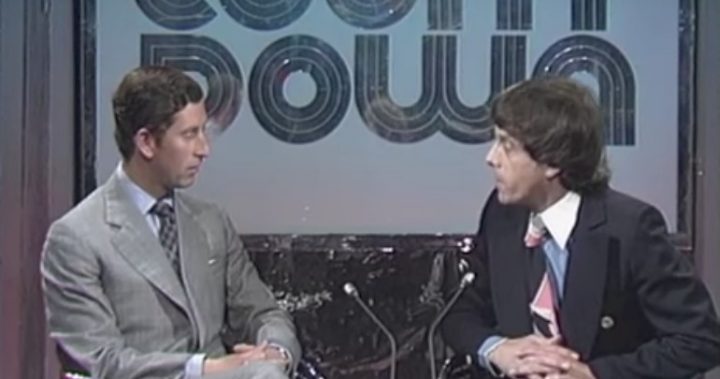 It's hard to believe that 40 years have passed since one of the most cringe-worthy interviews first aired on Australian TV.
Molly Meldrum, one of the nation's favourite TV presenters, had the important task of chatting with Prince Charles on his hit music show, Countdown.
To say it went horrifically wrong would be an understatement.
Meldrum, who was typically at ease in the presence of celebrities, turned to a ball of mess when the Prince of Wales sat down next to him for the interview.
Ad. Article continues below.
As he tried his best to introduce his royal guest, sweat could be seen dripping down his face and he became noticeably frustrated at his nervousness.
"I'm terribly sorry about this," He said to Charles.
The Prince of Wales tried his best to comfort Molly, telling him that nerves happen to everyone.
Read more: Queen passes one of her most moving royal duties on to Prince Charles.
At one point, Charles even had to leave the room so Molly could try and contain himself.
Ad. Article continues below.
After a quick drink of water and about five takes later, it seemed as though Molly had finally calmed himself and was ready to commence
He continued stumbling on his words and let Charles do most of the talking.
When it wrapped, Molly could be heard breathing a sigh of relief.
"I think that was all right," Charles said.
Molly would go on to describe the interview as the most horrific of his life, while Prince Charles later poked fun of the embarrassing encounter.
Ad. Article continues below.
In a clip to commemorate the 40th Anniversary of Countdown in 2014, Prince Charles roasted Molly, saying: "There is an old show business saying which warns never to work with animals or children. But nobody prepared me for Molly Meldrum.
"It only seems like yesterday. I wish it were tomorrow. I'd cancel it."
At least they can laugh about it now.
What is your favourite moment in TV history?