My view on gay marriage as an elderly, Protestant, straight man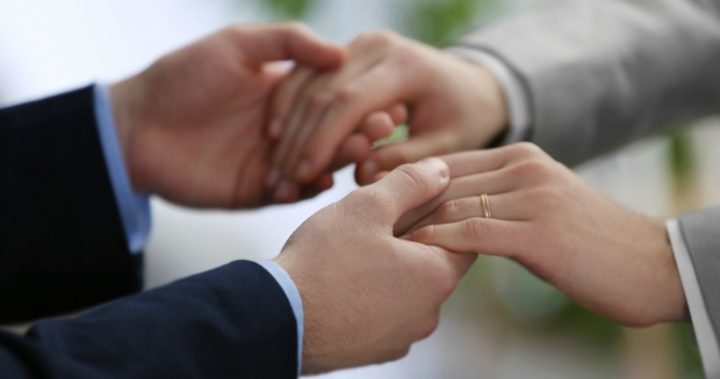 Whether it's right or not, whether it's wanted or not, may not be the question.
A vote on gay marriage is overdue if for no reason other than to allow the duly elected government of the day to get the matter off its hands and return to the business of running the country.
My personal view – elderly, male, Protestant, straight (albeit widowed) – is that we have no right to stand in its way. Why must one section of society be effectively dissociated from a basic right simply for the sake of political expediency (or lassitude, or fear of being overrun by those from the far right).
A few interesting snippets from the news in the past few days suggest that a free vote in parliament may be a lot closer than looked likely even as recently as a week ago.
Certainly, there are bizarre suggestions from the conservative right, such as that from Peter Dutton, that perhaps a postal plebiscite might be an answer. Well sorry, Minister, it isn't, for the continuing reason that a plebiscite is an expensive sop to the public that something is being done when, in fact, it isn't. It is no more than a cop-out because a plebiscite is non-binding.
Ad. Article continues below.
If, indeed, it came to pass that the government failed in its duty and passed the baton to the public for its resolution, a non-binding plebiscite could be turned into a binding referendum for almost identical money.
It would then be a brave government that failed to act on the outcome (assuming it to be in the positive and assuming, too, it could legally do so).
Several government MPs, including Warren Entsch and Tim Zimmerman, have indicated a willingness to cross the floor if there is an open vote in the Reps. On the assumption this should happen, there is high likelihood of a vote in the positive and, in its turn, the upper house would likely support its adoption.
Gay West Australian Liberal Senator, Dean Smith, is drafting  legislation that he would like to see voted on before Christmas. He believes the matter of same sex marriage is "…a massive political cudgel (they are handing to the Opposition) if allowed to fester over the next two years."
Another gay Liberal, the member for Brisbane, Trevor Evans, is pushing for a free vote and is prepared to raise the issue in the Coalition party room.
Ad. Article continues below.
Most importantly, Prime Minister Malcolm Turnbull says he is comfortable with backbench members crossing the floor. He reiterated that it is a fundamental right for Liberal and National backbenchers to do so. Interestingly, he did not repeat his mantra that there would be no vote in parliament before holding a plebiscite. Oversight or retreat?
If four members were to cross the floor, and assuming Labor numbers held, there would be a majority of 76 to suspend government business and allow the introduction of a private member's bill. The outcome seems most likely.
I believe, whatever our individual thoughts on the issue, we would all agree with Tim Smith: "I think it's in our best interests to move on from this issue so we can focus on the things people voted for me and my party to deal with."
These are my thoughts on an issue that has been allowed to drag on for far too long and must be resolved soon, one way or the other.
My thanks to ABC radio and Sky News for much of the information.
Do you agree with John that it's time to resolve this issue, one way or another?