Tony Abbott slams same-sex marriage vote as PC ploy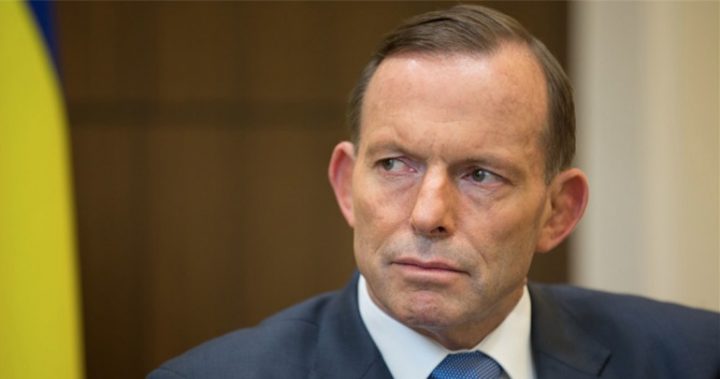 Former prime minister Tony Abbott is worried making same-sex marriage legal will impede people's rights to freedom of speech and freedom of religion and says plans to give everyone the right to marry whomever they love is just another ploy in political correctness.
The conservative stalwart and former priest implored people to vote 'no' on the issue, saying it will "stop political correctness in its tracks".
"If you don't like same-sex marriage vote 'no', if you're worried about religious freedom and freedom of speech vote 'no', if you don't like political correctness vote 'no'," he said in Canberra on Wednesday morning, reports Yahoo News.
Although clearly passionate about the subject, Abbott failed to outline exactly how making same-sex marraige legal would impact everyone's right to free speech and religion.
Read more: Latest Newspoll shows popularity gain for Malcolm Turnbull
Ad. Article continues below.
The Liberal backbencher also dished out a rare display of praise for his successor, saying he applauded the Malcolm Turnbull's decision to hold a postal ballot if the planned plebiscite doesn't pass the Senate vote.
"Well done to Malcolm Turnbull and the government for making sure this is going to happen," he said.
The Senate will likely vote on the issue this week, with the Government committing to a voluntary postal ballot from mid-September if plans for a compulsory-attendance plebiscite on November 25 don't make the cut.
Read more: 'Rhinestone Cowboy' Glen Campbell dead at 81
Same-sex marriage has been a sticking point for the government since the election after promising to take the matter to the people.
Ad. Article continues below.
Labor dogged the plebiscite in October last year, insisting the matter should be put to a free vote in Parliament instead.
They have pledged to make same-sex marriage legal if elected, but deputy leader Tanya Pilbersek would not comment when asked by the ABC whether the party would campaign 'yes' if the postal ballot goes ahead.
Yesterday, Turnbull told reporters he will be voting yes if the plebiscite takes place.
How would you vote on this issue? Do you think it's just political correctness? Or do you support same-sex marraige?