Latest Newspoll shows popularity gain for Malcolm Turnbull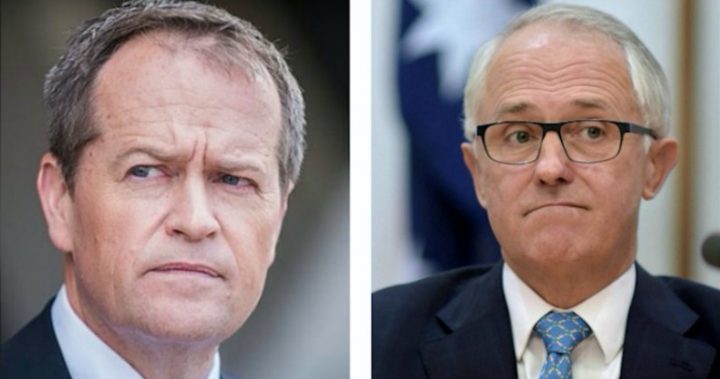 Malcolm Turnbull may be the most popular politician in the playground, but the country still wants to be on Bill Shorten's team.
The latest Newspoll results published by The Australian show the prime minister has increased his lead as preferred PM form 43 to 46 per cent, while Shorten's preferred-PM rating dropped slightly from 32 to 31 per cent.
However, the Coalition still trails Labor 47 to 53 on a two-party preferred basis for the sixth Newspoll running.
The results come off the back of Labor's announcement last week to crack down on the use of family trusts by wealthy Australians to avoid paying tax.
Shorten said that if elected, Labor will force a minimum 30 per cent tax on income distributions from discretionary trusts.
Ad. Article continues below.
Read more: Voters turn on 'arrogant' Malcolm Turnbull, Bill Shorten
He made the announcement in a rousing speech at NSW Labor conference.
Meanwhile, the Coalition has been hot under the collar with talk of an impending party-room vote on same-sex marriage.
The Government is meeting on Monday to discuss the matter, with hope a private members' bill to protect religious freedoms will reassure conservatives within the party.
While Labor has previously promised to pass the act on with a parliamentary vote, former prime minister Tony Abbott has today accused Shorten of being a "villain" on the issue.
Ad. Article continues below.
Abbott, who has been a fierce opponent to same-sex marriage in the past, wrote an opinion piece for The Australian and said Shorten is "playing politics with this issue" in a bid to win favour.
Read more: Bill Shorten and PM lay out their plans for the year ahead
He also ridiculed Turnbull and the rest of the party for turning to a free vote on the issue after their election promise of a plebiscite was blocked by the Opposition.
"Before last year's election, the Liberal-National coalition was absolutely crystal clear: there would be no change to marriage laws without asking the people their view at a plebiscite," he says.
"That's why the determination of a handful of Liberal MPs to substitute a free vote in the parliament for the promised plebiscite is so fraught.
"Instead of pointing out to the gay community that it's Shorten who's blocking the possibility of change, they want the government to break its solemn pledge to ask the people before changing the law."
Who do you prefer as PM? Do you think same-sex marriage should be made legal in Australia?