When Harry met Melania! Famous duo all smiles at Invictus Games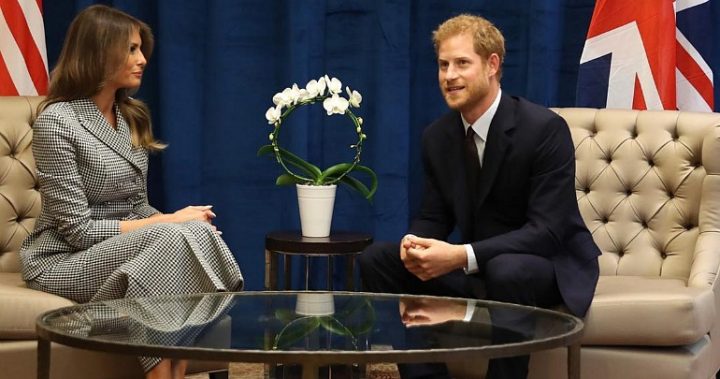 Prince Harry and US first lady Melania Trump have sat down for their first one-on-one meeting, shaking hands and having at chat at the Invictus Games in Toronto on Saturday.
The pair were all smiles as posed for photographers before settling in for a chat about the importance of the games, with Trump telling the prince "you're doing fantastic work".
The Toronto visit is the first lady's first official solo international trip.
Ad. Article continues below.
Harry, who created the Invictus Games for wounded veterans, has had a busy few days since arriving in Canada on Friday, meeting with competitors and medical experts who are working to find a solution for soldiers suffering from Post Traumatic Stress Disorder (PTSD).
He visisted The Centre for Addiction and Mental Health on Saturday where he participated in a round table discussion about a potential cure for PTSD.
Ad. Article continues below.
The Daily Mail reports that after being told one of the centre's main approaches is prevention, Harry told doctors: "It seems we suffer from a culture where a pill will fix everything. There has to be a better way than just giving out anti-depressants.
"There were 65million given out in one year in the UK alone. That's why I look to you guys in this room. Everyone is uniquely wired is what I keep saying. There is no one silver bullet, no one cure for everyone."
The Games officially kick off on Sunday in Toronto and are expected to be as action-packed as previous years with events in swimming, running, basketball and more.
While the inspiring competition is always a big event for Harry, this year could be extra special, with reports he will be joined by his girlfriend Meghan Markle for their first official public appearance.
Are you a fan of the work Harry does with the Games? Do you think Trump chose a good cause for her first solo trip?