Small town unveils super awkward floral tribute to Princess Diana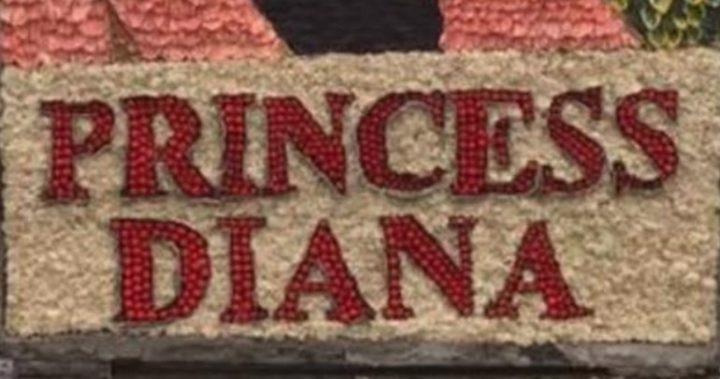 A small town in England has unveiled a floral tribute to the late Princess Diana, to mark the 20th anniversary of her untimely death, and it hasn't had the reaction its creators no doubt hoped for.
The memorial stands in the marketplace of the town of Chesterfield, decorating a well, and has been relentlessly mocked on line, with some even labelling it "an insult" to Diana's memory. 
Take a look for yourself:
This Diana 'tribute' in Chesterfield town centre is something else. pic.twitter.com/NOXO7m64Mw

— Sean ? (@shornKOOMINS) September 11, 2017
Ad. Article continues below.
Some commenters on social media found the design hilarious:
"I am CRYING with laughter here," tweeted one.
While others were a bit spooked. 
"I live here and, let me tell you, I can feel its eyes on me, even now in my house," said one horrified user on Twitter. 
Others got creative, and let pictures do the talking, superimposing the face from the memorial onto old pictures of Di, and into famous movie scenes. 
Ad. Article continues below.
h/t @Warrs_ pic.twitter.com/zbDsMluSmN

— Sean ? (@shornKOOMINS) September 12, 2017
— David Paxton (@DavidDPaxton) September 12, 2017
Chesterfield Council responded to critics in a statement to the Derbyshire Times. 
Ad. Article continues below.
"All art is meant to be a talking point and that certainly seems to be the case with this year's design," it said. 
"The well dressing is designed to attract visitors to the area and if the publicity encourages more people to come and visit the market and local shops then that can only be good for Chesterfield.
"The well dressing is produced by 14 volunteers using the ancient Derbyshire art of well dressing, which involves creating designs from flower petals and other natural materials."
It's certainly a creative interpretation of Diana. 
What do you think of it?