Prince William takes cheeky swipe at Harry over engagement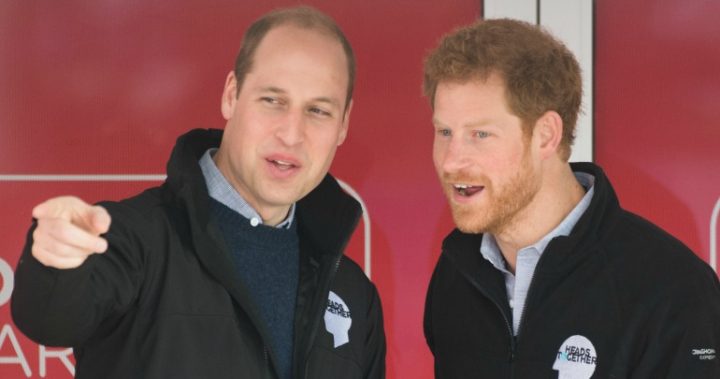 Most brothers can't help but take a cheeky swipe at each other every now and again and it turns out Prince William and Prince Harry are no different.
As the older of the two, it's practically William's duty to tease his little brother at every chance he gets and the future king lived up to his duty at a royal engagement in Finland on Thursday.
When asked how he felt about Harry's engagement to US actress Meghan Markle, the prince replied that he was "delighted", but for a different reason than the rest of us.
"And for me personally I hope it means he stays out of my fridge, it will stop him scrounging off all my food, he's done over the last few years," he joked.
Ad. Article continues below.
William added: "It's a fantastic process you go through, the engagement and the build up to the wedding and things like that."
"So they've got a lot of happy times ahead of them and I think they're very caught up in the moment and I wish them all the happiness and success in planning the wedding, I hope it goes really well."
Harry's cottage at Kensington Palace is just a stone's throw from the Duke and Duchess of Cambridge's family home and the trio are known to wander freely back and forth between each other's places.
Harry is understandably extremely fond of his nephew and niece, Prince George and Princess Charlotte, and has said in the past he loves being so close to them — and then handing them back to William and Kate!
Ad. Article continues below.
"They are the most amazing things ever," he said of George and Charlotte in June.
Of course, William ins't the only one who's managed to dish out the teasing.
After Prince George was born, Harry joked that hoped "my brother knows how expensive my babysitting charges are!".
And after the Duke and Duchess announced they were expecting their second child, Harry could hardly contain his glee.
"I can't wait to see my brother suffer more and, with any luck, if it's a girl he'll suffer even greater," he laughed. "I'd love to see him try and cope with that!"
Is it nice to see these two so close? Do you tease your siblings like this?