'Never give up': Beatrice and Eugenie share their best life advice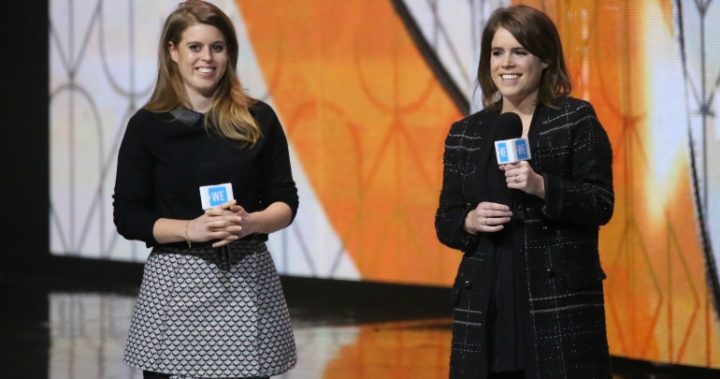 They might be royalty, but just like us, Princess Beatrice and Princess Eugenie have had to overcome a few tough obstacles in life. The sisters took to the stage at WE Day in London on Wednesday and shared the life lessons they've learned "the hard way" as young women in the public eye.
The daughters of Prince Andrew and Sarah, Duchess of York urged others to "to live fearlessly" and "never give up" in a powerful speech that had the crowd of hundreds cheering them on. 
Beatrice, 29, who has spoken at WE Day, an annual event that celebrates the achievements of young people, every year since 2014, and Eugenie, 27, revealed the three pieces of advice that has taught them to "be strong" and value other people. 
"Today we are here to offer three lessons that have helped us… that have taught us to be strong and value those around us," Beatrice told the audience. 
"We stand here to support not just each other, but all women. Women are working together to impact great change."
Ad. Article continues below.
Read more: Gorgeous Beatrice and Sarah Ferguson turn heads at charity event
First of the sister's three lessons was to "never give up". Speaking about her diagnosis with scoliosis aged 12, Eugenie said her big sister was the person who inspired her to "live fearlessly" despite her condition.  
"Never give up — no matter what obstacles are put in your way, whether it's a life changing operation or a small bump in the road remember, you can all do it," Eugenie exclaimed. 
Having been subjected to plenty of scrutiny themselves, the twosome also addressed the issue of bullying and said they'd been subjected to plenty of abuse growing up in the public eye. 
"We've all suffered our fair share along the way," Beatrice said. "Growing up in the public eye meant that every embarrassing, slightly awkward growth spurt or hilarious fashion moment are published around the world. Together we have laughed, together we have cried. Ultimately though, we've fuelled each others sense of humour. When stones are being thrown we reassure each other that people often don't understand how hurtful they can be."
Ad. Article continues below.
"Find that tiny flame inside of you that makes you shine brighter than you feel, that gives you the joy you so deserve, that gives you the belief that you can change the world."
Last, the royal duo said they believe in the power of supporting one another to overcome obstacles, explaining that, "you don't have to face anything alone – you should reach out to others."
"Find someone in your life you can confide in," Beatrice told the cheering crowd. "If you feel you can't share with those close to you, the internet can often be a great resource and help and support as well … use them for help when you need. You're never alone, no matter the obstacles."
WE Day is just one of many charities the sisters are involved with as part of their work with the royal family. Both princesses also hold down jobs, Beatrice as a business consultant, and Eugenie as an associate director at an art gallery. 
Ad. Article continues below.
It's been a busy few months for the York family. Princess Eugenie announced her engagement to long-term boyfriend, Jack Brooksbank, in January this year. The pair will marry in October. 
What do you think? Are you a fan of Beatrice and Eugenie? What do you think of their advice? What's the best advice someone has given you?
With Facebook removing news sites from your feeds we ask that you sign up for Starts at 60's emailers here. And to keep us on your wall, join some of our new Facebook groups and clubs:
News Junkies Club – Australia
News Junkies Club – USA 
See news on the change and links to all our other clubs and groups here.