Fergie gushes over Eugenie and fiancé 'Jack The Man' in heartfelt note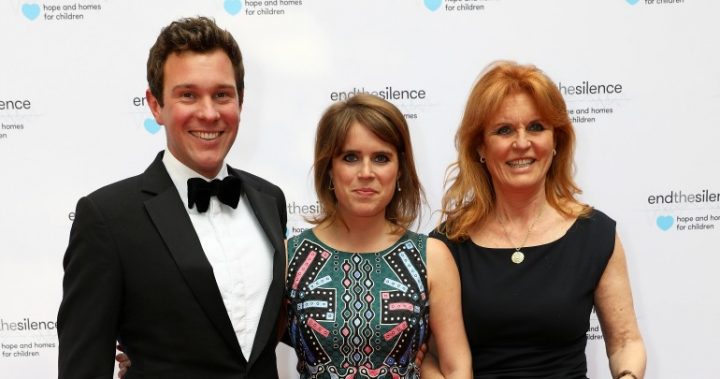 Sarah 'Fergie' Ferguson has praised her daughter Princess Eugenie and her future husband Jack Brooksbank in a gushing open letter of congratulations following their engagement.
The Duchess of York, 58, thanked the pair for "always making my day brighter", and congratulated them on their "pure love and joy" which she said "shined through" the press when they made their official announcement. The couple announced their upcoming wedding last week, and plan to say "I Do" just a few months after Prince Harry and Meghan Markle, in the same venue at St George's Chapel in Windsor.
Writing in the letter, published in celebrity magazine Hello! this week, Fergie said: "Dearest Eugenie and Jack The Man, when you walk into a room, you bring smiles to the faces of all who meet you. You both exude kindness, love and goodness. You have beautiful manners and go the extra mile to all who meet you."
Ad. Article continues below.
Read more: Another royal wedding! Overjoyed Princess Eugenie announces engagement
She went on to speak of her "pride" at their "pure love and joy", and thanked them for the "laughter and happiness" they bring to "Papa, Beatrice and myself". Clearly very fond of her future son-in-law, she spoke for the whole York family, and signed the note off as "Mumsie and Sarahs."
It's just the Duchess' latest tribute to the couple, after congratulating them in three gushing social media posts previously. Describing Jack as "a son, a brother and a best friend", she initially tweeted: "A total embrace of goodness AND JOY, we love jack and I AM SO EXCITED to have a son, a brother and a best friend, eugenie is one of the finest people I know and so together it will BE PURE HARMONY' #total joy #engagement @TheDukeOfYork."
Ad. Article continues below.
She followed it with a series of photos of the couple on her Instagram page, and wrote on one: "They float with laughter and love .. although a boat helps! #engagement #eugieandjack."
Meanwhile, Eugenie's father Prince Andrew echoed her sentiments, and said last week: "I am absolutely overjoyed, I'm thrilled. Jack is an absolutely outstanding young man and Eugenie and he have got to know each over a number of years, and I'm really thrilled for them."
Eugenie's parents first announced the news in the UK last Monday. Her Royal Highness and Mr Brooksbank became engaged in Nicaragua earlier this month. A statement read: "The Duke and Duchess of York are delighted to announce the engagement of Princess Eugenie to Mr Jack Brooksbank," before adding: "The wedding will take place in the autumn of 2018 at St George's Chapel in Windsor, with further details to be announced in due course."
A Buckingham Palace spokesman told the BBC that Queen Elizabeth and Prince Philip, Princess Eugenie's grandparents, were "very pleased and wish the couple all the best".
Ad. Article continues below.
A very happy Eugenie told the BBC's The One Show that the proposal from her boyfriend of seven years was a "perfect moment" while they overlooked a lake on holiday this month. "The lake was so beautiful. The light was just a special light I had never seen. I actually said this is an incredible moment, and then he popped the question, which was really surprising even though we have been together seven years," she said. "I was over the moon … We couldn't be happier."
Are you a fan of Fergie? Are you excited to watch the royal wedding?
With Facebook removing news sites from your feeds we ask that you sign up for Starts at 60's emailers here. And to keep us on your wall, join some of our new Facebook groups and clubs:

News Junkies Club – Australia
News Junkies Club – USA 

See news on the change and links to all our other clubs and groups here.