Camilla's pretty in pink with slinky knee-high boots on chilly day out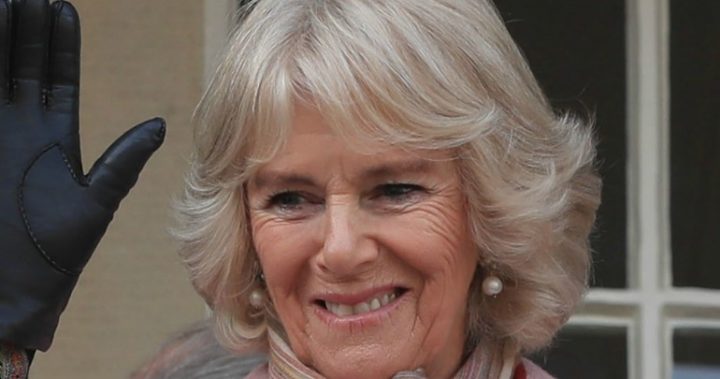 It was a very vintage visit for Prince Charles and the Duchess of Cornwall as they toured the south and west of Britain's chilly Yorkshire, with steam trains and retro buses shuttling them between public engagements.
Camilla looked rugged up but thoroughly modern in a powder-pink coat with slinky knee-nigh black boots. She wore a scarf in muted tones to match the simple-but-stylish coat and black gloves, with a small black Aspinal handbag to bring in the black of the boots.
Ad. Article continues below.
The couple were cheered by crowds of well-wishers as they stopped in Blackledge in Halifax and Oxenhope in Bradford. Camilla also fitted in a visit to the home of writer Emily Bronte at the Bronte Parsonage Museum (the father of the Bronte sisters – Charlotte, Emily and Anne – was the curate of Haworth Church and lived at the house that is now the museum).
The Daily Mail reports that the duchess was keen to admire the manuscripts and artifacts left by the Brontes, declaring herself fascinated by their work, but was less enthusiastic about her vintage transportation, joking that she hoped the brakes were working on the old bus as it creaked to the top of a steep hill.
Ad. Article continues below.
Happily for the region, while Camilla was at the museum, Prince Charles was able to official restart the steel furnace at Liberty Speciality Steels, which had closed three years ago, but was bought and fired back into live, making 300 jobs in an area where finding employment can be tough.
Of course, the royal couple also found some time to sample Yorkshire's famous treats. Of course, Yorkshire is most famous for Yorkshire puddings but is also celebrated for its Wensleydale cheese and curd tarts.
Have you visited the beautiful Yorkshire region? Did you watch All Creatures Great and Small, which was set in the rolling dales of Yorkshire?