Prince George gets early birthday present, Princess Charlotte spits the dummy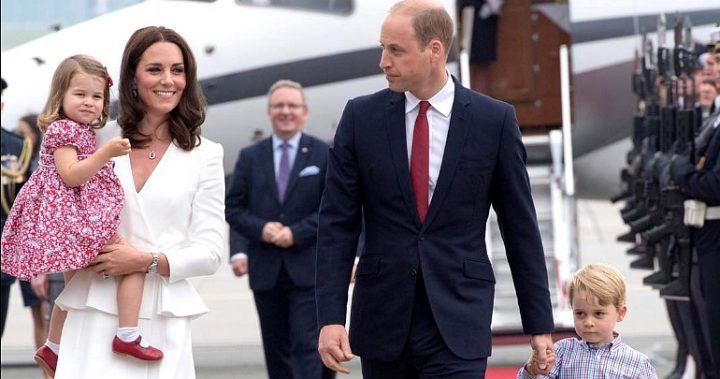 It can't be easy travelling Europe with the kids in tow and the entire world watching, but the Duke and Duchess of Cambridge have pulled it off with only a few minor hiccups along the way.
The future king and queen were bidding Germany farewell after a delightful two-day tour and were walking along the tarmac towards their plane when it all became too much for little Princess Charlotte.
While the tiny tot has been on her best behaviour for the family trip to Poland and Germany, she took a tumble on the tarmac and promptly spat the dummy, screwing her face up and wailing at the top of her lungs.
Luckily, a quick-thinking Kate knew exactly what to do and knelt down for a few stern words before picking her daughter up and distracting her with the surrounding sights and sounds.
Ad. Article continues below.
Charlotte and her brother Prince George have delighted the crowds at the public appearences in Poland and Germany over the past week.
Read more: Duchess of Cambridge continues style makeover with ravishing red dress
Young George, who had his own minor tantrum when the family arrived in Germany on Friday, was rewarded for his mostly good behaviour with an early birthday present: a helicopter tour.
Ad. Article continues below.
The prince is known for his love of trucks, fast cars and planes and it appears he's taken after his father and found an affinity with helicopters, too.
The family are headed back to England now where William and Kate are now doubt looking forward to a well-earned break.
Read more: Duke and Duchess of Cambridge's entertaining arrival in Poland
Do you remember travelling with your kids when they were young? Do you think George and Charlotte did well to behave themselves for most of the trip?