Barnaby Joyce hits back at claims he's facing 'avalanche of allegations'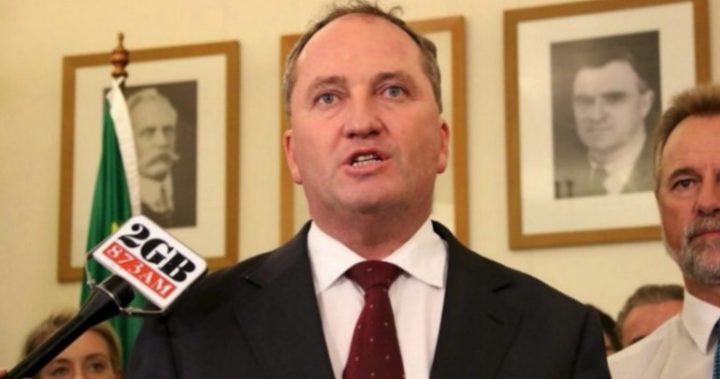 Barnaby Joyce is either fairly facing multiple sexual harassment allegations in the public eye, or he's being tried by the media and leaks in a very brutal way.
The former Nationals leader has been forced to hit out at claims he's facing an "avalanche of allegations" against him, and has outright denied any wrongdoing – branding the allegations "defamatory". 
The ABC reports that "as many as 10 women" have complained about the former deputy PM's behaviour, and the Nationals were warned to expect allegations against him ahead of his resignation. In fact, according to documents – obtained by Fairfax Media – ex West Australian Nationals leader Terry Redman is said to have delivered the warning just days before a formal complaint of sexual harassment was made.
Joyce has now said the suggestion of 10 potential complainants is "patently absurd", and reportedly told the publication: "These allegations are spurious and defamatory. Allegations of wrongdoing should be immediately referred to the police so that the veracity of the claim can be properly tested."
But he's not the only high profile man to see one claim opening the floodgates for many others, which are all seemingly so far unproven. So should he be innocent until proven guilty? Is it fair for him to stand trial by media and 'leaks'?
Ad. Article continues below.
A number of high profile stars have been accused of offences recently, before they've had chance to stand trial, with everyone from Craig McLachlan to Geoffrey Rush and Don Burke having their names dragged through the mud. It's sparked debate over whether these allegations should remain private until they're proven guilty, or whether it's in the public interest to air claims as they come in.
McLachlan was accused of sexual assault and harassment earlier this year. He has strenuously denied the allegations and launched his own legal suit against his accusers. 
Read more: 'How dare they?': ABC snubs Craig McLachlan from Logies nominations
The first allegations related to his time on The Rocky Horror Show, but they were followed by more from his time working on Doctor Blake. In February, McLachlan was cleared of any wrongdoing on the Doctor Blake and is now according to the Daily Telegraph, suing the media outlets that published the first allegations – which he claims have destroyed his career.
Meanwhile, Geoffrey Rush recently announced that he's suing Sydney newspaper The Daily Telegraph over stories it published about him, accusing him of misconduct during his time at the Sydney Theatre Company during a production of King Lear in 2015 and 2016.
Ad. Article continues below.
Read more: Geoffrey Rush to sue Daily Telegraph over misconduct allegations
According to Nine News, Rush's lawyers issued a letter to the media denying the claims that went viral in November.
A number of other stars have been forced to speak out to deny allegations made against them, before a guilty or innocent verdict has been made – so is it a witch hunt, with one wrong-doing opening the floodgates for more, or is it fair?
Starts at 60 has contacted Joyce for comment.
Do you think celebrities should be 'innocent until proven guilty'? Have you been following the Barnaby Joyce accusations?