Johnny Ruffo shows how well he's recovering with romantic celebration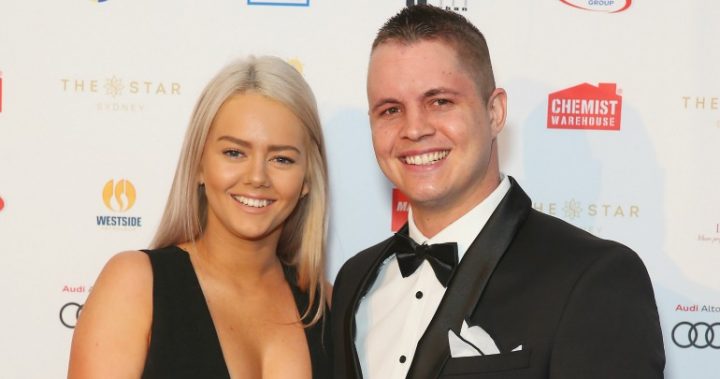 Johnny Ruffo took to social media over the weekend to post some photos of himself and girlfriend Tahnee Sims that underlined how much the actor and singer appreciated his 24-year-old partner.
The pair were celebrating Sims' 24th birthday at the Sofitel hotel in Sydney and looked happy and relaxed, belying the tough year Ruffo has had.
The young star was diagnosed cancer in August, after going to the hospital thinking he had a simple migraine. He opened up about the incident to Carrie Bickmore on The Project recently.
"The surgeon said if I hadn't gone to the hospital that night I would have died in my sleep that night," Ruffo, 29, explained. "It is just sheer luck that I went in when I did and everything happened the way it did otherwise I wouldn't be here."
He's shared his journey on social media and has been raising awareness for the condition, and says he's grateful for the support of Sims, joking that "she can get on my nerves sometimes but I literally wouldn't be here without her".
Ad. Article continues below.
He's not joking either – Sims had to sign the form giving doctors permission to operate on his tumour because Ruffo had fallen into a coma before he was able to do so, the Daily Mail reported.
Ruffo rose to fame when he was a contestant on the X Factor back in 2011. Since then he's gone on to star in Home and Away and released three Top 40 singles.
Ad. Article continues below.
The star sang at a fundraising event only recently, for the first time since his cancer diagnosis, raising more than $244,000 for the Walk4BrainCancer Foundation.
Read More: Johnny Ruffo sings for the first time since cancer diagnosis
Brain cancer kills more people under 40 in Australia than any other cancer.
Ad. Article continues below.
As in Ruffo's case, the symptoms are not very obvious, but if diagnosed in time, two out of 10 people with brain cancer will survive for at least five years. Ruffo revealed on Studio 10 recently that doctors hadn't given him a definitive answer on his prognosis post-cancer because "they just don't know". 
Ruffo often posts tribute images to his girlfriend on social media, who has been his rock through chemotherapy. The pair have been dating for over two years and are frequently pictured together at gala events and film premieres.
Do you remember watching Johnny Ruffo on the X Factor? What is the best birthday trip you ever went on with your spouse?