Violet crumble back in Aussie hands thanks to SA buyer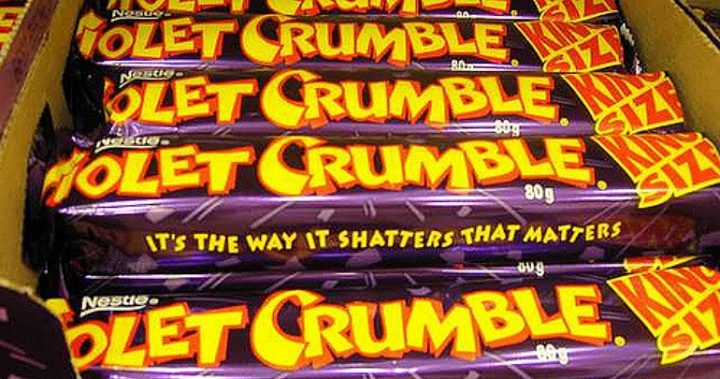 The Violet Crumble is coming home. The iconic chocolate bar is back in Aussie hands after South Australian confectionary company Robern Menz signed an agreement with Nestlé to acquire the Violet Crumble brand.
The deal puts the Violet Crumble back in Aussie operations for the first time 46 years, after it was purchased by British company Rowntree in the 1970s, and later bought by Nestle in 1989.
Robern Menz CEO Phil Sims said the company plans of reintroducing the Violet Crumble through a variety of nostalgic formats loved by generations of Australians.
"We are really excited to have partnered with Nestlé and reached an agreement to acquire what is undoubtedly one of Australia's great brands", Sims said. "And as the new gatekeeper of Violet Crumble, we are aware of the responsibility that comes with owning a brand so highly regarded in the Australian market place."
The chocolate bar was voted Australia's favourite nostalgic snack in last years SBS Food campaign Bring Back the Classic. Under the ownership of Robern Menz, Violet Crumble will once again be produced in South Australia after Rowntree Hoadley closed their Adelaide plant in 1985.
Ad. Article continues below.
As part of the 2018 transition, the famed Violet Crumble recipe will be made at Robern Menz's manufacturing facility in Glynde, South Australia. As well as putting an Aussie-made product back on supermarket shelves, it will also provide up to 30 new jobs at the Menz factories in SA.
"We are fiercely passionate about Australian brands and … the opportunity was too good to pass on," Sims said. "With our expertise, we can ensure that Violet Crumble is produced with no change to the recipe and with the same passion and affinity Australian's have had towards the brand since 1913."
The Violet Crumble was first created in 1913 and quickly became a hit, lining corner store and supermarket shelves around the country. The chocolate bar homecoming follows the return of vegemite after Bega Cheese agreed to buy the iconic spread and a number of other well-known brands from Kraft for $460m.
It comes after an exodus of Aussie manufacturing in recent years, with Ford and Holden both closing their factories in Melbourne and Adelaide. The closures saw hundreds jobs lost; some employees were second- and third-generation factory workers.
The last Holden engine rolled off the line in Adelaide in December last year, with fans taking to social media to lament the loss of Australian-made products. "Clothing gone, shoes gone, cars gone, shipbuilding, well… Do we in Australia actually manufacture ANYTHING now? [Sic]," one wrote on Facebook.
"That's it, Australia has officially become a second world nation!" another said. "Those politicians have destroyed not only a proud automotive heritage in this country, but also for putting those poor workers out of a job before Christmas. Thank you very much Scrooge! [Sic]."
Are you glad to see the Violet Crumble back on Aussie soil? Do we need more Aussie-made products on our shelves?