Tom Jones gives update on health after hip replacement surgery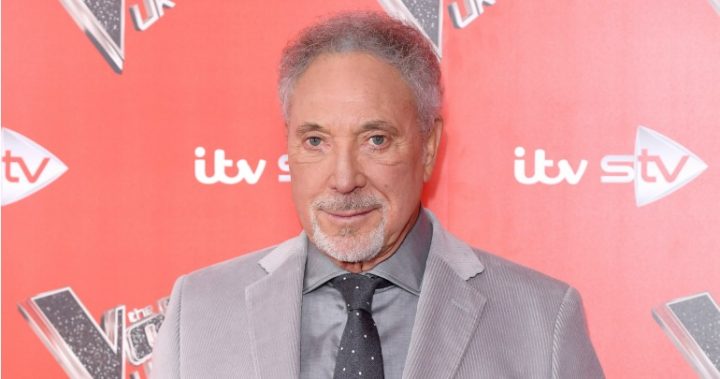 He sent fans into panic mode last year when he mysteriously cancelled his American tour, but Sir Tom Jones is back to near-perfect health.
Fans will recall that the 77-year-old Welsh crooner underwent major hip replacement surgery in September. He broke the news on social media late last year, sharing a photograph of himself on Twitter with a cane.
"Papa's got a brand new hip, yeah!" he tweeted. Since then, he's returned to the stage and has been busy filming the new season of The Voice in the UK, where he is one of the coaches.
He initially kept the condition private, only issuing a press release that said he needed to postpone his tour following medical advice.
Read more: Tom Jones makes triumphant return to the stage after major surgery
Ad. Article continues below.
Jones has now given fans an update on his health condition. "I'm completely recovered," he said in an interview with The Express. He'd previously been using crutches to help him remain active, but suggested that he didn't even need them anymore.
Papa's gotta brand new hip, yeah! #TheVoiceUK pic.twitter.com/tb278gJwX8

— Tom Jones (@RealSirTomJones) October 12, 2017
"I didn't need the crutches on set of The Voice. I had a cushion on my chair while filming but that is only because I have got a habit of leaning back so it pushes me forward."
Read more: Tom Jones hopes to walk without a cane in New Year after major surgery
Ad. Article continues below.
The Welsh crooner initially went under the knife when doctors discovered that the cartilage in his hip had worn away. This resulted in him being in severe pain and needing an operation so he would feel better.
While a lot of people would rest after such a major and invasive surgery, the 'It's Not Unusual' hit maker said that it was by keeping active that he's recovered in such a short amount of time. He even went as far as to say that his replaced hip feels better than the one that didn't have surgery.
"I think the left hip is better than the right one now," he said. "I love what I do, which is a motivation. I take vitamins, walk two to five miles every day and I do cross training. You have to keep active."
Today's @thevoiceuk press launch…Just 3 days to go! pic.twitter.com/ugOWt9AGb2

— Tom Jones (@RealSirTomJones) January 3, 2018
Ad. Article continues below.
In another interview with the Daily Mirror, he insisted that he would be walking without any assistance in the New Year. "Every day is getting better, I'm walking every day," he said in the interview.
"I started off on crutches, then two canes, then I could walk with one. "Next week I'll hopefully be able to walk without any canes."
He also suggested that while many people his age would be trying to slow down, he loves keeping busy. In fact, he suggested that he's happiest when entertaining his fans by singing.
Have you ever had a hip replacement? How long did it take you to recover?