Stephen Hawking dies aged 76, his family confirm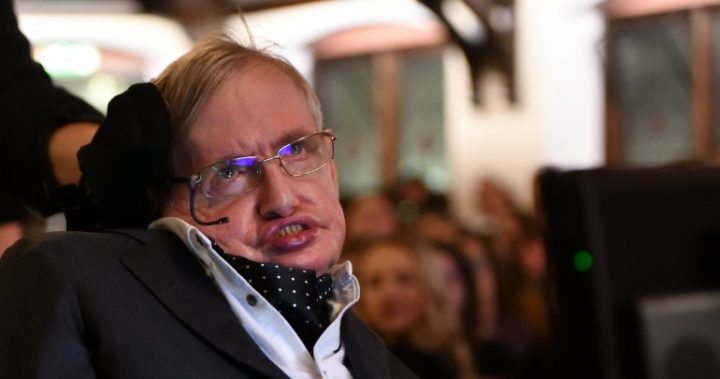 Professor Stephen Hawking has died at the age of 76, his family have confirmed in a heartbreaking statement.
The world famous physicist had bravely battled motor neurone disease since 1963, and he tragically passed away at his home in Cambridge in the early hours of Wednesday.
His children, Lucy, Robert and Tim, reportedly said in a statement: "We are deeply saddened that our beloved father passed away today. He was a great scientist and an extraordinary man whose work and legacy will live on for many years.
"His courage and persistence with his brilliance and humour inspired people across the world.
"He once said, 'It would not be much of a universe if it wasn't home to the people you love.' We will miss him forever."
Ad. Article continues below.
Read more: Stephen Hawking believes aliens would 'conquer and colonise'
Hawking's incredible life was celebrated in the 2014 movie The Theory of Everything, after he was given just two years to live. He went on to study at Cambridge and he became one of the most celebrated theoretical physicists in the world.
Ad. Article continues below.
He's well known for his incredible scientific breakthroughs with Roger Penrose, having studied black holes and relativity, attempting to finally solve the mystery surrounding how the universe began, and was awarded the CBE in 1982.
"My goal is simple," he once said. "It is complete understanding of the universe, why it is as it is and why it exists at all."
"This complete set of laws can give us the answers to questions like how did the universe begin," he also previously said. "Where is it going and will it have an end? If so, how will it end? If we find the answers to these questions, we really shall know the mind of God."
Fans have remembered the star on Twitter, with one writing: "Stephen Hawkins's was diagnosed with ALS in 1963. Doctors gave him two years to live. He has died at 76," while another added: "Rest In Peace Stephen Hawkins fly sir fly."
Ad. Article continues below.
Read more: Health scare for Stephen Hawking who passes his health knowledge to you
Another wrote: "Dost thou love hawking? Thou hast hawks will soar. Above the morning lark," and one added: "R.I.P to the man with the most incredible mind, amazing sense of humour and most intelligent man in the world. Sir you will be gratefully missed rest easy. R.I.P Stephen Hawkins!"
Hawking used a voice synthesiser after catching pneumonia in 1985, meaning he had to have a tracheotomy which left him unable to speak. He was known for his sense of humour throughout his life, and regularly appeared at public events, awards shows and even on TV shows such as The Big Bang Theory. His book 'A Brief History of Time' sold millions of copies right across the world.
"You were supposed to be either brilliant without effort, or accept your limitations," he wrote in his 2013 autobiography, My Brief History.
Hawking divorced his first wife Jane, who he had his three children with, in 1995, and went on to marry his second wife, nurse Elaine Mason, but they divorced in 2006.
The University of Cambridge will reportedly be opening a book of condolence for those wishing to pay tribute to his life.
What are your memories of Hawking's life? Do you have a message for the family?