Shirley Jones leads heartfelt celebrity tributes to David Cassidy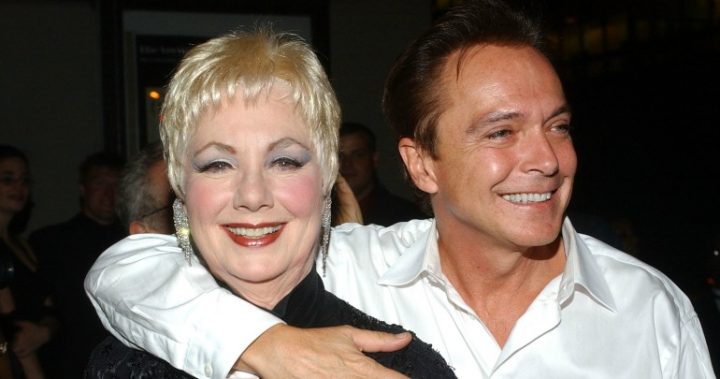 The entertainment world is still in mourning following the sad death of David Cassidy on Wednesday.
The Partridge Family star passed away at the age of 67 after he was placed in an induced coma over the weekend.
It is believed he was suffering multiple organ failure, and died surrounded by the people closest to his heart.  Since then, there's been an outpouring of grief over the loss, with his former co-star Shirley Jones leading an array of celebrity tributes to Cassidy.
Read more: Beautiful memories of David Cassidy on your wall
She famously played his mum on The Partridge Family in the '70s and was actually his real-life step mum after marrying his father in 1956.
Ad. Article continues below.
In a touching statement, Jones explained just how important Cassidy was to her life.
"Long before he played my son on The Partridge Family, David Cassidy was my stepson in real life," the actress told Entertainment Tonight.
"As a little boy, his sweet sensitivity and wicked sense of humour were already on display, and I will treasure the years we spent working and growing together. I will also find solace knowing that David is now with his dad."
Read more: Saturday Night Nostalgia: Singing along with The Partridge Family
She also explained how important the former heartthrob was to his family: "My heart is with David's daughter, Katie, his son, Beau, and with Shaun, Patrick, and Ryan, who I know are deeply missing their brother today.
Ad. Article continues below.
"Thank you for the enormous outpouring of affection you have offered our family at this difficult time."
In addition to Jones' tribute, fans and celebrities around the world also paid their respects to Cassidy.
The Partridge Family co-star Danny Bonaduce, who played Danny in the show, remembered him as a brother.
I️ have known, loved, and admired David Cassidy for 48 out of my 58 years. He has been as kind to me as any real brother could ever be. We've been through a lot together and he was always there for me. This loss is huge. RIP my dear friend. pic.twitter.com/eKdRyAuW2B

— Danny Bonaduce (@TheDoochMan) November 22, 2017
Ad. Article continues below.
Beach Boys crooner Brian Wilson remembered hanging out with Cassidy when they were younger, while actor and singer Harry Connick Jr recalled that the late star was always kind to him.
so sad to hear of the passing of david cassidy… he was always so kind to me – such a pleasure to have had him on my show… sending love and prayers to his family… R.I.P. friend ❤️ pic.twitter.com/tsFkNiJzFc

— Harry Connick Jr (@HarryConnickJR) November 22, 2017
I'm very sad to hear about David Cassidy. There were times in the mid-1970s when he would come over to my house and we even started writing a song together. He was a very talented and nice person. Love & Mercy to David and his family.

— Brian Wilson (@BrianWilsonLive) November 22, 2017
Ad. Article continues below.
Like a lot of girls who grew up in the 70s, Marie Osmond remembered Cassidy as a heartthrob, sharing a collage of magazines that he was on the cover of.
Heartbroken over the passing of #DavidCassidy. He graced the covers of teen magazines w/ my Brothers in the '70s. My condolences to his Family. ?? #RIP #PartridgeFamily #DavidsHitSong #70sIcon #IWokeUpInLoveThisMorning pic.twitter.com/EUJXr8YBwb

— Marie Osmond (@marieosmond) November 22, 2017
Even Brady Bunch star Maureen McCormick spoke highly of him, despite being on a rival show.
So very sad to hear of David Cassidy passing away? He was always so kind and sweet to me. Our shows were both on Friday nights and deep down I dreamt of being a Partridge. His memory and love will live on in my ❤️forever. Love you David. Prayers to his family??

— Maureen McCormick (@MoMcCormick7) November 22, 2017
Ad. Article continues below.
Other stars including singer Carnie Wilson, director Kevin Smith, and talk-show legend Larry King paid their tributes.
Sad to learn David Cassidy has died. Like his father Jack he had great talent, and a complicated life. Condolences to his wonderful family.

— Larry King (@kingsthings) November 22, 2017
One of my first TV crushes… #DavidCassidy has passed away. It's terribly sad. My love goes out to his family…especially his brother Ryan, my friend. Love you.

— Carnie Wilson (@CarnieWilson) November 22, 2017
Ad. Article continues below.
I grew up in an era before even cable TV, when The Partridge Family was already in reruns. David Cassidy's Keith was one of my favorite TV characters. He was legit funny AND he could sing. The man entertained me during my childhood and even years later: https://t.co/678DU7qTxh

— KevinSmith (@ThatKevinSmith) November 22, 2017
Do you have a message for David's family? was is your favourite memory of the actor?