Julia Louis-Dreyfus gives update after breast cancer diagnosis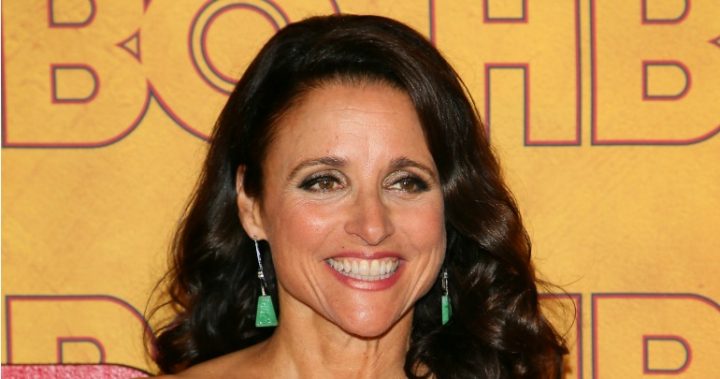 She's one of TV's most loved actresses and Julia Louis-Dreyfus has given fans an update of her cancer battle.
The 56-year-old was diagnosed with breast cancer in September.
She initially shared the news on social media.
Read more: Julia Louis-Dreyfus diagnosed with breast cancer
"1 in 8 women get breast cancer. Today, I am the one," she wrote.
Ad. Article continues below.
"The good news is that I have the most glorious group of supportive and caring family and friends, and fantastic insurance through my union. The bad news is that not all women are so lucky, so let's fight all cancers and make universal health care a reality."
The Veep star took to Instagram just days before Christmas with a photo of herself getting a blood transfusion.
Ad. Article continues below.
"Getting ready for the holidays with my awesome Xmas cocktail," she joked.
She also shared a photo of herself in high spirits, kissing her husband, Brad Hall.
The pair shared a kiss under the mistletoe and have been married for 30 years.
Ad. Article continues below.
Fans flooded the Seinfeld star's page with well wishes.
One person wrote: "Love and laughter are healing. You made us laugh enough to spare me so much pain and I'm sure many others. You will beat this. You've given so much to people you'll never know, so here's believing that all the lights love, joy, peace and good will comes back around to you."
Another fan wrote: "All the well wishes coming your way! To a speedy recovery to an incredibly funny woman!"
A third added: "You are one of those special people that makes me feel good just seeing you. Best of good things in 2018."
The actress has remained upbeat throughout her cancer battle and was even making jokes about her diagnosis online.
Ad. Article continues below.
Read more: Julia Louis-Dreyfus cracking jokes about cancer weeks after diagnosis
In one photo she shared on Instagram, the star dressed up as a gangster with a moustache and wrote: "Chemo #2: finito. We are NOT f***** around here. 'I've got the eye of the tiger. The Fighter dancing through the fire cuz I am a champion and you're going to hear me ROAR [sic]."
It's good to see her doing so well!
Do you know someone living with cancer? How have you helped them manage the dreadful disease?