Driver involved in deadly Home & Away crash known as 'repeat offender'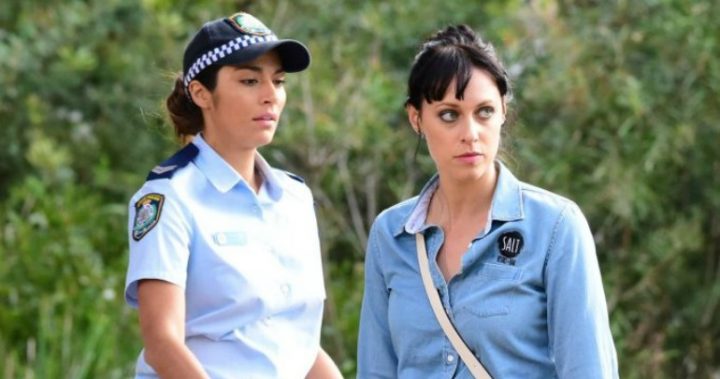 Update: Since publication, Annabelle Falkholt has passed away. Read more here.
Home and Away star Jessica Falkholt and her sister Annabelle are in hospital fighting for their lives after a deadly Boxing Day car accident in New South Wales left three people dead.
Both of Jessica and Annabelle's parents died in the accident, while the driver of the other car, Craig Whitall, also passed away.
The Australian is today reporting that Mr Whitall had previously been jailed for driving with a disqualified licence and was driving on P-plates after recently obtaining his licence again.
They report that Mr Whitall, a grandfather and father of two, was "well known" to police and had a long criminal history.
Ad. Article continues below.
In fact, they suggest that he had more than 60 offences to his name and that he used a number of different aliases when he was alive.
The Daily Telegraph said that witnesses saw Whitall's white Toyota Prado drift onto the opposite side of the road at least two times before he collided with the Falkholt family's vehicle.
They added that Jessica and Annabelle are "clinging to life" and have each suffered horrific burns as a result of the accident.
Read more: Home and Away's Jessica Falkholt fighting for life after deadly crash
It is believed that part of the coronial investigation will centre around if Mr Whitall was using drugs at the time of the accident.
Ad. Article continues below.
Mr Whitall's son Shane took to Facebook to pay tribute to his father.
"I love you with all my heart dad and will forever miss you were my hero," The Daily Telegraph reports him saying.
"You showed me a lot in my life more than youl ever know its such a tragedy to loose you I LOVE YOU DAD RIP. [sic]"
In a separate statement, Mr Whitall's family said: "Our hearts are broken not only for our loss but also for the loss the Falkholt family are feeling."
Fans of Jessica have also shared their well wishes online.
Ad. Article continues below.
One person wrote: "So very sad, thoughts are with them and their family at this heartbreaking time."
Another comment read: "Thinking of these beautiful girls so very sad to have lost their parents but I really hope and pray the girls will be ok."
A third added: "It doesn't matter what she has done for a living. What matters is that her and her sister have lost both their parents in a horrific accident and are now fighting for their lives. This is so sad and tragic. My thoughts go to the family. Pull through girls be strong."
Yesterday, New South Wales police issued a warning to drivers about fatigue and complacency on the roads.
New South Wales Chief Inspector Phil Brooks told ABC News that 11 deaths were caused when cars drove off the road. "More than half of these have involved single vehicle run-offs either into a tree or a telegraph pole — sadly killing that driver and/or their passenger — which is an indicator to us that fatigue is the most likely outcome in these very sad and tragic events this close to Christmas."
Do you have a message of support for the families affected?