Catherine Zeta-Jones stuns in see-through red carpet dress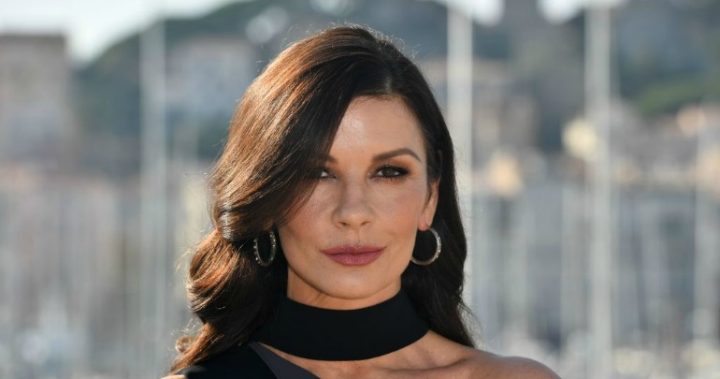 She may be 48-years-old but Catherine Zeta-Jones is giving some of Hollywood's younger stars a run for their money when it comes to her red carpet looks.
The Chicago star got heads turning at the Cannes MIPCOM gala on Monday in a daring black number.
Catherine wasn't afraid to flash some flesh as she strutted her stuff at the star-studded event.
While many women of a certain age choose to cover up their bodies, the Welsh actress opted to show off her curvy figure.
The dress featured an extensive see-through pattern from top to bottom, strategically exposing Catherine's best assets as she smiled and waved to fans and cameras.
Ad. Article continues below.
She wasn't shy when it came to her cleavage, nearly baring all in a plunging neck line.
The pattern of the dress allowed the star to show off her toned tummy and legs, while her bottom was also on full display.
Most of her back was also exposed in the gown, much to the delight of the paparazzi who were waiting at the event with cameras.
Ad. Article continues below.
Catherine topped off her look with a stunning pair of black platform shoes, simplistic earrings and her hair in the style of a bob.
Earlier in the day, the mother-of-two stunned in another gorgeous gown at another event in Cannes.
That black number was a little less revealing, but still complimented Catherine's stunning body.
Ad. Article continues below.
It's not the first time that older women of Hollywood are breaking boundaries with their choice of outfits.
Last year, pop singer Madonna caused a stir when she arrived on the red carpet of the Met Gala in a piece that would leave even your grandchildren blushing.
She exposed her breasts and buttocks with nothing but some black tape covering her nipples.
The singer was forced to defend herself after she faced severe backlash online.
She explained: "The fact that people actually believe a woman isn't allowed to express her sexuality and be adventurous past a certain age is proof that we still live in an age-ist and sexiest society."
Catherine's next film, Cocaine Godmother, will be released next year.
Do you think stars need to dress their age or should they be free to dress however they want?