At the airport at Johannesburg, I had a stopover before flying to George. The only café open late at night was a small coffee shop with not a GF sign anywhere, but when I timidly asked about gluten free, the young man serving said: "Sure, we have gluten free frittatas you could have." Phew, how fantastic!
South African Tourism did a wonderful job ensuring we sampled a wide range of cuisine. Meals ranged from café style to international standard gourmet with a mingling of flavours and spices influenced by Dutch, French, Indian and Malay forebears. Traditional South African dishes that are gluten free include Boboti, Chakalaka and pap, Biltong, Droewors and Braai (like a barbecue but big) and Amarula ice cream. All are yummy. Restaurant prices were substantially less than in Australia, and the food is good, so you can afford to splurge a little.
Although the menus of the food establishments we visited rarely indicated any allergy information, this was not a problem, because without exception, wherever we dined, the wait staff either knew the allergy status of their menus or were happy to clarify with the chef. Many of their meals were made without gluten anyway.
Another of our group was vegetarian and he had the same support and friendly response that I did. I'm sensitive to even small amounts of gluten and though there was no guarantee against contamination in their kitchens, I had no adverse food reactions during this trip. This is a very big deal as it's something I've never been able to say before.
Below are the 11 venues that I experienced ranked in order from cheap and cheerful to five-star gourmet.
The Lookout is an al fresco café right on the beach at Plettenberg Bay. The small, tender calamari with grilled vegetables and rice that I ordered was delicious. Several of our group requested dairy free smoothies with almond milk, which was also no issue.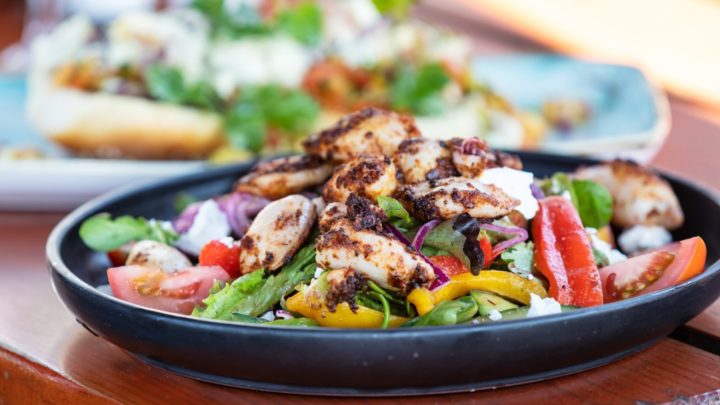 Butterfly Blu Restaurant at Brenton Haven. This lovely beachfront restaurant has beautiful décor, is perched high on a sand dune and overlooks the glorious long white, ocean beach at Brenton on Sea, Knysna. I enjoyed breakfast while a pod of dolphins surfed the rolling waves below. Most meals were gluten free including dessert. The pork belly that I ordered for dinner was tender and substantial.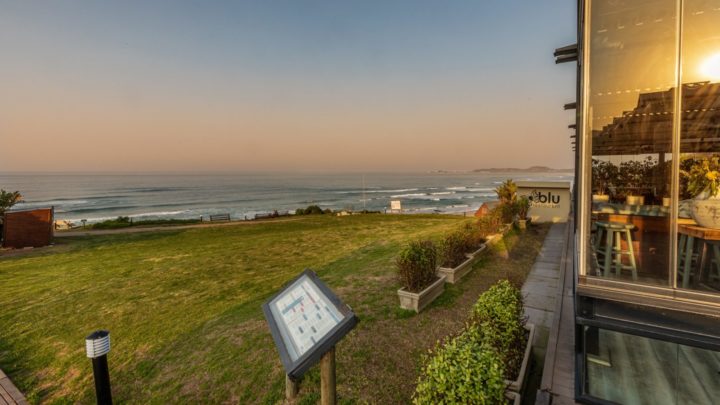 Moyo Kirstenbosch at Cape Town. We had lunch here at the beautiful Kirstenbosch Gardens. The meals were good and included traditional African cuisine. We had our faces painted while we waited for our meals and I'm not sure style was typically African, but it was a fun way to wait for our meals. The gluten free crumbed prawns and mango mocktail were a treat.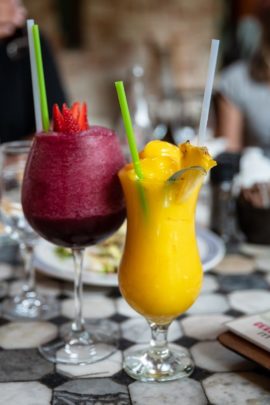 Drydock Food Company at Knysna. This restaurant overlooks Knysna Heads with large external doors opening to the harbour outside. The sushi entrees were delicious and very fresh as were the main meals.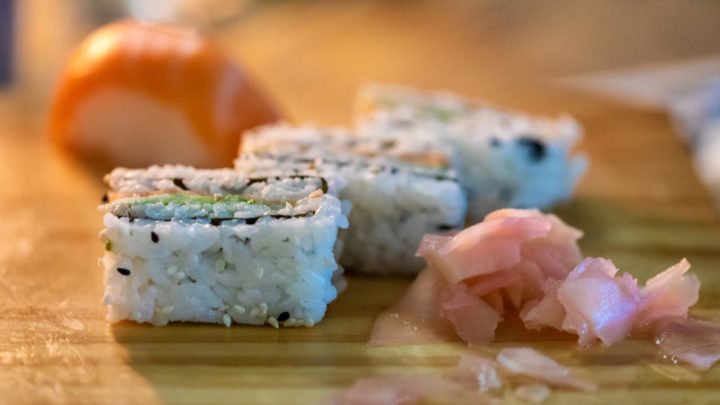 Café Paradiso in Cape Town Central was one of my favourites. I really enjoyed my lunch in the shady garden of this quirky, pet and child-friendly café in the shadow of Table Mountain. Our hosts were genial and attentive and the food ranges from "exotic and foreign fare such as tzatziki, dolmades and babaganoush as well as delicious country-style dishes". I ordered a traditional Chakalaka mostly because I loved the name, but this tasty spicy bean and tomato dish was a winner.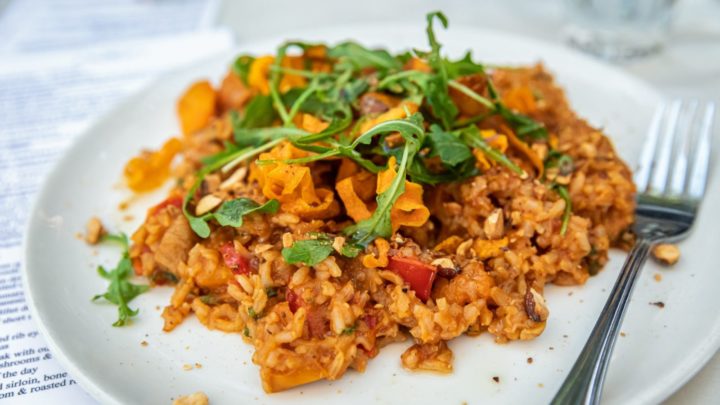 Victoria & Alfred Hotel at Cape Town. This is very much a 'hotel' restaurant catering for a large number of guests and they do it well. Breakfast was either a cold buffet or a la carte. I had a la carte for all meals. The wait staff were au fait with food intolerances and there were many gluten free meals on the menu.
Sanbona Wildlife Reserve at Little Karoo. I would recommend dining at Sanbona. When there was no gluten free meal on the menu, the chef organised a superb special meal very quickly. They even supplied special meals for our breakfast safari at short notice. Mid-safari we enjoyed lunch in a tent where the chef had prepared the best gluten free bread I've ever eaten — soft, fresh and hand-sliced with no need for toasting. At this resort, it didn't always quite happen automatically, but they were incredibly happy to cook meals to suit.
Vrede & Lust Winery at Cape Winelands — wine and chocolate tasting. Although this is not specifically a meal, I loved the idea of chocolate and wine pairing. The concept is to match six of their wines to six flavoured Lindt dark chocolates. The flavour or the wine magnified the chocolate, or was it the other way around? My favourite was the Lindt Excellence Orange Intense chocolate with Early Mist Riesling. Service from the lovely Landy in her red dress was impeccable and the dark Lindt chocolates are, of course, gluten free. The building and grounds were beautiful, and it would be easy to while away an afternoon or evening here.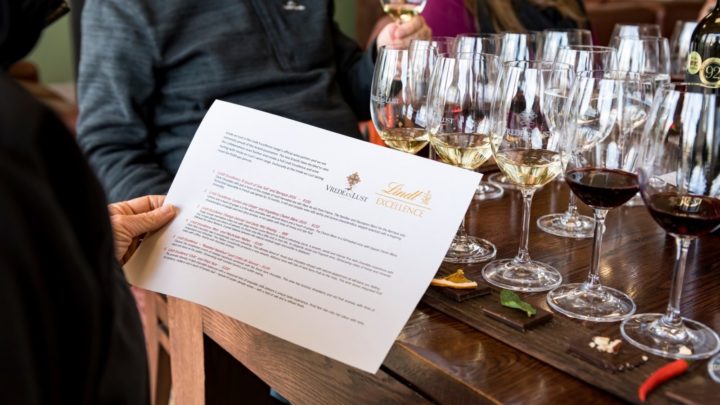 Potluck Club at Cape Town. This is a happening place to eat and is situated on the top floor of the Silo of the Old Biscuit Mill on Albert Road, Woodstock. The architect-designed décor is bold and the food is served in small tapas-style share plates. Our waitress had planned a suggested menu for us and when I mentioned gluten free, she organised a plate of my own delicacies for any dish ordered by the group that was not gluten- free. Our vegetarian member received the same attention. We had around 11 courses and our waitress advised both of us on the food content of each and arranged excellent alternatives as necessary. I would recommend eating here for both the food and the experience.
Rupert & Rothschild Winery at Cape Winelands. The food and service here were first class. Our table beside large glass panels looked out over their beautiful gardens. The meals were delicious and creatively presented with flowers and herbs. Their wine was excellent and the waiters explained every bottle before pouring it. You couldn't go wrong eating here.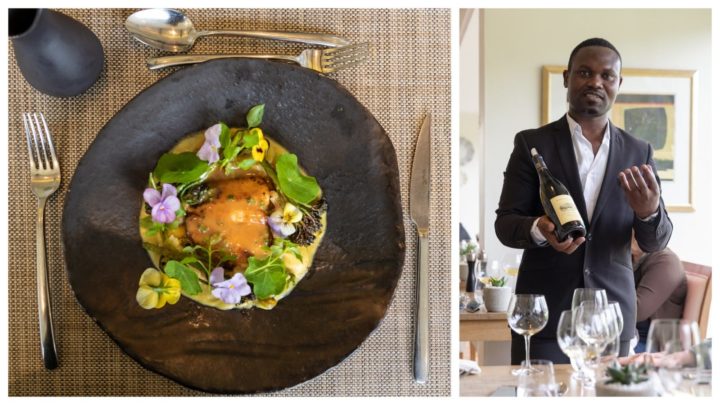 Grootbos Private Nature Reserve. The food here is five-star and most dishes were gluten and dairy free. For dinner, we were lucky enough to have a pairing menu in their private cellar. This was a rare opportunity and if you are offered their pairing menu, I recommend you take it. Wine supplied from their maturation cellar was handpicked and exquisite. The red chosen for us was lighter in style than most Australia wines but complemented the meal perfectly.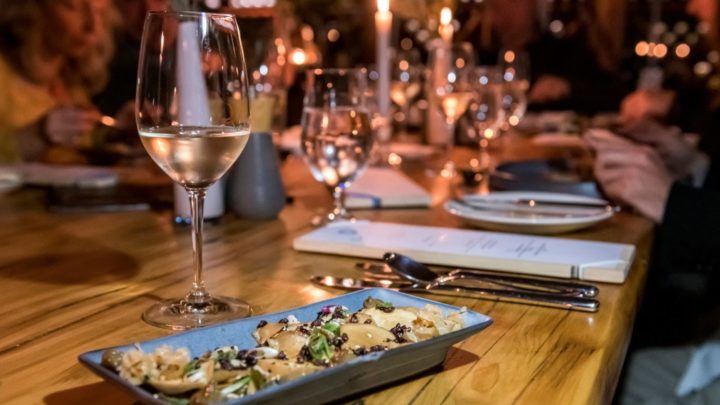 Would I recommend eating your way through South Africa with food allergies? Most certainly! Not only are gluten free, dairy free and vegetarian dishes widely available, but there is a wonderful variety of food on offer, so fear not! Go to South Africa! Indulge. It's just a matter of asking. They'll sort it all out for you.
Disclaimer: The author was a guest of South African Tourism.