I was also the proud owner of a smaller doll, Tinkerbelle. She was so loved. Once, she needed a little sojourn in the Doll Hospital for some repairs. The Doll Hospital, I discovered, is still in operation, and continues to lovingly restore vintage dolls, and repair children's treasures of dolls and teddy bears.
When Tinkerbelle returned to me from the Doll Hospital, my mother stitched her a brand new frock, a lovely blue gown. She also sported a new wig, to adorn her beautiful face. Her legs these days have grown a trifle wonky, but so have mine!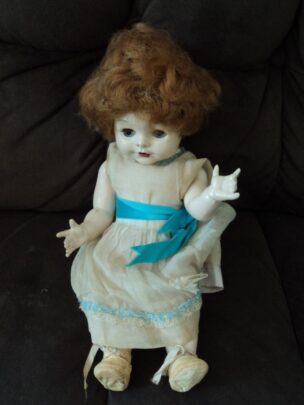 For my fifth birthday, my parents gave me a softer baby doll. Once again, my late mother made her clothes, a pleated tartan skirt, and a lovely tiny handmade sweater. This doll was named Andy, and was heaps of cuddles and love.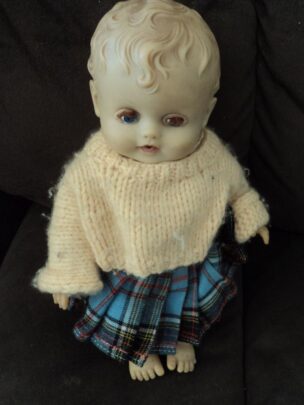 Growing up, we received Sindy dolls, also made in England, by the Pedigree Doll Company. The Sindy doll was a British form of a mannequin doll, who came supplied with a range of costumes, much like the American Barbie doll, made by Mattel.
Mannequin dolls were great, we could change their clothes, dressing them and making up them either glamorous or clad in denim jeans, from riding clothes to a wedding frock, to beach wear. My mum encouraged us to stitch these mannequin dolls our form of a doll's clothes. Simple fun, a really creative pastime. I guess that is why we all became crafters in our family.
Did you keep your old toys too? I have even kept my original toy, a teddy bear that was my the gift I received when I was born. He, too, has lost his growling voice-box, but is a fond souvenir from all our days of the tea parties, as children of the '50s.