"It's not surprising that this pressure is causing some retirement plans to be revised," he said.
Equip's study also found that many Australians are overestimating the amount they need to comfortably retire which is adding to further stress.
"Many Australians are grossly misjudging how much they need in their reserve to retire, which is likely causing additional – and perhaps unnecessary stress," Cameron said.
According to the Association of Superannuation Funds of Australia's (ASFA) Retirement Standard March quarter 2022 figures released on June 2 which indicated that couples aged around 65 who want a comfortable retirement need to spend $65,445 per year and singles $46,494, however, the figures were up by 1.0 per cent and 1.2 per cent respectively on the previous quarter potentially adding to the stress of soon to be retirees.
In a statement, ASFA Deputy CEO, Glen McCrea said although "this is marginally smaller than the annual inflation impact of 5.1 per cent for wage earners, the reality is that retirees are doing it tough too".
Retirement budgets for those aged around 85 were up by 1.2 per cent from the previous quarter. Although older retiree budgets were not directly affected by the recent increase in petrol prices, they faced other increases in costs including food and medical costs.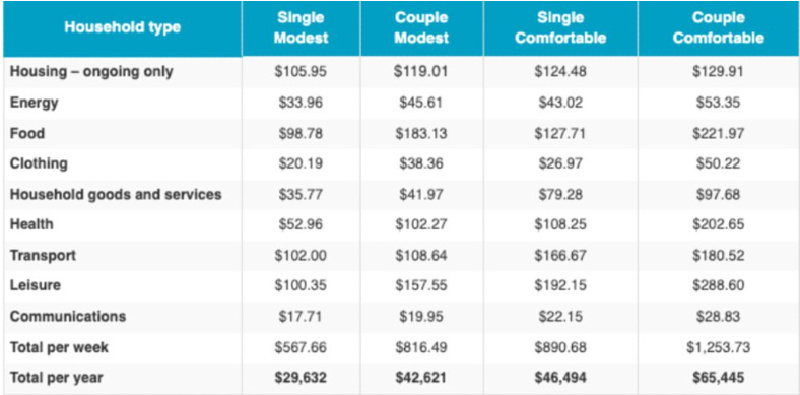 McCrea told Today that "the inflation genie is really out of the bottle now" and retirees will need to look at where they can make spending cuts in order to get by.
"For a couple to have a comfortable retirement, that means you can have a meal at the club, you can fix your car, you are not having regular holidays all the time – but that's the base level we are looking at," he said.
Cameron stressed the importance of a financial plan when it comes to retirement given its "one of the most important stages in a person's life."
"We all have different ambitions for our retirement, but for most of us, it's a time to enjoy the simple pleasures in life. Quality time with family, travel and pursuing hobbies that full time work doesn't usually allow for," he said.