Earlier this year Nine's head of drama, Andy Ryan, told The Sydney Morning Herald that a proposed biopic about Warne "will be larger than life – entertaining, confronting, thought-provoking".
"Warnie's life was so full of drama, like the man himself," Ryan told the publication.
"We want to explore what made Warnie so special, and why he had such a powerful effect on people. He was a sporting legend, a national treasure, international kind of icon, but he was also a larrikin, a rogue and a charmer and a flawed man.
"The national outpouring of grief over his passing had shown us – if we needed telling – just what a sort of impact he's had on the national conversation."
Ryan also conveyed to TV Tonight that consultations with Warne's family had taken place regarding the concept of a telemovie. Despite such consultations taking place, Warne's family and close friends have reportedly been unhappy with the concept.
Brooke made those feelings well and truly known when she questioned whether the broadcaster has "any respect" for her late father when a conversation between Nine presenter Jo Hall and radio personality Dee Dee Dunleavy turned to the upcoming movie on radio station 3AW.
"Do any of you have any respect for Dad? Or his family? Who did so much for Channel 9 and now you want to dramatise his life and our families life 6 months after he passed away? You are beyond disrespectful," she wrote on her Instagram story.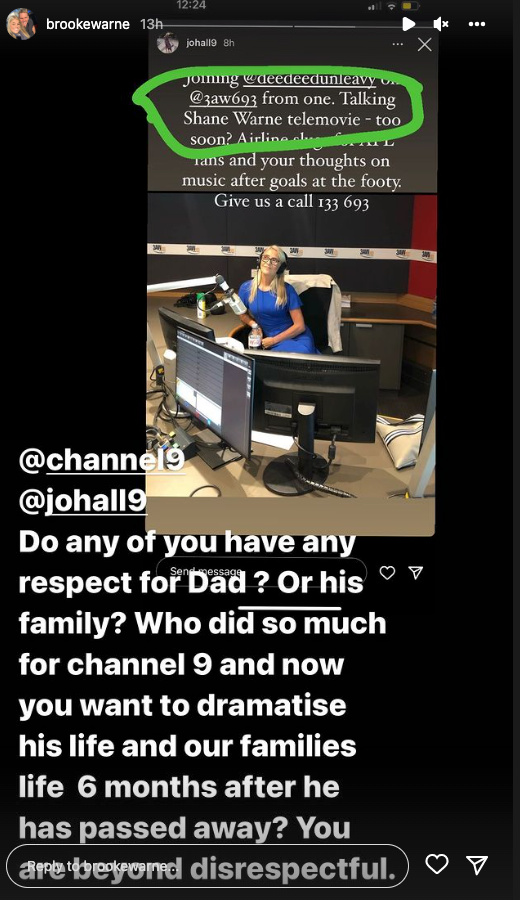 Despite Warne's family expressing their displeasure at the idea of a biopic, those close to him acknowledged a more pleasant occasion for the late King of Spin recently, that of his 53rd birthday.
On Tuesday, September 13, Warne's family shared a photo of the cricket legend mid-bow during a cricket match alongside the caption, "Happy Birthday 1969-2022".
 

View this post on Instagram

 
"A legacy gives you a perspective on what's important," the caption read.
"It is about the richness of an individual's life, including what they accomplished and the impact they had on people and places.
"Shane's Legacy will live on.
"Happy birthday – always in our hearts."