"The perception of a dramatisation is that it is going to be sex, sizzle, and sensationalism, rather than a wholesome story," Erskine told the Herald Sun.
"Now we know Shane was a colourful character, you can't get away from that. You can't sanitise it and suddenly say he is a clergyman.
"But they have assured me it will be done appropriately. At the end of the day if they do a hatchet job, then the whole world will be watching."
Earlier this year Nine's head of drama, Andy Ryan, told The Sydney Morning Herald that a proposed biopic about Warne "will be larger than life – entertaining, confronting, thought-provoking".
"Warnie's life was so full of drama, like the man himself," Ryan told the publication.
"We want to explore what made Warnie so special, and why he had such a powerful effect on people. He was a sporting legend, a national treasure, international kind of icon, but he was also a larrikin, a rogue and a charmer and a flawed man.
"The national outpouring of grief over his passing had shown us – if we needed telling – just what a sort of impact he's had on the national conversation."
Although sporting fans may be clamouring to see the late King of Spin's life immortalised on screen his family holds a different view. Shane Warne's eldest daughter, Brooke, recently took to Instagram to vent her frustration regarding the proposed telemovie.
Brooke questioned whether the broadcaster has "any respect" for her late father when a conversation between Nine presenter Jo Hall and radio personality Dee Dee Dunleavy turned to the upcoming movie on radio station 3AW.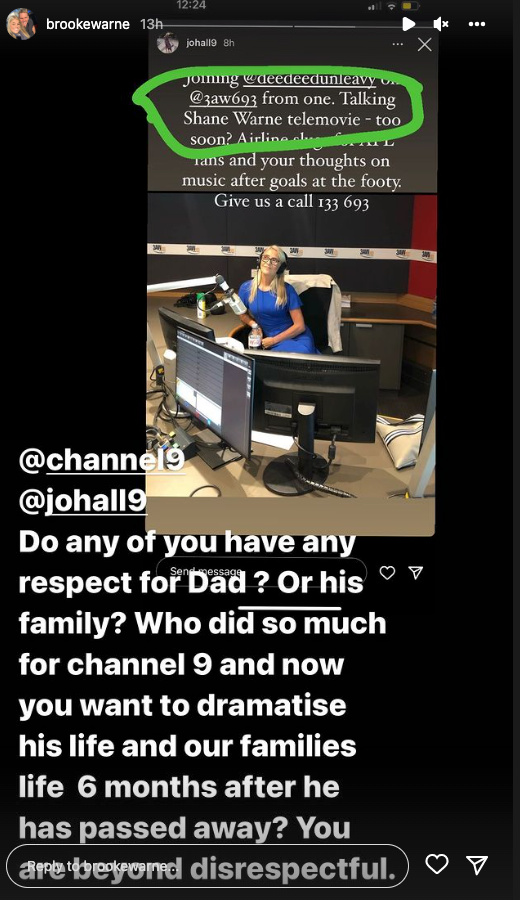 "Do any of you have any respect for Dad? Or his family? Who did so much for Channel 9 and now you want to dramatise his life and our families life 6 months after he passed away? You are beyond disrespectful," she wrote on her Instagram story.