The Toni Maticevski Nightshift gown features a sultry thigh-high split, with ruching down the right and an asymmetrical hemline. The dress's material appears to be made of half sequence and half silk with a sparkly tiled design.
Bishop styled her look with a Bianca Spender black crepe jaquette that boasts a cape-like design, showing off her very toned arms.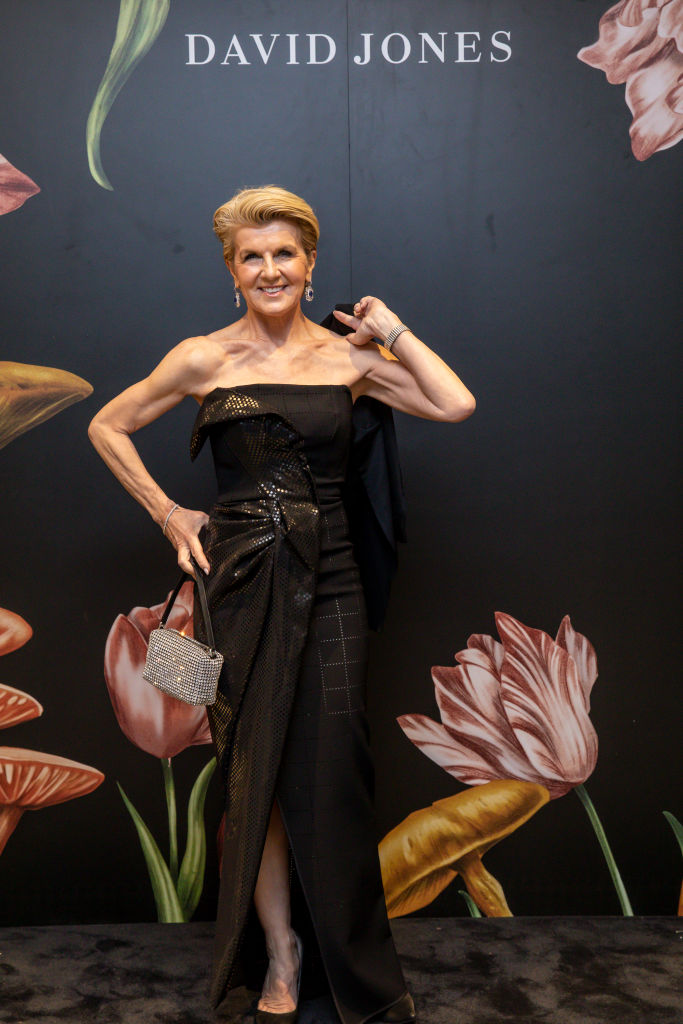 The blonde bombshell kept her makeup light and neutral, with her locks elegantly sleeked back.
She finished off her look with matte black pumps, silver drop earrings, a tennis bracelet, and a sparking silver purse.
Bishop had shared the evening's look on her Instagram page, where many of her fans and followers left comments praising the former politician's fashion prowess.
"Ahah you stunner Julie Bishop. Drool drool."
"You are the biggest inspiration. Always living your absolute best life."
"You look fabulous as always. Puts some of those young ones to shame .. so elegant"
"Brains and beauty, what a great combination."
"Awwww @toni_maticevski my favourite. Wearing like a fine piece of art @honjuliebishop."
Since her shocking split with longtime partner David Panton, Bishop was been living it up and embracing her single life.
Just last month she got her revenge on her former partner after cancelling his VIP airline lounge access without telling him prior.
According to the Financial Review, Panton had reportedly arrived at Virgin's Beyond lounge with his VIP card in hand accompanied by a friend when staff members had advised him that his access had been revoked and had been "disassociated" from Bishop, a primary Beyond member.
While lounge members who witnessed the awkward exchange claimed that Panton was shocked by the news, he later told the publication he wasn't fussed by the incident.
"It was no trouble at all," he said.
"I was more than happy to be downgraded to the (regular) club."
When informed of her exes' Virgin lounge hiccup, Bishop's response was, "wait until he finds out about the Chairman's Lounge".
Bishop had previously told Confidential she's been "very busy" since her split with Panton, sharing that she's been keeping herself distracted by attending charity events and fashion engagements around Australia.